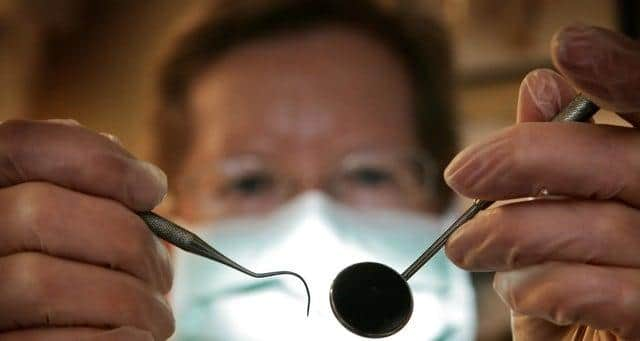 Scottish dentists told to halt face-to-face appointments
In a letter sent out to dentists today the Chief Dental Officer has told them that 'all routine dentistry' should cease by close of play today.
Tom Ferris is also advising that dental team members who are pregnant or otherwise immunosuppressed should not provide or assist in the direct care of patients and says it practice staff should be split into teams – so a full staff complement is not in any practice at any one time.
The move comes after dentists were ordered last week to stop carrying out aerosol generating procedures (AGPs) with immediate effect.
This meant they are unable to provide routine fillings, dental hygiene treatment, root canals, denture work, surgical extractions and exams for older patients, those with underlying health conditions or pregnant women.
Mr Ferris says in his letter that he has received feedback from colleagues that many people are opting to defer their care and 'normal' dental practice is no more. He adds that in light of school, colleges, hospitality and leisure outlets closing and the importance of social distancing 'becomes ever more important' dentistry need to move 'on to our next phase of Covid-19 preparedness.
The advice is for practices to work together in localities through 'buddy arrangements' to ensure that people can make contact with a dental professional during normal working hours. The letter states that this contact should be by telephone to avoid patients presenting at a practice and practice teams should make every effort to triage, advise and reassure patients who have a dental problem.
Mr Ferris warns dentists to use robust standard Personal Protective Equipment (PPE) procedures, only see patients who are displaying no symptoms and try to keep face-to-face assessments to an absolute minimum.
Patients identified through telephone consultation, who do have an urgent dental need that cannot be delayed should be directed to their NHS Board.
The Chief Dental Officer advises that no patient should attend a practice or urgent centre in person without a pre-agreed appointment.
The letter states that: "In the event of a significant and rapid escalation of COVID-19 NHS Boards will move to a centralised urgent care only service for people who are asymptomatic for COVID-19.
They will require assistance from dental team members in practices to contribute to the staff rota at the centre.
NHS Boards must ensure dental teams at the designated urgent care centres have been trained in the use of and access to FFP3 respirators.
Mr Ferris ends the letter by stating that he is 'working tirelessly' to source additional NHS funding to address dentists concerns and asks that – 'you and your professional organisations explore other avenues of COVID-19 support for small businesses'.