Scots stroke survivor fears patients are not getting the care they need during lockdown
The majority of stroke survivors have had appointments cancelled or postponed since the pandemic hit.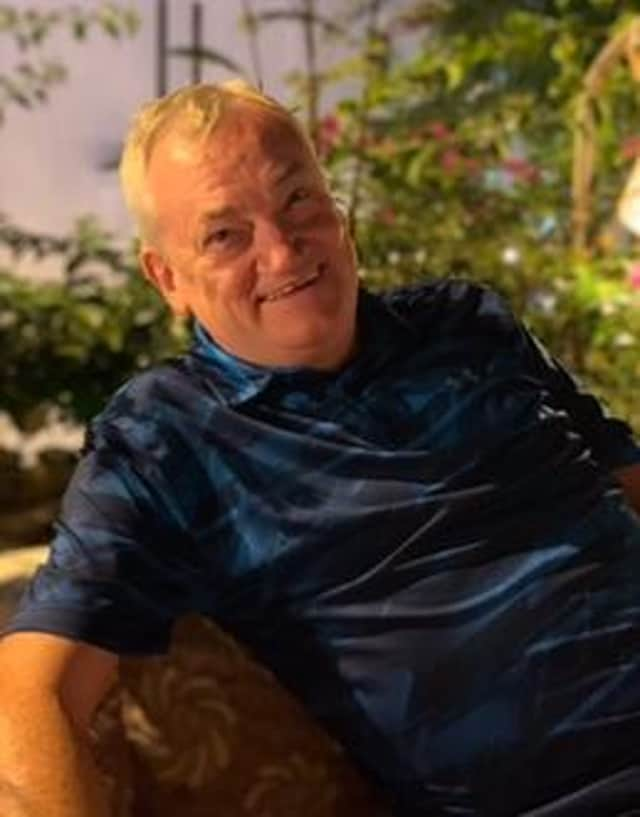 Keith Jenkinson, 64, suffered a stroke in 2016 shortly after retiring.
Serious concerns about stroke care during the pandemic have been raised after research from the Stroke Association revealed survivors living in Scotland are going without necessary rehabilitation and support.
In Scotland, more than 10,000 people have a stroke every year, with 3,800 people dying from the disease annually.
Today 128,000 stroke survivors are living in the country and it is estimated that this number will grow to almost 175,000 by 2035.
Keith Jenkinson pictured finishing a 5k race in March 2020, three years after suffering a stroke.
Survivors are often left with long-term health problems which require years of rehabilitation, while many others never fully recover from the trauma and need ongoing support.
Research from the Stroke Association found that the majority of Scottish survivors have had therapy cancelled or postponed during the pandemic and are receiving less support than usual from health and care services.
A negative impact on survivors' mental health, caused by Covid-19, was also noted in the charity's report with over two-thirds of people feeling more anxious and depressed since lockdown.
Keith Jenkinson, 64, from Edinburgh had a stroke on July 25 2018, and said the care and support he received at the Royal Infirmary of Edinburgh was 'excellent'.
But he is worried that people who have had a stroke during the pandemic or are still in the early stages of recovery are not getting the same level of support he did.
"I would be petrified to have a stroke now," said the retired civil servant. "I would not be surprised if some people have lost hope altogether."
A key problem highlighted by Mr Jenkinson is the lack of face-to-face care and support patients have had which he believes is negatively impacting their mental health.
He said: "After a stroke the comfort you get from having a nurse or therapist beside your bed is immense and not having that doesn't bear thinking about."
The impact Covid-19 has had on stroke survivors' mental health also concerns Mr Jenkinson.
"A positive mindset is very important after a stroke." He said: "Struggling with your mental health doubly impacts your physical health when you are a stroke survivor."
There is a stark contrast between Mr Jenkinson's after-stroke care and the options currently avalible.
When Mr Jenkinson felt a pain in his right arm while cutting down trees at home in Craigleith he went straight to A&E.
"My arm was painful enough that I took myself to A&E and then at the unit I had my stroke, there was no better place to be really," said Mr Jenkinson.
But 30 per cent of those who suffered a stroke during Covid-19 delayed seeking emergency medical attention according to research from the Stroke Association.
Dr Richard Francis who works as head of research at the charity said: "Tragically, in March during the first lockdown, we saw a drop in the number of people going to hospital with stroke symptoms in the UK.
"This means that some people may not have received the treatment they needed as stroke continued to strike."
As well as the clear negative impact the Covid-19 pandemic has had on the rehabilitation of stroke survivors emerging evidence has started to reveal a link between Covid-19 and strokes.
Since the start of the coronavirus pandemic in early 2020, there have been reports of coronavirus patients also having a stroke.
However, it is still unclear how much the virus may increase the risk of stroke and in which groups of patients.
Dr Francis said it is paramount that the link is investigated.
He said: "There is growing evidence that people with more severe coronavirus infection are at an increased risk of stroke compared to those with a milder case.
"In addition, people that have a stroke and coronavirus are likely to be younger than expected. This could add up to more people living with the devastating effects of stroke.
"This highlights the importance of research to understand how coronavirus can increase the risk of stroke, particularly stroke caused by a blood clot, which is the most common type."
Mr Jenkinson is a vocal advocate for life after stroke and ran a 5k in March 2020, said the impact Covid-19 is having on strokes is 'terrible'.
He said: "Each year NHS Scotland produces a Scottish stroke improvement program and I read it every year. Next year's report will make terrible reading."
A message from the Editor:Thank you for reading this article. We're more reliant on your support than ever as the shift in consumer habits brought about by coronavirus impacts our advertisers.
If you haven't already, please consider supporting our trusted, fact-checked journalism by taking out a digital subscription.
Want to join the conversation? Please or to comment on this article.