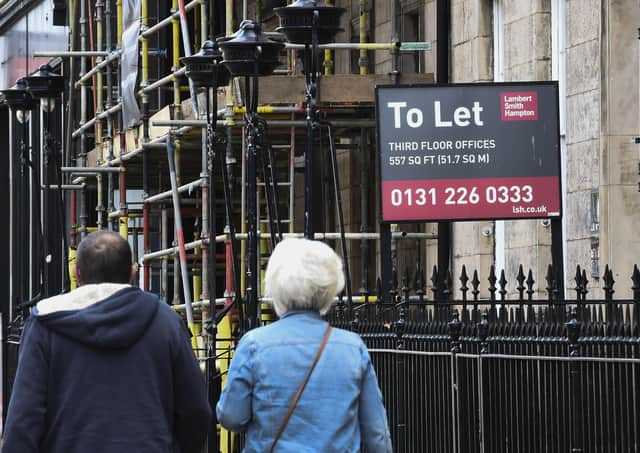 While Nicola Sturgeon said the Government Expenditure and Revenue Scotland (GERS) figures were not a reflection on the potential financial status of an independent Scotland, the data – which is produced by the Scottish Government – revealed that the gap between taxes raised and public spending had grown from 7.4 per cent in 2018 to 8.6 per cent last year.
The current deficit for the UK as a whole is 2.5 per cent.
The report also showed that, despite rising tax revenues overall, Scotland's public sector take is £12,058 per 
person, £308 less than the UK average, while expenditure levels mean that, on average, spending on public services per person in Scotland is £1,644 higher than the UK average.
Opposition politicians lined up to say the figures proved the benefit of the "pooling and sharing" of resources across the UK, but Finance Secretary Kate Forbes said an independent Scotland would have the powers to make "different choices, with different economic budgetary results," as 40 per cent of expenditure was reserved to Westminster.
Meanwhile economic think tanks sounded a warning, saying that the impact of increased public spending to cope with the impact of Covid and subsequent lockdown could push the deficit to between 26 and 28 per cent next year.
David Phillips, an associate director of the Institute for Fiscal Studies, said: "Far bigger increases are in store for the current financial year, reflecting the economic impact of and government responses to the Covid-19 crisis.
"While figures are highly uncertain, the Office for Budget Responsibility's (OBR) central scenario suggests the UK's deficit could reach almost 19 per cent of GDP this year. And projections based on this suggest Scotland's implicit deficit could reach around 26 to 28 per cent of GDP.
"Scotland is far from unique among the regions and nations of the UK when it comes to its public finance situation."
The Fraser of Allander Institute, part of the University of Strathclyde, also predicted a hike in next year's deficit as a result of the impact of Covid-19, to between 21 and 22 per cent.
Economist John McLaren of Scottish Trends said yesterday's figures would be the last for some time "where fiscal balance figures are available that are not severely distorted by Covid-19-affected tax and spend patterns" but he warned they underlined a "worsening of Scotland's fiscal balance position since the independence referendum, due to much lower North Sea revenues and poorer growth in its onshore revenues, relative to the UK".
He said for independence supporters it was "essential that the basic economic and fiscal principles and policies of any new beginning are clearly laid out and coherent. To avoid doing so, as with Brexit, is asking for trouble.
"The general lack of interest and analysis in Scotland with respect to the economy remains a concern and would have been a problem at the best of times, but with a background including a recent and ongoing pandemic and the early days of Brexit, then the potential for confusion and deliberate obfuscation of likely out-turns is considerable."
Yet despite a pledge last year by then economy secretary Derek Mackay that the Scottish Government would produce "alternative GERS figures" this year, the data will not be published as the Covid pandemic "diverted resources".
The GERS report showed overall revenues, including North Sea oil receipts, increased to a record £65.9 billion, with onshore revenues growing by £1.1 billion to £65.2 billion. But corporation and VAT receipts fell compared with the previous year and both the Scottish and UK governments increased spending to tackle the pandemic.
As a result of this, plus a rise in UK Government spending on reserved matters, Scotland's notional onshore deficit – the difference between income and expenditure – rose 0.6 per cent to 9.4 per cent of GDP. Adding North Sea revenues which totalled £724 million – £642 million less than in 2018-19 – the notional overall deficit was 8.6 per cent of GDP.
'Current constitutional arrangement is unsustainable' - Forbes
Mr Sturgeon said the GERS figures were "a reflection of Scotland's fiscal position within the UK and not a reflection of how Scotland would fare as an independent country".
Ms Forbes said 40 per cent of Scotland's expenditure was allocated by the UK government and therefore was not a "reflection of the policy choices of this government, but the UK government, which tells us the current constitutional arrangement is unsustainable".
She said it was "incredibly frustrating" Scotland could not borrow to invest in its recovery, adding: "These figures are not a reason to celebrate the status quo, these figures should be a reason to change."
However, Scottish Secretary Alister Jack said the figures "show clearly how much Scotland benefits from being part of a strong United Kingdom".
He added: "People in Scotland, year after year, benefit from levels of public spending substantially above the United Kingdom average, with a Union dividend of £1,941 per person in Scotland. That has never been more important than it is right now. In the face of a global pandemic, the strength and experience of the UK Treasury is helping people in Scotland and across the rest of the United Kingdom."
His colleagues in the Scottish Parliament went further, saying the figures were "a massive setback" to the SNP's independence plans with the deficit rising by £2bn from last year, and is now "larger than the entire Scottish health budget of £13.8 billion". Scottish Conservative finance spokesman Murdo Fraser said: "Today's GERS official statistics show that the UK Union is more valuable than ever. It is worth nearly £2,000 a year for every man, woman and child in Scotland.
"And this doesn't even take into account the blockbuster support from the UK Government throughout the pandemic, including one of the largest and most generous job-saving schemes in the world.
"This is a hammer blow to the SNP and a massive setback for separation. Nicola Sturgeon would have to throw away Scotland's entire NHS, every nurse and doctor, just to come close to balancing the budget in her separate state."
A message from the Editor:
Thank you for reading this story on our website. While I have your attention, I also have an important request to make of you.
The dramatic events of 2020 are having a major impact on many of our advertisers - and consequently the revenue we receive. We are now more reliant than ever on you taking out a digital subscription to support our journalism.
By supporting us, we are able to support you in providing trusted, fact-checked content for this website.