Holyrood are in talks with the UK government and other devolved nations over the loosening of covid restrictions over the Christmas period.
The talks come after a medical journal described the loosening of restrictions as "rash".
First Minister Nicola Sturgeon warned that there is "a case" to reconsider the introduction of three-household bubbles from December 23 to December 27.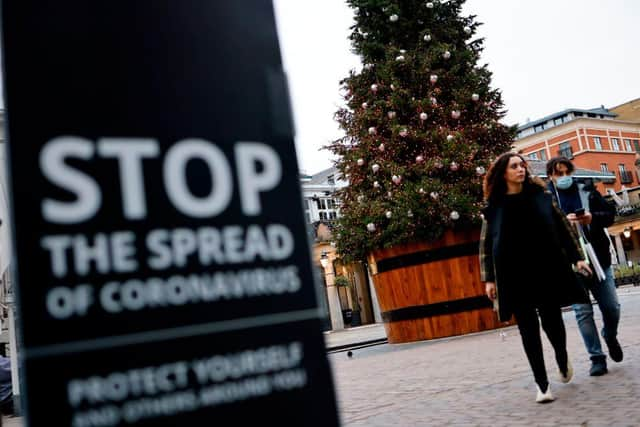 The UK Government and devolved administrations had agreed to a joint plan to relax social distancing rules over the festive period with contact between family members allowed for the first time in months.
Here's everything you need to know about the loosening of restrictions over the Christmas period.
Note: you can read the government's full guidance here.
What is a Christmas bubble and when can I join one?
From December 23 to 27 people will be allowed to form an exclusive Christmas bubble made up of people from no more than three households.
The Christmas bubble rule applies to the whole of the UK.
What are the Christmas bubble rules?
The Scottish government states that a "bubble" should be formed "household to household only" (i.e. different people in a household should not pick their own bubble).
Residents should stay with their "bubble" where they are being hosted
These bubbles will only be able to meet in private homes and gardens, places of worship and public outdoor spaces – not, for example, pubs, restaurants and cafes.
Bubbles will be fixed for the period they are permitted meaning households can not change their Christmas bubble once it is formed.
The Cabinet Office guidance stipulates that the bubble should not include people from more than three households.
However, it highlights that the more people someone sees, the more likely they are to catch or spread Covid-19, and asks the public to be mindful of risks before agreeing to form a bubble.
Will we have to social distance within Christmas bubbles?
Social distancing will not be necessary in bubbles, but people will be advised to exercise restraint and judgment if they plan to mix with vulnerable friends or family.
It means friends and family will have the chance to hug for the first time in months.
What happens if I'm self-isolating?
People required to self-isolate must not join a Christmas bubble.
If someone in a Christmas bubble tests positive for coronavirus or develops symptoms between December 23 and 27, or up to 48 hours after the bubble last met, then all bubble members must self-isolate.
Can I still meet people outside of my Christmas bubble?
You will be able to meet people not in your Christmas bubble outside your home according to the rules in the tier you are staying in.
The tier system of restrictions applies to England, with rules in other parts of the UK varying.
What are the rules on travel over Christmas?
Scots should follow the travel advice for the level they are in (e.g. people being hosted in a level 3 area cannot go on an outing to a level 2 area)
People are allowed to travel between Scotland's tiers and the four nations of the UK to meet their Christmas bubble.
They should only travel to meet your bubble and return home between December 23 and 27.
Travel outside these periods is only allowed in exceptional circumstances, for example if a person is required to self-isolate.
People are advised to avoid unnecessary stops on their journey and not to share a car with people not in their household.
What about separated families?
Children who are aged under 18 can be part of both their parents' Christmas bubbles if the adults do not live together and separate groupings are formed.
Nobody else is allowed to be in two bubbles.