Scotland coronavirus restrictions: all new lockdown measures introduced by Nicola Sturgeon - including pub curfews and bans on home visits
Pubs are set to be hit with a curfew and home visits are set to be curtailed from Friday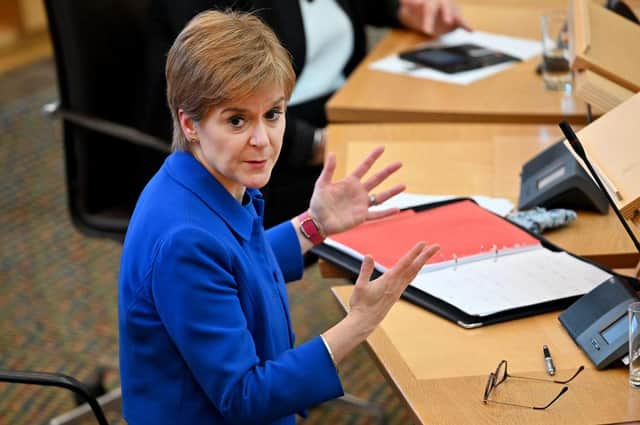 The measures come as Scotland and the rest of the UK experience a steep rise in new cases of the respiratory disease.
Out of step with the rest of the UK, the Scottish Government is also introducing a ban on visiting other homes
The new restrictions will be reviewed after three weeks, but the First Minister warned that they may be needed for longer. She did not specify that they may be in place for six months, as suggested by Prime Minister Boris Johnson.
Ms Sturgeon said the new rules were required to get coronavirus "back under control."
Speaking to Holyrood, she said, "It kills too many old and vulnerable people.
"And for younger, healthier people, while the risks of dying from it are much lower - though not non-existent - it can still result in long-term, serious health problems.
"That's why action to bring it back under control is necessary - and to bring the R number down again, the action we take now must go beyond the step we announced almost two weeks ago to restrict indoor and outdoor gatherings to six people from two households.
"Everyone who can work from home, should work from home," the First Minister added, asking employers to follow this message. If necessary, a legal duty will be put on businesses to allow home working, according to today's announcement.
Visiting other homes is banned from Friday 25 September, though Ms Sturgeon has asked people to follow the rule from Wednesday (23 Sep).
There will be exceptions for those living alone or alone with children, who form extended households. This includes couples who do not live together, grandparents providing childcare, and tradespeople.
Also from Friday, bars and restaurants will be required to close from 10pm. Ms Sturgeon said further restrictions, including possible closures, will be "unavoidable" if social distancing and other measures are not followed.
Ms Sturgeon said that by keeping pubs open but limiting their opening hours, the government could save jobs while also limiting the spread of the virus.
The Scottish Government is also advising against car sharing.
During her speech, the First Minister took the opportunity to reinforce messages and rules already in place. The rule of six remains in place for outdoor and public settings, while Scottish workers are encouraged to work from home wherever possible.
Scots are also being advised to follow the FACTS messaging.
- Face coverings in enclosed spaces
- Clean hands and surfaces regularly
- Self-isolate and book a test if you have Covid-19 symptoms
Package of support for self-isolating
The First Minister has confirmed that people self-isolating would be offered financial support. She said it is vital to reward people who follow self-isolating rules rather than punish those who don't
People who are on low incomes and are unable to work will be provided with £500 for the duration of their self-isolation period.
Local authorities will also be on hand to support anyone who has been issued with a positive test, helping with the delivery of goods if necessary .
How long could the new measures be in place?
The First Minister responded to suggestions that the measures may be in place for six months.
She said, "It is certainly the case, until scientific developments such as a vaccine change the game in the battle against Covid-19, it will have an impact on our lives.
"That doesn't necessarily mean that all of the new restrictions I am announcing today will be in place for six months.
"By acting early and substantially, our hope is that these new measures will be in place for a shorter period than would be the case if we waited longer to act."