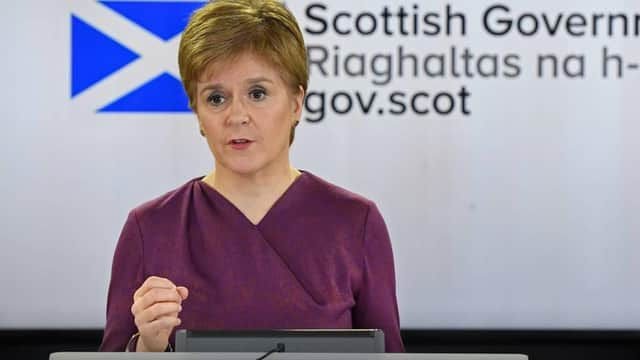 Nicola Sturgeon announced the scaling back of new Christmas rules, as well as a three week lockdown from Boxing Day (Getty Images)
On Saturday evening Nicola Sturgeon announced that the planned easing of restrictions for the festive period had been scrapped in Scotland.
All of mainland Scotland will also enter Level 4 restrictions from Boxing Day, while a travel ban between Scotland and the rest of the UK has been "strengthened".
The shift in approach to the Christmas period has disrupted the plans of millions across Scotland and the rest of the UK.
Here's what the new rules in Scotland are for the festive period.
Covid restrictions will only be relaxed on Christmas Day.
On December 25, Scots are able to form a bubble with two other households, and a maximum of 8 people, age 12 and over. Scots are advised to minimise the time spent with their bubble, especially indoors.
A travel ban has been "strengthened" between Scotland and other parts of the UK – except for essential purposes.
Scots are advised to avoid all travel between high prevalence and low prevalence areas - in particular, that means avoiding travel to or from Scotland and Tier 3 and Tier 4 areas of England, and to or from any Level 4 areas in Scotland.
The Scottish Government advises: "The safest way to celebrate Christmas this year is to celebrate with your own household in your own home - and as far as possible to keep any interaction with other households to a minimum."
All of mainland Scotland will enter Level 4 – the toughest of the country's five tiers of restrictions – for three weeks from one minute after midnight on Boxing Day morning.
Orkney, Shetland, the Western Isles and other Island communities will move to Level 3.
Schools will open for key workers as normal, but the majority of pupils will not return on January 11, with online learning until at least January 18.
What were the rules and why were they changed?
Previously Scots were told that they could form a Christmas bubble with three other households for the period between December 23 and 27.
Now the Scottish Government has performed a dramatic U-turn, citing the increasing prevalence of a new strain of Covid.
Ms Sturgeon explained the new measures will prevent more of the new strain entering Scotland from other parts of the UK and reduce the risk of it spreading within the country.
The new strain of the virus is the "most serious and potentially dangerous juncture" faced since the start of the pandemic, she said.
She said 17 cases of the new strain had been identified in Scotland and may be driving faster transmission of Covid in some hospitals and care homes.
Without acting firmly, the new strain could lead to the NHS being overwhelmed and more people dying from the virus, she said.