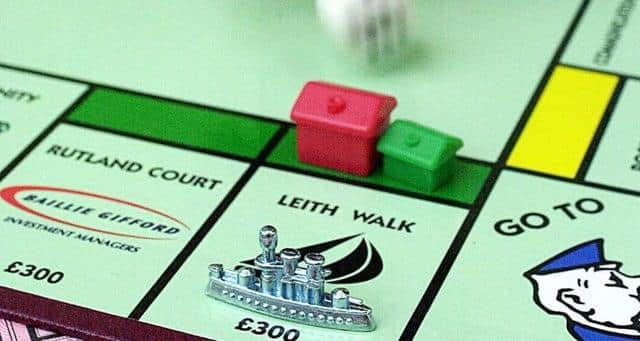 Sales of Monopoly have rocketed since lockdown.
But now, locked down consumers are turning to classic board games such as Monopoly, Scrabble, Cluedo and Uno to pass the time cooped up in the same house.
Companies have reported that sales of board games, as well as high-end, complex building sets, have rocketed - as experts say 'kidults' are turning to what are essentially toys to entertain themselves.
The biggest selling toy category in the first official week of lockdown, according to figures from market research firm the NPD Group, was Games and Puzzles, up 240 per cent from last year and winning a 21 per cent share of weekly spend across the entire toy sector. The classic edition of Monopoly was the bestseller, while Scrabble, Cluedo and Uno all made the top ten list, while popular modern game Dobble also soared in popularity.
Lego kits – some costing hundreds of pounds - such as the Technic Bugatti Chiron Construction kit and the Technic Land Rover Defender kit also featured, as sales of building kits of all kinds rose 59 per cent on last year.
Sales in the Arts and Crafts category almost doubled, with slime, dough and craft kits all making it into shopping baskets.
Meanwhile, the Outdoor and Sports category took 18 per cent of all sector spend, up from 12 per cent last year. Top sellers included playhouses, slides and Swingball as parents prepared for anticipated good weather.
Frederique Tutt, global toy market expert for The NPD Group said: "Our figures clearly show that consumers are preparing for the coming weeks of isolation with a selection of family board games, outdoor and seasonal summer toys, craft kits and building sets. It's interesting to see the classic games of Monopoly, Scrabble, Cluedo and Uno on this list.
"These 'standards' have shown us over and again that they can stand the test of time when reinvented and so it looks like they'll continue entertaining generations of Britons as householders look to release stress and tighten family ties during these challenging times."
He added: "We've seen this trend to buy board games during this lockdown period in France too, but where Brits buck the trend is in the sale of some of the toughest building sets available. With their price points at around £233 for the Technic Bugatti Chiron Construction Kit and approximately £153 for the Technic Land Rover Defender kit, these sets clearly aren't just for the kids.
"We're seeing a clear 'kidult' and adult trend here. Perhaps some of the buyers are grabbing the opportunity to use their newly found spare time to achieve a long-term dream to build one of these cars in Lego."
A separate report released by book publisher Haynes Publishing found that people are developing an interest in self-sufficiency and major DIY projects in the home.
The publishing house said it has has seen increased interest from consumers, with a week-on-week uplift in sales for both its lifestyle manuals and its workshop manuals. In particular, its manuals which cover chicken keeping, bee keeping and also planning home extensions are gaining particular traction amongst consumers.