Officials refused to release the information on the basis that it related to the formulation or development of government policy and was "not in the public interest" as it could lead to officials not giving "full and frank advice" to ministers.
The analysis had been requested via Freedom of Information in September prior to the current wave of Covid-19, with the Scottish Government responding more than a month later than is required by law in mid-November.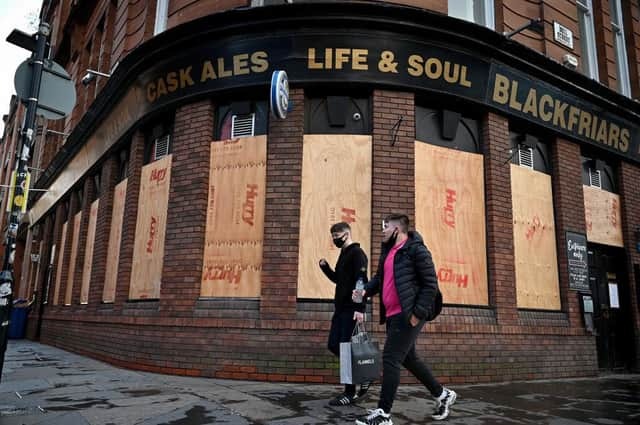 The response also showed no forecasting analysis had been undertaken by the Scottish Government over the summer on the potential of a second wave of Covid-19 on various sectors.
Officials said they did not hold any work done on the second wave's potential impact on finances, schools, care homes, local authorities or the hospitality and tourism industries.
In response to the request for the analysis, officials claimed there was a "greater public interest" in having a "private space" for "full and frank" discussion around policy development.
They added: "This should enable high-quality policy and decision making through exploring and refining the Government's position on the various issues associated with the path of the virus."
The Scottish Government has been criticised throughout the pandemic for failing to release scientific data linked to policy decisions and has come under fire for its handling of the Alex Salmond Inquiry where it has been accused of obfuscation around critical pieces of evidence.
It said it publishes weekly research findings which include projections for cases and hospitalisations and is "constantly analysing" the state of the epidemic.
However, the failure to release the forecasts for deaths and Covid-19 cases in a second wave was lambasted by opposition politicians.
Scottish Greens MSP Mark Ruskell said the lack of transparency was "concerning" and labelled the excuse for not releasing the information "absurd".
He said: "The Scottish Government's failure to even give the impression of transparency continues to be concerning. It is absurd to suggest that publishing projections of Covid-19 deaths, which led to the formulation of government policy, policy that has led to millions of people being locked down at home, is not in the public interest.
"It's extremely concerning if, as it claims, the Scottish Government hasn't bothered to forecast the impact of a second wave on these important sectors. It might explain why government policy does so often seem to be made up on the spot though."
Scottish Liberal Democrats health spokesperson Alex Cole-Hamilton labelled the analysis a "bare bones affair" and said the Scottish Government should treat the public like adults.
He said: "Perhaps this explains why so many have struggled to access financial support and why our contact tracing system has allowed so many cases to go days without a follow-up call.
"Scottish Liberal Democrats called for a forward-looking inquiry to take place after the first wave, in order to learn lessons and equip ourselves for whatever came next. Sadly the Scottish Government chose not to listen.
"If ministers want the public to obey fresh restrictions, they need to treat them like adults. That means providing them with the information about why certain decisions are being taken and what the consequences will be if restrictions are not obeyed. That is the swiftest and surest route out of this crisis."
The Scottish Conservative's health spokesperson, Donald Cameron, said people in Scotland deserved to know the reasoning behind the "tough sacrifices" and restrictions they were being asked to make.
He said: "As we continue to fight the spread of the virus, we need the SNP Government to be transparent and clear in terms of the information they release to the public.
"That won't be helped by officials refusing to reveal important analysis such as this. If this forecasting has not been fully carried out, then SNP ministers must commit to it as a matter of urgency in the name of open and transparent government."
Scottish Labour's health and social care spokesperson Monica Lennon said it was "beyond belief" no forecasting was undertaken by the Scottish Government on the impact on the public's finances from a second wave of Covid-19.
She said: "SNP ministers have missed multiple opportunities to prevent and plan for a second wave, and have failed to adequately resource Test and Protect, which could have avoided the current level four lockdown millions of Scots now find themselves in.
"We have a worrying mix of Covid-19 data being withheld or not existing at all.
"Scottish Labour has repeatedly called for more transparency from the SNP Government so that ministers can be held accountable for decisions that are having a huge impact on people's lives."
A Scottish Government spokesperson said: "The Scottish Government is constantly analysing the state of the epidemic and we are making as much information public as possible. Since May we have published a weekly research findings document, which provides projections for cases and hospitalisations in Scotland as a whole, based on a range of methods.
"Furthermore, an evidence paper was published on 7 October by senior Scottish Government clinical advisors, which summed up evidence on infection trends, confirmed cases, hospital use and deaths, and how these vary across Scotland."
A message from the Editor:
Thank you for reading this article. We're more reliant on your support than ever as the shift in consumer habits brought about by coronavirus impacts our advertisers.
If you haven't already, please consider supporting our trusted, fact-checked journalism by taking out a digital subscription.