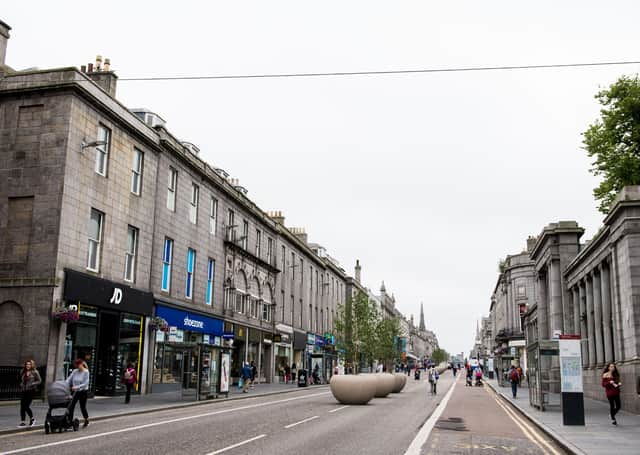 ABERDEEN, SCOTLAND - AUGUST 19: A general view of Union Street as the city of Aberdeen and Grampian area remains under a localised lockdown during the ongoing coronavirus pandemic, on August 19, 2020, in Aberdeen, Scotland. 19/08/20 - Aberdeen GV'sâ€(R)(Ross Parker / SNS Group)
City leaders were told late yesterday evening that the city, which had been put in lockdown by the government after a spike in coronavirus, would be able to reopen "broadly in line with the rest of Scotland" today.
However, hospitality businesses, such as pubs and restaurants where the Aberdeen outbreak is believed to have originated, will remain closed until Wednesday to allow checks to be made.
The decision was made after a Scottish Government Resilience Room meeting yesterday afternoon, hours after council leaders met government officials for crunch talks to allow the restrictions to be relaxed after local health experts said the virus was back under control.
ABERDEEN, SCOTLAND - AUGUST 19: A general view of Union Street as the city of Aberdeen and Grampian area remains under a localised lockdown during the ongoing coronavirus pandemic, on August 19, 2020, in Aberdeen, Scotland. 19/08/20 - Aberdeen GV'sâ€(R)(Ross Parker / SNS Group)
While it is understood that no agreement was reached after two hours at the morning meeting, the Scottish Government later announced that lockdown would end at midnight.
The latest coronavirus figures, 
published yesterday, revealed that only three more people had tested positive for the virus in Grampian in the 
previous 24 hours, compared with 37 in the NHS Tayside region – which is not under lockdown.
Overall there were 83 new cases of Covid-19 registered in Scotland on Saturday, with NHS Greater Glasgow and Clyde recording 16 and NHS Lothian, 11. All other health boards recorded cases below five, with four having no new cases at all.
As a result, from today the five-mile travel limit, restrictions on gatherings and limitations on hospital and care home visits in Aberdeen will be lifted.
Businesses due to open today in line with the national route map can also reopen unless they have a hospitality element. These, along with restaurants, pubs, casinos and other hospitality businesses, will be able to open from Wednesday once an environmental health check has been completed.
Hospitality business owners are being urged to get in touch with Aberdeen City Council to ensure they have received a health check.
Announcing the easing of lockdown for the city, Nicola Sturgeon said: "I am grateful to people in Aberdeen – the local authority and health board, local businesses and everyone who lives there – for complying so well with the rules that were put in place to prevent the spread of Covid-19.
"In particular, I am grateful for the understanding of the businesses that were required to close in order to help beat the virus. It's due to the commitment of people in the city, as well as world-class contact tracing, that means we are now able to lift some of these measures from Monday and then again from Wednesday, but it is vitally important that everyone follows the FACTS rules in order to prevent an outbreak of this scale occurring again.
"That way we can move forward and get our economy, our society and our lives generally back to as much normality as possible."
However, Susan Webb, director of public health for NHS Grampian, struck a warning tone and it is understood the Scottish Government has not ruled out extending restrictions if necessary to protect public health.
"We must be cautious to ensure the progress we have made is maintained." she said." Crucially, we must all be observing physical distancing from those not in our immediate household; whether at work, meeting socially, in a supermarket or out for exercise and recreation. It is also vitally important that anyone identified as a close contact of a detected case follows the guidance on isolating for 14 days."
The latest figures show a total of 427 cases have been identified in Grampian since 26 July and, of these, 259 are associated with the same cluster linked to Aberdeen pubs, with 1,258 contacts being identified from those.
Aberdeen South SNP MP Stephen Flynn welcomed the news and said: "The last few weeks have been really tough but as a city we have collectively got the situation back under control. Let's enjoy what is to come sensibly and, where and when we can, support our local businesses."
Liam Kerr, Scottish Conservative list MSP for the North-East, said: "The people of Aberdeen will be understandably relieved that the lockdown is to be partially lifted but already a huge amount of economic damage has been done.
"Businesses are desperate to get back to normal but it's clearly vital the continuing restrictions are followed.
"With over 5,000 jobs at risk the SNP government must provide more financial support so the Aberdeen community doesn't face economic disaster."
Scottish Labour's Lewis Macdonald, MSP for the Nort-East, said it was a "big win" for the city council's co-leader Jenny Laing "and an evidence-based approach to tackling Covid-19".
Earlier Aberdeen council's other co-leader, Douglas Lumsden, said the local authority had put "the case forward that the health experts should not be ignored and we should follow their advice that restrictions should be lifted" and had expressed frustration that the morning meeting had not ended in consensus.
He said he was angry that Aberdeen businesses "were being treated unfairly" as "infection rates elsewhere in the country are much higher than ours and we have heard from health professionals that the Aberdeen outbreak 
is completely under control".
Afer the announcement he said: "The main thing is we now have a clear path going forwards. It was clear there was no real case to maintain this lockdown any longer."
The council had previously warned that more than 5,000 workers were at risk of losing their jobs after Ms Sturgeon continued local lockdown restrictions last week, witha 60 per cent drop in footfall for businesses.