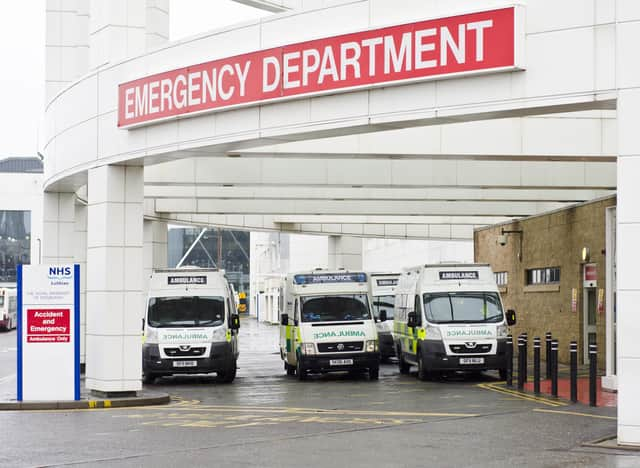 One in eight senior mental health posts in Scotland are lying vacant, the Liberal Democrats have learned
Scottish Liberal Democrats demanded action after figures released under Freedom of Information showed that of 632 consultant psychiatrists posts in Scotland, 82 are not currently filled.
Details provided by health boards showed that neither NHS Western Isles nor NHS Orkney have a permanent consultant psychiatrist in place.
Meanwhile, both NHS Lothian and NHS Lanarkshire have 14 such vacancies amongst their staff.
As the figures were released, Liberal Democrat health spokesman Alex Cole-Hamilton demanded the Scottish Government "get serious" about mental health staffing.
He said: "Scottish Liberal Democrats have championed the cause of our national mental health for several years, but the reality is that there is serious work still to be done.
"Even before the pandemic there were thousands of children waiting more than a year for treatment and no-one seriously imagines that the situation has got better.
"These figures show gaping holes in mental health staffing. Not only is this bad for patients but it piles pressure on other services like accident and emergency."
The Lib Dem MSP insisted: "The Scottish Government must get serious about staffing.
"They must invest in a proper national health service recovery plan that includes proposals that ensure our national mental health is a priority and puts the staff and resources in place to make that happen."
The comments came as the Scottish Trades Union Congress (STUC) said employers should do more to build trust with workers over their mental health.
The STUC has warned the coronavirus pandemic has exacerbated low levels of trust when it comes to disclosing mental health conditions.
A poll of more than 1,000 workers by the unions' representative body found 47 per cent do not feel comfortable disclosing struggles with their mental health to their employer.
More than two-thirds (67 per cent) of those who did confide in their employer about a mental health illness or issue said they have not been offered a reasonable adjustment for their mental health, according to the poll.
STUC general secretary Roz Foyer said: "Our survey results should be a stark wake-up call to employers.
"As we continue through a difficult winter, many workers will be feeling isolated, stressed and anxious.
"Many people's usual coping mechanisms are not available to them, and for many the heightened pressure will spill over into their work lives.
"Employers must work to build up trust with staff.
"This should include transparent workplace policies regarding mental health, decent sick pay and leave for those who are unable to work and a workplace culture free from bullying.
"Let 2021 be the year that employers start to take mental health seriously and support their workers."
The union issued the warning after Scotland topped the 120,000 mark yesterday for coronavirus cases since the pandemic began.
Figures from the Scottish Government showed there were 967 positive results for Covid-19 on Monday, bringing the total to 120,891.
There were 8,819 new tests for Covid-19 that reported results, with 12.2 per cent of these positive.
Other statistics are not being released daily by the Scottish Government during the festive period.