Non-essential electricity work shelved as companies focus on critical site power supplies
Scheduled temporary power cuts in the electricity network have been cancelled as energy companies ramp up measures to protect critical supply to hospitals and care homes.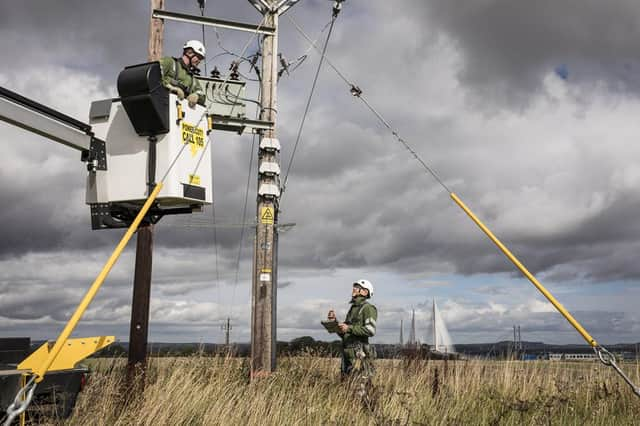 Projects to upgrade the electricity network across Scotland which would have involved "planned interruptions of power" to customers have been shelved while electricity suppliers focus on ensuring the resilience of the power supply to critical sites dealing with the coronavirus crisis.
Energy bosses are also urging the public to allow engineers, working on-street to keep supplies of power flowing, to do so free from abuse.
Jonathan Brearley, chief executive of Ofgem, said energy staff were key workers and needed to be able to work safely. He said: "Employees may need to visit properties and work in the streets. So if you see people digging up the road or carrying out other maintenance, please be aware that they are there to make sure we have access to the energy we all need.
"Network operators will also ensure that they follow the guidelines set by government on safe working."
Frank Mitchell, chief executive of SP Energy Networks - which operates the electricity supply across central Scotland – said they had put huge "changes in place to keep our staff safe and redeployed them on priority projects that will support the UK's national effort to tackle the coronavirus.
"If you see us outside your home or we visit your property during the coronavirus emergency, please be assured we are there because it is critical."
Mr Mitchell said that SPEN had contingency plans to ensure 3.5million homes and businesses maintain their electricity supply throughout the coronavirus crisis, including special measures to protect supply to critical national infrastructure and public service sites including hospitals, nursing homes, food supply chain businesses, Ministry of Defence sites and prisons.
As a result, he said, there would be a rapid installation of new connections to support the containment of Covid-19, including installation of new electricty generators where they are needed, whie critical maintenance and repair work would go ahead.
However scheduled works to upgrade the network, which would see power cuts for some customers, have been postponed.
Mr Mitchell said: "We have one of the most reliable energy networks in the world and our top priority throughout the crisis will be to keep the power flowing and ensuring critical national infrastructure sites receive the electricity supply they need.
"It's absolutely essential our network holds up against storms and high winds so our teams are working to maintain and strengthen the resilience of the network we all rely on to take us through this storm season and beyond.
"We know that now, more than ever people are relying on us to keep them safe and warm by ensuring the power continues to flow and we are committed to doing just that."
He added that SPEN customers who had received a letter from the NHS advising they are in a vulnerable group and 'at risk' should sign up to
the Priority Services Register for extra help should there be a power cut.