Professor Jason Leitch goes on to warn civil servants that there may be no prospect of foreign holidays until 2022.
In the video, the Scottish Government clinical adviser answers questions from civil servants on various topics relating to Covid-19 vaccines and restrictions and said Scotland would come out of lockdown "very very slowly".
Prof Leitch also said the independent review of adult social care which is likely to pave the way for plans for a National Care Service to be included in the SNP manifesto for the Holyrood elections in May will "come with a price tag" and could report late.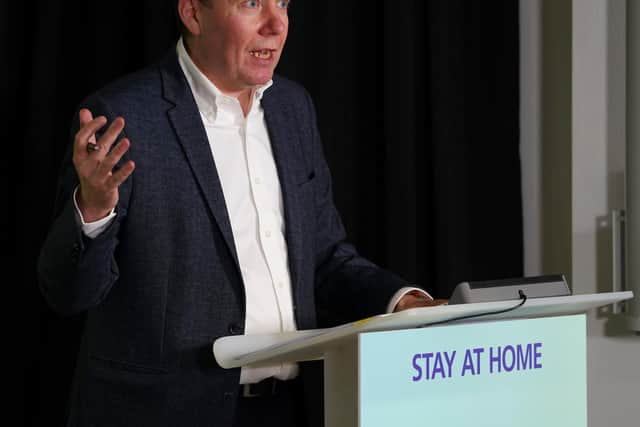 Describing the man leading the review Derek Feeley as "a pal of mine", he said it would report "this month we hope or just into next month" in time for the election. The review is due to report this month and the Scottish Government said it is expected to be published "shortly".
Prof Leitch also indicated "occupational priorities" for vaccines will be announced by the Joint Committee on Vaccination and Immunisation (JCVI) once more information on vaccine supply is known.
The video – leaked to The Scotsman – was published on Monday on the Scottish Government's internal intranet.
Asked whether people should be booking summer holidays, Prof Leitch said he would advise against it and that freedom of movement restrictions could mean no foreign summer holidays until 2022.
He said: "I wouldn't book a non-refundable summer holiday if I were you. I might book a holiday in the autumn or Christmas time but even then I'm not entirely sure what the world will look like in terms of freedom of movement."
Asked about the length of time current restrictions will be in place, Prof Leitch added that they will be in place for "a little bit longer" and restrictions would be eased "very very slowly".
On Tuesday, Nicola Sturgeon announced an extension of restrictions until at least the middle of February.
In the video, Prof Leitch said: "I think we'll be in this version of lockdown for a little bit longer and then gradually – as we came in gradually – we'll go out gradually but it'll be slow - very very slow because we've learned now twice we've learned how quickly it is to go up and how slow it is to come down."
He added that it is likely that Scotland would have to "learn what the post-Covid world looks like" and highlighted how the world learned to live with Spanish flu but added that process "would take a little while".
Prof Leitch also suggested it would take cases dropping significantly before restrictions would begin to be eased due to concerns around public perception of the pandemic.
He said: "And one of the things we're worried about - Gregor and I were talking about it with the First Minister this week – one of the things we're worried about is resetting the country's expectations at 1,500 [cases per day] being a good thing.
"1,500 is not a good thing - it's awful and it has awful implications for those who get seriously unwell so we need to drop that number further down."
A message from the Editor:
Thank you for reading this article. We're more reliant on your support than ever as the shift in consumer habits brought about by coronavirus impacts our advertisers.
If you haven't already, please consider supporting our trusted, fact-checked journalism by taking out a digital subscription.