Nicola Sturgeon: There are now 95 Scots in intensive care due to coronavirus
Scotland's coronavirus death toll has risen to 41 with another death since yesterday, and 95 people now being treated in intensive care, the First Minister revealed today.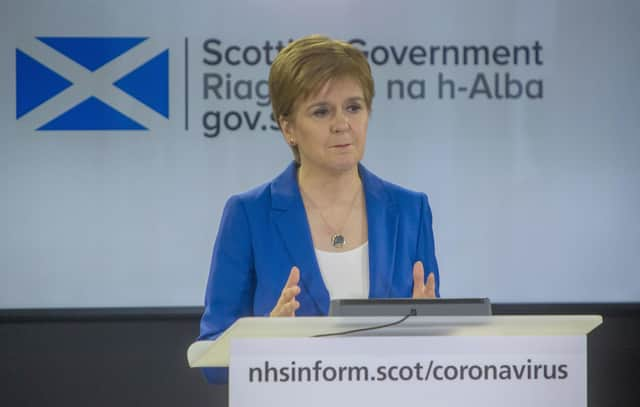 Nicola Sturgeon said a total of 1324 people have tested positive for the virus - a rise of 139 in 24 hours - as she also unveiled new measures to ensure all NHS hospital and community staff, and social care workers, received the personal protection equipment they need to keep safe.
At a now daily briefing at St Andrew's House, she said: "The number of cases is growing rapidly and already putting pressure on the NHS and care services. We are focusing very hard on preparing our health and care services to deal with that.
"We are taking new steps to further improve the supply of personal protective equipment for those on the front line of health and social care. Over the past four to six weeks 34 million items of PPE have been delivered to hospitals across Scotland, and now all health boards have a single point of contact to manage PPE demands.
"This week we'll deliver eight weeks worth to all GP surgeries and we are employing additional staff to meet the PPE order for the social care sector. We are also employing additional delivery drivers and more external delivery companies."
Asked about the creation of "field hospitals" in places like the SECC to deal with demand, Chief Medical Officer, Dr Catherine Calderwood said that, what NHS Scotland was investigating were temporary hospitals, rather than "field hospitals", which is an Army term for a mobile hospital unit.
She said: "The SECC is not a field hospital, it's not a mobile unit as the Army runs in places like Afghanistan. This would be a new hospital facility within that building. Engineers from the Armed Services with clinical specialists from the NHS have been scoping that out.
"It's still in the very early stages of planning and several options are being considered."
Nicola Sturgeon also revealed that a national co-ordination effort for volunteers to help the NHS would be launched this week.