Follow along here to stay up-to-date with the latest developments on Tuesday, March 23.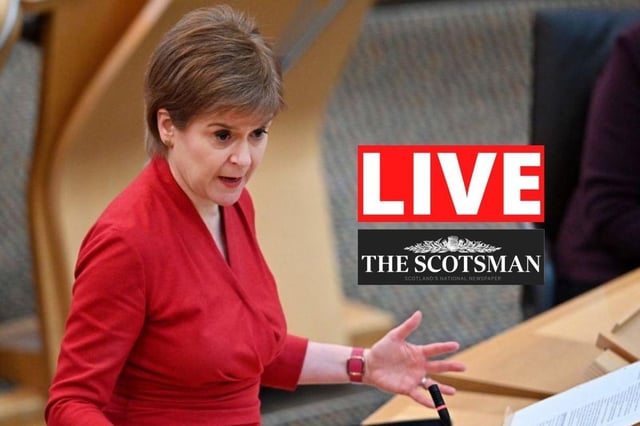 Nicola Sturgeon gives a Covid update to MSPs.
Coronavirus in Scotland RECAP: The latest updates on Tuesday, March 23
Last updated: Tuesday, 23 March, 2021, 16:21
Sturgeon wins no confidence vote
MSPs have voted down a motion of no confidence in Scotland's First Minister, brought in the wake of her government's botched handling of harassment allegations against Alex Salmond.
Tories had pressed the matter to a vote in Holyrood after two major reports into what went on were published – with an independent investigation clearing Nicola Sturgeon of breaching the ministerial code.
However the Scottish Parliament committee set up to investigate what went wrong in the government's handling of the complaints claimed Ms Sturgeon had misled them.
The Scottish Conservatives lodged their motion of no confidence in the First Minister before either of those reports were published.
When it was voted on in Holyrood this afternoon, it was defeated by 31 votes to 65, with 27 abstentions.
Sturgeon: 'we can achieve incredible things'
The pandemic has reminded us "human beings can achieve incredible things", Nicola Sturgeon has said.
Speaking in Holyrood on Tuesday, the First Minister said: "Scientists across the globe have developed vaccines at record speeds.
"Testing infrastructures have been established from scratch. People have changed their behaviour at a moment's notice, to protect and care for each other.
"The conditions the next Scottish Parliament faces will – I hope – be nothing like the ones we have encountered in the last year.
"But that parliament will have an even greater responsibility to tackle inequality, support economic recovery, and achieve a just transition to a net zero society.
"If we can summon some of the urgency, resolve and solidarity we have shown in the face of the virus – and bring it to bear in tackling those issues and others – then we can ensure that we do not simply return to normal. We can create a better and fairer normality for the future."
Western Isles to move to Level 3
The Western Isles of Scotland will move to Level 3 from 6pm on Wednesday, Nicola Sturgeon has said.
The islands will join Orkney and Shetland in Level 3, enjoying more freedom around retail.
Scots on the mainland will have to wait until at least April 5 before any changes to restrictions.
FM: We must create a fairer country
No Scot should be happy to return to the inequalities in place before Covid-19, Nicola Sturgeon has said.
The First Minister told MSPs: "In addition to gratitude, however, I think all of us should feel a sense of resolve. As we recover from the pandemic, as we will, we must create a better and fairer country.
"The way in which people have responded to the pandemic has been defined by solidarity, compassion and love.
"But the way in which people have been affected by the pandemic has been defined by the inequalities which still scar our society.
"Inequality has massively affected people's quality of life during lockdown – and deprivation has significantly increased people's chances of getting Covid, and of dying from Covid."
You've stuck to the rules; you've done home schooling – I'm sure most of the time; and you've helped out your parents and carers. Everybody across the country is incredibly proud of you, thank you for everything you have done
Sturgeon to young Scots
Worship with up to 50 people allowed from Friday
Collective worship with up to 50 people will be permitted in Scotland from Friday, Nicola Sturgeon has said.
The First Minister told MSPs: "I am also grateful to Scotland's faith groups, who have helped their communities and found new ways of reaching out to their followers.
"I am pleased to confirm that from Friday, collective worship will again be allowed in groups of up to 50 – if the premises can support such a large gathering with appropriate physical distancing.
"That is an important change – and I hope that it will be especially welcomed as we head towards important religious festivals over the next few weeks."
FM vows public inquiry into handling of pandemic
A public inquiry into the response to Covid-19 will be a priority for the SNP if they form the government after the election, Nicola Sturgeon has said.
Addressing MSPs in Holyrood on the one-year anniversary of the first lockdown, the First Minister said: "Yesterday I met with representatives of families bereaved as a result of Covid, and I pay tribute to their strength and resolve.
"In that discussion, I acknowledged – as I have done before – that the Scottish Government did not get everything right in our response to the pandemic.
"It is vital that we reflect on that and learn lessons – which is why I also confirmed that establishing a statutory public inquiry will be a priority for this government if we are returned at the election."
Seven new deaths from coronavirus in Scotland
Seven deaths of coronavirus patients have been recorded in Scotland in the past 24 hours, according to the latest official figures.
There were 495 new cases in the same period with a daily test positivity rate of 3.6%, down slightly from 3.7% on Monday.
The death toll under the measure used for the daily figures – of people who first tested positive for the virus within the previous 28 days – is now 7,559.
Scottish Government figures also indicate 341 people in hospital are confirmed to have the virus – down 12 in 24 hours – and of these, 28 patients are in intensive care, down five.
A total of 2,214,672 people received a first dose of a Covid-19 vaccination as of 7.30am on Tuesday and 235,671 have received their second dose.
Vote of no confidence in FM to take place after statement
2.2 million Scots have had their first vaccine dose
The First Minister told MSPs that, as of 7:30 this morning, 2,214,627 Scots have received their first dose of a coronavirus vaccine.
That represents almost half of all adults in Scotland.
Today, I want to reflect on the anxiety, isolation, loss and grief that have marked the last 12 months, but I also want to acknowledge the compassion, solidarity and love that has brought hope and light to these darkest of times.
Nicola Sturgeon
FM and opposition leaders hold minute's silence on lockdown anniversary
Nicola Sturgeon observes a minute's silence in the Garden Lobby of the Scottish Parliament at Holyrood.
Number of homeless in temporary accommodation up by a quarter during pandemic
The number of Scots being housed in temporary accommodation increased by more than a quarter during the Covid-19 pandemic, the latest homelessness figures show.
Scottish Government statistics showed that as of September 30 last year there were 14,151 households in temporary accommodation – a 24% increase on the same date in 2019.
Over that period, the number being housed in bed and breakfast population virtually doubled: rising by 99% from 710 in September 2019 to 1,414 the following year.
Charity campaigners at Crisis said the record numbers of people being housed in temporary accommodation meant some would have to struggle without access to proper cooking and laundry facilities.
Authorities across Scotland acted to move rough sleepers off the streets at the start of the coronavirus pandemic last year.
Crisis chief executive, Jon Sparkes, said: "At the start of the pandemic our priority was supporting people off the streets and ensuring they had safe, self-contained accommodation.
"There is no doubt that extraordinary action by national and local government, as well as homelessness services, saved lives from both coronavirus and the cold, but these interventions are short-term solutions."
Silence held to mark national day of reflection for anniversary of lockdown
A minute's silence has been held one year on from the start of the first coronavirus lockdown to remember those who died during the pandemic.
Prominent buildings and landmarks throughout the UK will be illuminated as part of the national day of reflection, including the Kelpies, Wallace Monument and Ness Bridge.
People are encouraged to stand on their doorsteps with phones, candles and torches at 8pm to signify a "beacon of remembrance".
End of life charity Marie Curie is organising the event, which is being backed by more than 100 organisations, including the emergency services, businesses, charities and community groups.
The Scottish Government is among those supporting the event and is inviting people to take part and to reach out to someone they know is grieving.
Ken Macintosh, the Scottish Parliament's presiding officer, led the minute's silence on the garden lobby steps at Holyrood at noon along with Scotland's First Minister Nicola Sturgeon and other party leaders.
He said: "This global pandemic has taken so much from so many. This Parliament stands shoulder to shoulder with all those who have suffered, all those grieving loved ones, and those whose lives have been changed forever.
"As parliamentarians we have heard directly from people who have been sorely affected, but we have also seen our own communities responding with care and understanding.
"This should give us all hope for the future as we seek to rebuild our country."
Experts call for creation of advisory committee ready to tackle future pandemics
Leading experts have warned that lessons learned throughout the pandemic should not be lost in preparation for another global health crisis.
Professor Linda Bauld, a professor of public health at Edinburgh University and Dr Helen Stagg, also from Edinburgh University, were appointed as advisers to the Scottish Parliament's Covid-19 Committee in December.
In the committee's legacy report, before Holyrood enters its pre-election recess on Thursday, the experts urge MSPs to use the work done in the last year to tackle coronavirus in preparation for any other pandemic in the future.
A note from the two at the end of the Covid-19 Committee's legacy report said: "It will be vital to focus on pandemic preparedness in the future so that
critical knowledge and capacity built over the past year is not lost.
"A standing advisory committee on pandemics, for example, would go some way to ensuring we are better equipped to face the next global challenge."
The committee would bring together a range of people, "whose time can be leveraged so they can rapidly contribute to pandemic efforts", the academics said.
A standing committee would also be responsible for combatting misinformation, the pair said, as well as "building public confidence in legitimate information sources and people's ability to distinguish between legitimate and more questionable sources, while appreciating the root sources of misinformation in particular communities".