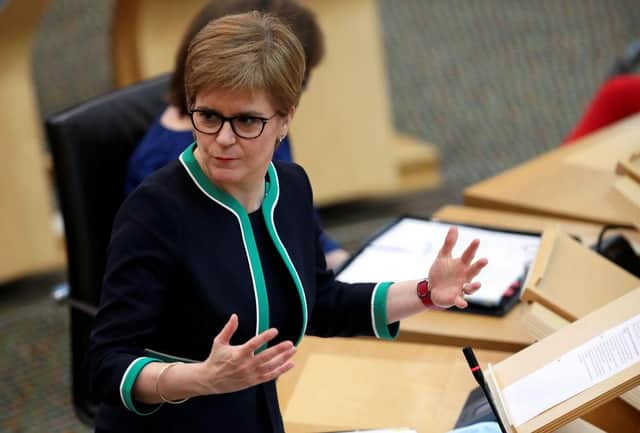 First Minister Nicola Sturgeon is scheduled to give her latest coronavirus briefing later today (Mon 21 Sep) as cases begin to surge in Scotland.
This is everything you need to know, from what she might say to when the broadcast begins and how you can watch at home.
What might Nicola Sturgeon say?
The First Minister always begins her coronavirus briefings by stating the total number of positive cases reported in Scotland.
As cases of the virus continue to rise, Scotland could be faced with tighter restrictions in a bid to control the virus.
It's expected that the First Minister will address the potential of a second coronavirus lockdown in Scotland.
In her previous coronavirus briefing (on Friday 18 September), Sturgeon said, "The bottom line here is that the virus is on the rise again."
She explained that while case numbers aren't rising as fast as they were back in March, they "are rising quite rapidly."
While Sturgeon has said that "no one wants to see another full-scale lockdown", she has indicated that stricter restrictions might have to be introduced.
Various areas across Scotland have already seen local lockdown restrictions, such as East Dunbartonshire, East Renfrewshire, Glasgow City and Aberdeen.
The First Minister might also discuss the possibility of large fines for those who fail to self isolate, after Scottish Health Secretary Jeane Freeman revealed to Politics Scotland that the topic was "under discussion."
From 28 September, people in England could face fines of up to £10,000 for failing to self isolate.
Freeman added that she wanted to avoid "penalising" people on "fragile, zero-hour contracts" and low wages.
She said, "I think what you need to do is look at what are the obstacles in somebody's way who wants to self isolate, wants to do the right thing but may have difficulties in doing so.
"One of those will be financial difficulties, so there needs to be an extension to ensure that we can offer financial support before you start talking about punishing people for not doing something that they want to do."
Sturgeon will also likely urge viewers to download the Protect Scotland app, which surpassed a million downloads on Thursday 17 September.
The Protect Scotland app from NHS Scotland's Test and Protect is a free, mobile app designed to reduce the spread of Covid-19. The app alerts users if they have been in close contact with another user who has tested positive for the virus.
The speech will take place at 12:15pm today, Monday 21 September 2020.
The First Minister will issue the speech from St Andrew's House in Edinburgh.
There are a few ways to watch the First Minister's live speech.
While the speech will not be shown on the main BBC One Scotland channel, you will be able to watch it at 12:15pm on the local BBC Scotland channel, which can be accessed via BBC iPlayer.
Alternatively, the briefing will also be broadcast live at the same time on the Scottish government Twitter page, which you can still watch even if you don't have a Twitter account.