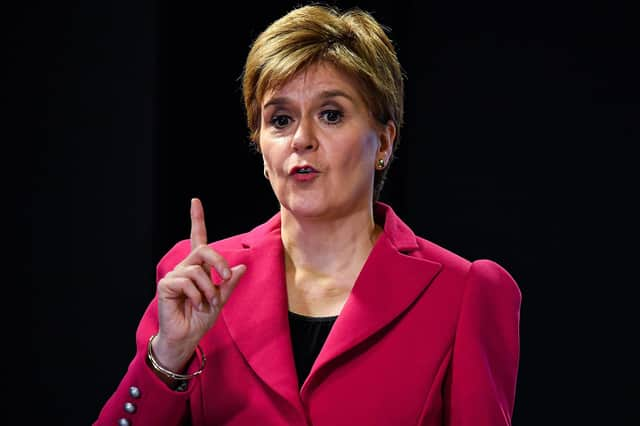 A blueprint for how the Scottish Government intends to plan for easing restrictions published today, also reveals that a new focus on "test, trace and islolate" will be needed if the lockdown is to end.
Launching the document, First Minister Nicola Sturgeon said she wanted to have an adult conversation with the public to ensure that measures in coming months to lift current restrictions did not lead to a new spike in coronavirus transmission.
She said that the government was looking at what could be done in a "phased and careful manner" to allow life to resume, but that "people would have to find a way to live with this virus" and that "a return to normal as we knew it is not on the cards in the near future."
And while she said did not want "to depress people with talk of years", nor would Christmas be cancelled, she stressed that large gatherings would be banned for the foreseeable future.
Speaking at her daily coronavirus briefing the First Minister said the number of people in Scotland who have died after testing positive for the virus is 1,120, up by 58 from 1,062 yesterday. A total of 9,409 people have now tested positive, up by 371 from 9,038 the day before, however, the number of people in intensive care and hospital has fallen by seven to 148 and by 28 to 1,776 respectively.
She said: "I am seeking to start a grown up conversation with the public about the complex decisions that lie ahead of us as we look beyond lockdown. We will seek to inform the public with the best scientific advice possible, but the science will never be exact and we are in uncharted territory so we also need to make careful judgements and be prepared to adapt and change course as we go.
"We want to ease restrictions, but we cannot rule out having to reapply them should the virus run out of control."
She added: "Every day we see evidence that this virus causes real harm, but so too do the lockdown measures we are taking to contain it. This is causing harm to the economy and living standards, to children's education and to mental health and wellbeing.
"That is why we need to try to find a better balance than the one we have now, but as we do so we cannot take our eye off the need to suppress the virus and minimise the damage it does.
"It is only when we are sure the virus is under control that we can even start to ease any of the restrictions because the virus will not have gone away.
"As we start to lift the restrictions, the real risk is that Covid-19 runs rampant again so a return to normal as we knew it is not on the cards in the near future. What we will be seeking to find is a new normal - a way of living alongside this virus, but in a form that keeps it under control.
"Physical distancing and limiting our contacts with others will be a fact of life for a long time to come - certainly until treatments and ultimately a vaccine offer different solutions. But if we all keep doing the right things, there will be a way through – and we will find it, together."
Asked if people would be asked to wear masks while out in public, she said: "It is likely in limited circumstances we will advise people to use face coverings – not medical masks – a scarf or bandana to cover the face, but we don't want to overstate the impact that may have, or that covering your face means it's ok to do things without social distancing, but we will look to issue guidance on that over the next few days."
Ms Sturgeon also said that it could be necessary to "redesign workplaces and school classrooms to allow people to get back to normal but keeping social distancing measures in place" and that not all children might return to school at the same time.
"Discussions and considerations are at a very early stage and have to be informed by data and evidence," she said. "Redesigning classrooms is a grand way of saying desks will be further apart. There's also the option of some kids going one week, the rest going the next, to enable smaller classes. But these are just ways of illustrating what might happen – there may be an area in between schools being not exactly closed but not open as normal either.
"We can't guarantee schools will be back befor ethe summer but if they can be in any way we would want that to happen. We have to get judgements right or the impact if we get them wrong will be very damaging."
While Health Secretary Jeane Freeman said that "test, trace and isolate" would be "critical" to lifting lockdown while Ms Sturgeon said work was underway on the "new phase" of testing.
Asked if she was concerned about border controls and a lack of testing at airports, with passengers arriving from coronavirus-infected countries, she added: "This is one of the issues that has to be a key consideration about where we go in the next phase of this. Testing where people are not symptomatic is not as reliable as you'd ideally want it to be, but as we go into another phase the balance of judgements around this becomes different and we will continue to discuss that with the UK government."
Chief Medical Officer, Dr Gregor Smith, added: "We need to learn from the experience of other ocuntries, which started to open up and ease the measures. One of the really important points about the introduction of new infection has been through international travel, and we need to learn from that very carefully to make sure our approach reduces the risk of that happening here."
Ms Sturgeon also said the reproduction rate of the virus must be kept below a score of one, with best current estimates putting the figures "somewhere between 0.6 and one".
To keep the rate down, the document says that good hand and cough hygiene "must become fundamental habits", adding "each one of us will have to adapt to this as the new normal, at least until we are sure that we can be more protected by a vaccine or treatment".
And it adds: "Our assessment is that now is not the right time to relax restrictions. If, after easing any restrictions, the evidence tells us we are unable to contain the transmission of the virus then we will have to reimpose them, possibly returning to lockdown with little notice."While we will do our best to avoid this, it is possible that such a cycle may happen more than once until we reach a point when we have in place an effective vaccine."The report suggests there will be phases of easing, with different parts of the economy opening up sector by sector, dependent on how restrictions can be applied to protect people's health. "It may be that restrictions on some outdoor activity are eased before those on indoor activities - however, all of this will be evidence-led," it states.
When asked about compliance with long-term restrictions, Ms Sturgeon said: "I'm not complacent about any aspect about this but if you asked me a month or so ago if I was confident that people would comply as well as they have with the lockdown, I'd have said I hope so but inside I'm not sure I would have been as confident. People have complied and responded magnificently in the main."
She added: "That gets tougher with every day and every week that passes, I don't underestimate that. But I believe that people want to do the right thing and I believe that I will be, as First Minister, more able to convince people to do the right thing if I set out, openly, clearly, transparently, the reasons why we're asking people to do certain things. That is why this conversation is so important. I can't do this on my own."