Nicola Sturgeon: Scotland's Christmas relaxation abandoned amid surge of new coronavirus strain
The First Minister has announced the Scottish Government will abandon its planned relaxation of restrictions over Christmas, in an extraordinary press conference this afternoon.
Ms Sturgeon said travel between Scotland and the rest of the UK would be banned, after a surge of cases of a new coronavirus strain, which spreads up to 70 per cent faster than other versions, was identified in South Wales, London, and Southeast England.
Explaining that "very firm preventative action" was required to ensure Scotland is protected from the new strain, Ms Sturgeon said a planned five-day relaxation on indoor socialising restrictions would also be abandoned.
Instead, eight people from three households in Scotland will be able to celebrate together on Christmas Day only, and mainland Scotland will be placed into Level 4 restrictions from Boxing Day.
Ms Sturgeon said schools in Scotland will initially only reopen for the children of key workers, though other pupils will have access to online lessons from January 11.
A phased return will see other students return to in-person classes on January 18.
The First Minister said that announcing the changes "made her want to cry", but insisted that they were needed to "prevent things getting worse - potentially very quickly."
Political reaction to the news was swift.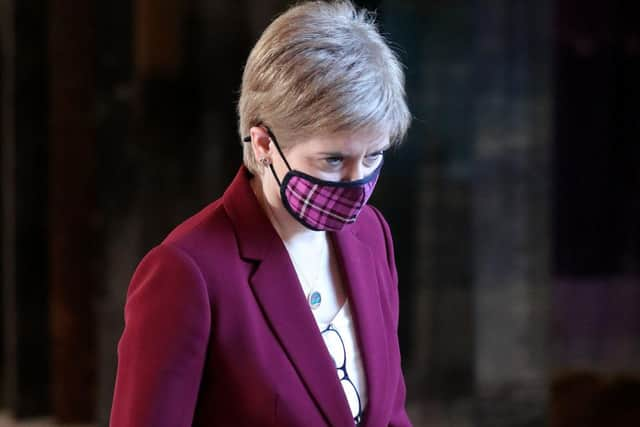 Commenting on the new restrictions, Scottish Labour leader Richard Leonard said: "The Scottish Government must make decisions based on public health advice and solid evidence.
"To win public confidence behind this significant tightening of restrictions requires persuasive evidence to be published, transparency and openness, and a substantial rise in testing, otherwise not only will there be disappointment there will be a heightened risk of non-compliance."
Scottish Conservative leader Douglas Ross said: "Families across Scotland will be devastated at these new measures, especially so close to Christmas."However, given the rapidly increasing spread of the virus across the UK, and until our scientists know more about the transmission of this new variant, it is understandable why these restrictions are necessary at this time."None of us want this, but these sacrifices will save lives."We would expect the Scottish Government to ensure a return to regional levels of restrictions as soon as it is safe to do so."
Scottish Liberal Democrat leader Willie Rennie said: "When the science speaks in such stark terms, the leadership of the country must listen and act.
"Shutting down mainland Scotland for three weeks will have a great impact on people's lives, but it is the response that is necessary to match this new threat.
"However, the Scottish Government should act earlier by closing schools next week. The new strain of the virus is already here and pupils and teachers who are infected in school next week could pass it onto vulnerable relatives on Christmas Day.
"Let's be safe and close the schools early."
Scottish Greens co-leader Patrick Harvie said: "It's clear that the increase in cases linked to a new strain are very concerning indeed.
"For weeks Scottish Greens have been raising the concerns of public health experts that the planned relaxation of restrictions would lead to a significant rise in infections of COVID-19, so in the face of an even more transmissible strain this extra caution from the First Minister is necessary.
"If this is going to work, we need to step up the support for people self-isolating, especially for those on insecure income.
"This means widening the criteria for receiving financial support and offering accommodation where it is urgently needed.
It comes as Prime Minister Boris Johnson announced that from Sunday areas in the South East currently in Tier 3 will be moved into a new Tier 4 – effectively returning to the lockdown rules of November.
Non-essential shops, gyms, cinemas, hairdressers and bowling alleys will be forced to close for two weeks – while people will be restricted to meeting one other person from another household in an outdoor public space.
The rest of England will also see the Christmas "bubble" policy severely curtailed, applying on Christmas Day only.
Mr Johnson told a Downing Street news conference that he was making the changes with a "very heavy heart".
"I know how disappointing this will be. But we have said throughout this pandemic that we must and we will be guided by the science.
"When the science changes, we must change our response."
Meanwhile in Wales, non-essential retail, close contact services, gyms and leisure centres and hospitality will close in Wales at the end of trading on Saturday as part of the new lockdown.
First Minister Mark Drakeford said stay at home restrictions would also come into effect from midnight.
"Unfortunately, we must also look again at the arrangements for Christmas – we cannot expose people to the risk of this new, more virulent strain of coronavirus," Mr Drakeford said.
Sir Patrick Vallance, the Uk Government's chief scientific adviser, said the new strain of coronavirus, identified as particularly prevalent in England, has become "the dominant variant" due to the speed with which it can spread.
The strain, which scientists believe mutated from the original virus in mid-September, accounted for around 28 per cent of cases in London and the Southeast of England in November.
But, Dr Vallance explained, by December it had "grown rapidly", and now represents more than 60 per cent of cases in London.
"So what this tells us is that this new variant not only moves fast, it is increased in terms of its ability to transmit, but it is becoming the dominant variant, it is beating all the others," he told reporters.
The new strain of coronavirus contains 23 separate changes from the original strain identified at the start of the pandemic, which Dr Vallance described as "an unusually large number".
"It's also got variants in areas of the virus that are known to be associated with how the virus binds to cells and enters cells."
Dr Vallance added that, as far as scientists can tell, "there's no evidence it causes a more severe disease, causes more hospitalisation, or causes more trouble than the other virus."
A message from the Editor:
Thank you for reading this article. We're more reliant on your support than ever as the shift in consumer habits brought about by coronavirus impacts our advertisers.
If you haven't already, please consider supporting our trusted, fact-checked journalism by taking out a digital subscription.
Comments
 0 comments
Want to join the conversation? Please or to comment on this article.