Follow along here to stay up-to-date with the latest developments on Tuesday, March 16.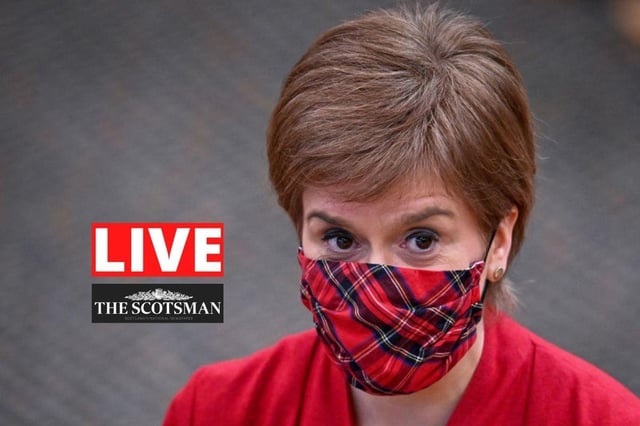 Nicola Sturgeon gives her statements on the new routemap out of lockdown.
Nicola Sturgeon routemap out of lockdown statement RECAP
Last updated: Tuesday, 16 March, 2021, 15:41
This is when pubs and restaurants could reopen
Outdoor hospitality will be able to reopen in Scotland from late April, First Minister Nicola Sturgeon has announced.
Sturgeon announces 'Stay At Home' will end on April 2
FM warns against complacency
Nicola Sturgeon warned against complacency as she announced the easing of restrictions in the coming weeks in Scotland.
The First Minister said that while she hopes to be able to lift the stay-at-home order and open retail and hospitality at different points next month, work was still required to ensure cases did not rise.
She said: "This is certainly the most hopeful I have felt about the situation for a long time.
"However, as you would expect, I do need to add a note of caution.
"I know this is the bit none of us want to hear, but the route back to normality does depend on continued suppression."
The First Minister added: "We must continue to suppress it to the lowest level possible."
'Stay Local' to replace 'Stay at Home' rule
The First Minister told MSPs that when the "Stay at Home" rule is lifted on April 2, it will be replaced with an order for Scots to "Stay Local".
The change means that, while people will be allowed to leave their homes for non-essentials reasons, they will not be allowed to travel outside their local authority areas unless for an essential purpose.
Ms Sturgeon said the new rule would last for around three weeks, and help prevent the spread of coronavirus from one region of Scotland to another.
Scotland to move from Level 3 to Level 2 in May
Nicola Sturgeon told MSPs that she expected "as many regions as possible" to move from Level 3 to Level 2 on May 17 - three weeks after the country will be moved down from Level 4.
She said: "We would hope, from that date, to allow indoor hospitality to return to greater normality, with alcohol able to be served indoors and within more normal opening hours, though possibly with some continued restrictions - a requirement for people to book in two hour slots, for example."
May 17 will also see the return of adult outdoor contact sports and indoor group exercises, as well as the reopening of cinemas, amusement arcades and bingo halls.
Ms Sturgeon said she also expects restrictions on outdoor social gatherings to be eased further.
A message from the Editor:
Thank you for reading this article. We're more reliant on your support than ever as the shift in consumer habits brought about by coronavirus impacts our advertisers.
If you haven't already, please consider supporting our trusted, fact-checked journalism by taking out a digital subscription.
Shielders to return to work on April 26
From 26 April, people on the shielding list can return to work; children and young people on the shielding list can return to school or nursery; and students on the shielding list can return to college or university.
Nicola Sturgeon
The Chief Medical Officer will write this week to everyone on the shielding list to provide more detailed advice.
Live indoor and outdoor events from May
Live events are set to return in Scotland from the middle of May under the country's new route map out of lockdown.
Hospitality to reopen from April 26
From that date, cafés, restaurants and bars will be able to serve people outdoors – in groups of up to six from three households - until 10pm. Alcohol will be permitted, and there will be no requirement for food to be served.
Dependent on continued suppression of the virus, Ms Sturgeon suggested there could be limited indoor opening of hospitality from 26 April too.
This will be limited initially to the service of food and non-alcoholic drinks until 8pm, and for groups of up to four people from no more than two households.
As was the case last year, venues will need to retain customers' contact details for three weeks after their visit.
Limits for weddings and funerals to be raised
On April 26 the limit on attendance at weddings, funerals and associated receptions will be raised to 50 people from 26 April.
From 26 April, the restrictions on outdoor socialising will be eased further too.
From that date, six people from up to three households will be able to meet outdoors - and with no mainland travel restrictions in place.
Ms Sturgeon added that, at the moment, she is unable to say whether indoor visits will be allowed to go ahead.
All tourism accommodation will reopen from April 26
Ms Sturgeon said all tourism accommodation will be able to re-open from April 26, subject to any wider restrictions that remain in place.
She added that libraries, museums and galleries will also reopen from 26 April.
Work in people's homes will resume from that date, as will driving lessons. Gyms are also expected to reopen then too.
Scotland expected to move to Level 3 on April 26
The First Minister told MSPs that she expects all of Scotland currently in Level 4 restrictions will move to a "modified" Level 3.
Island communities currently in Level 3 will have the option to move at that stage to Level 2, though ministers will discuss this with local officials in the next few weeks.
Ms Sturgeon also said that travel restrictions within mainland Scotland will be "lifted entirely" on April 26.
She added: "We hope that restrictions on journeys between Scotland and other parts of the UK and the wider common travel area can also be lifted, if not on 26 April, then as soon as possible thereafter."
On-campus learning to restart in April
The First Minister said she expects more students in further education to return to on-campus learning from April 5.
She told MSPs: "Colleges will prioritise those students whose return is essential – including those who are most at risk of not completing their courses.
"That includes those who are taking qualifications in construction, engineering, hairdressing, beauty and related courses."
Contact sports for 12 to 17-year-olds will also resume on that date.
Non-essential retail to reopen on April 5
Click and collect retail services will be permitted to reopen from April 5, along with garden centres, homeware stores, car showrooms and forecourts.
Ms Sturgeon also said she expected hairdresser and barber salons to reopen for appointments on that date too.
'Stay at home' rule to be lifted in April
The First Minister has announced the Scottish Government plans to lift the "stay at home" rule for Scots on April 2.
She said: "Initially, though we hope for no more than 3 weeks, 'stay at home' will be replaced by guidance to stay local - in other words, not to travel outside your own local authority area unless for an essential purpose.
People will also continue to be able to meet up outdoors, including in private gardens, in groups of no more than four from two households.