Nicola Sturgeon: 'I must ask all of you again to make sacrifices'
Nicola Sturgeon appealed to Scots to "make sacrifices for the national wellbeing" as she ordered a country-wide ban on visiting other households to stem the rising tide of coronavirus cases.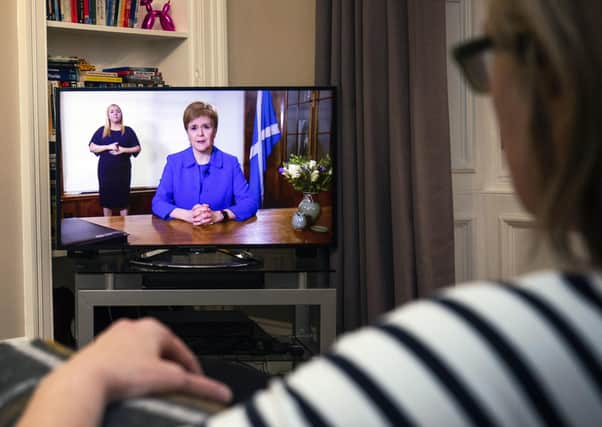 Pubs also face a 10pm curfew north of the Border in line with a UK-wide drive to cut transmission rates, although licensed trade chiefs say it will drive hundreds out of business. The First Minister set out a tough new package of restrictions on Tuesday, which also ends shared car journeys between people from different households.
And although a "circuit breaker" lockdown won't be happening for now, it remains "under review".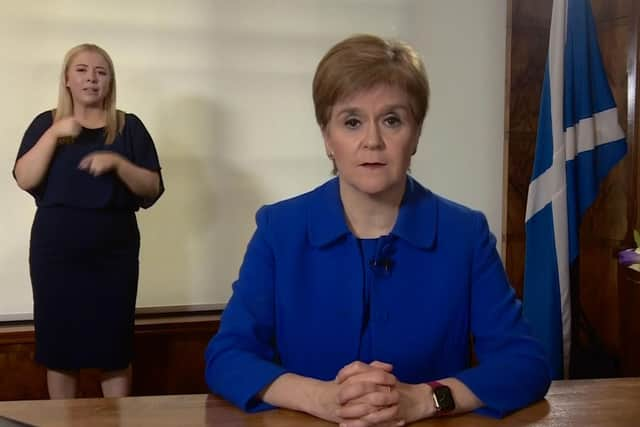 In a televised address to the nation, she said: "We are once again at a tipping point. We must act to get Covid back under control and protect the things that matter most to us."
The national priorities will now focus on keeping schools open, restarting the NHS and protecting care homes, as well as jobs and livelihoods.
"It is to safeguard these priorities that I must ask all of you again to make sacrifices – sacrifices for our national wellbeing." It comes as the number of new cases in Scotland hit 383 yesterday, the highest since early summer, with one new death recorded.
The nationwide restrictions on household gatherings extends the measures already in place in the west of Scotland for the past three weeks to all of Scotland.
Regulations giving effect to this change will come into force on Friday, but Scots have been asked to observe the new rules from today. Breaches of the new rules could be met with a £30 fine.
From Friday, pubs, bars and restaurants will be required to close at 10pm, Ms Sturgeon confirmed.
She said that closing pubs altogether would jeopardise the "jobs and livelihoods" of too many people.
"This decision means we can reduce the amount of time people are able to spend in licensed premises, thereby curtailing the spread of the virus, while still allowing businesses to trade and provide jobs," the SNP leader added.
But industry chiefs warn the latest blow could sound the death knell for many businesses.
The Scottish Hospitality Group's Stephen Montgomery said many businesses were currently trading at a loss and taking away late night customers would have a "critical impact" on the industry.
"We are now staring into an abyss," he said.
"A national curfew on Scotland's bars, restaurants and late night venues will have a critical impact on those crucial later trading hours.
"Many of us are already trading at a loss and some members estimate that they will see their turnover plummet by more than 25 per cent with the new measures.
"With 90,000 Scottish jobs at risk, we are heading towards a cliff edge and time is running out."
Mr Montgomery claimed it was "only a matter of months" before irreparable damage was done to the industry, meaning "many businesses" would not make it past Christmas without further support.
Mike Grieve, the chairman of the Night Time Industries Association Scotland, said the new measures "don't make sense".
"The main transmission mechanism is in the home, not in hospitality settings," he said.
"As the only country in the world with a complete ban on music, Scotland's worldwide reputation for atmosphere in our bars, restaurants and venues is already threatened with extinction."
A spokesman for the Scottish Beer and Pub Association claimed the curfew would "devastate" the hospitality industry at a time when businesses were already struggling, calling for "an immediate, sector-specific furlough scheme" to be put in place to save already beleaguered pubs and restaurants.
During her speech yesterday, the First Minister said further restrictions, including possible closure of venues, would be "unavoidable" if hygiene rules were not complied with, involving ensuring social distancing, hand hygiene and the wearing of face coverings.
New guidance will also be introduced advising against people from separate households sharing a car journey.
Ms Sturgeon also announced that everyone who can work from home should work from home, with the prospect of a legal duty on firms to allow this. A package of support for people who are asked to self isolate is being introduced with £500 for those on low incomes. A nationwide promotional drive will be launched to highlight the FACTS campaign to observe basic hygiene.
The First Minister addressed MSPs yesterday just two hours after Boris Johnson set out enhanced measures for England, including the 10pm pubs closing time and a tightening of the rules around wearing masks. The measures unveiled today will be reviewed in three weeks, but Scots were warned they are likely to be in place longer than that.
Comments
 0 comments
Want to join the conversation? Please or to comment on this article.