From Saturday it will be illegal in all level four areas to drink alcohol outside.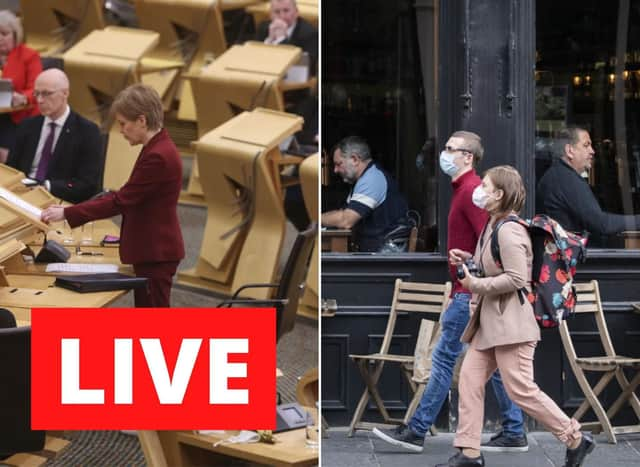 All of the latest restriction changes are explained here.
To read Nicola Sturgeon's announcement in full, click here.
A message from the Editor:Thank you for reading this article. We're more reliant on your support than ever as the shift in consumer habits brought about by Coronavirus impacts our advertisers.
If you haven't already, please consider supporting our trusted, fact-checked journalism by taking out a digital subscription.
Coronavirus in Scotland LIVE: Follow here for all Wednesday's updates.
Show new updates
'We are facing a crisis like never before' - warnings over 'extreme' pressure on Scottish A&E departments as wait times increase
Scotland is facing a "crisis like never before" in its Accident and Emergency Departments with the worst still to come, top medics have warned.
A warning has been issued for zoos to take extra care to protect their primates during the pandemic, after gorillas at San Diego Zoo tested positive to the coronavirus.
Several gorillas at the famous zoo were found to have the virus in the first known examples among such primates in the US, and possibly the world.
The gorillas were tested after some had been seen coughing. The infection is thought to have come from a member of staff who tested positive despite being asymptomatic, and who wore a mask at all times when close to the primates.
While other wildlife, including minks and tigers, have contracted the coronavirus, the San Diego case represents the first known instance of transmission to great apes.
The likelihood of the gorillas developing a serious reaction remains unknown at this stage, but gorillas share some 98% of their DNA with humans, with other primates sharing still more.
This makes them vulnerable to human infections, with even the common cold potentially fatal.
The outbreak has prompted warnings for all zoos and conservation reserves to rethink their pandemic biosecurity measures.
"It's now clear that, despite all the precautions, there can be spread," Serge Wich, a primate expert at Liverpool John Moores University, told The Daily Telegraph.
"So we might need to rethink a little bit about where we can improve upon these precautions and really try to understand why this particular transmission did happen."
Professor Wich was one of 25 experts to sign a letter in March calling for the closure of national conservation parks in Africa and Asia to protect great apes in the wild, already under pressure from illegal poaching and habitat loss.
He said the San Diego case showed the coronavirus to be a "huge concern" for zoos and reserves, and for people who conduct research on primates and who work in tourism, even when they did "maintain a distance and take precautions".
Lockdown restrictions in England will remain in place for as "long as they are necessary", Health Secretary Matt Hancock has said, as he suggested there are no current plans to tighten existing rules.
Mr Hancock urged people not to "take the mickey" out of the restrictions, but said it was "impossible to know" when they could be eased.
"We will keep the restrictions in place not a moment longer than they are necessary, but we will keep them in place as long as they are necessary," he told Sky News.
"These measures that we have got in place that we hope to be able to lift - and we should be able to lift, when we have been able to protect through vaccination those who are vulnerable - right now, the vaccination is not in a position to do that."
Speaking on BBC Breakfast, Mr Hancock said the current rules were always "under review" but "what really matters now is the degree to which everybody follows the existing rules."
He added: "Of course you can always make changes at the margin, but we brought in a very significant restriction, the stay at home measures... It is possible then to make further restrictions, but what I'd say is that the most important thing is compliance with the existing measures, that's the thing that is going to make the difference."