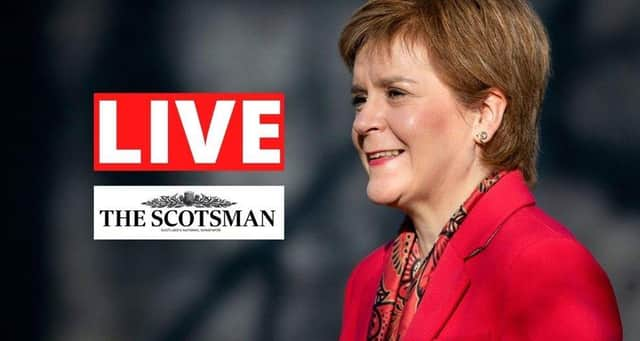 Nicola Sturgeon, the First Minister of Scotland.
Scroll down to see the latest coronavirus news and coverage of Nicola Sturgeon's update on easing of restrictions.
Covid Scotland LIVE: Nicola Sturgeon to make coronavirus announcement as cases soar | Humza Yousaf says football fans could be to blame for increase | Hong Kong latest location to ban UK travellers
Key Events
Humza Yousaf links spike in cases to 'watching football indoors'
Nicola Sturgeon calls for caution as Monday figures show 3,285 people tested positive for Covid overnight
Scotland records lowest number of annual births since records began
Hong Kong bans all incoming flights from UK
Show new updates
FM believes that Manchester ban was proportionate, and in line with the advise that was being given locally.
FM: We're hoping to move the whole country down to level zero on July 19.
FM: Never had an appetite for placing restrictions on how people live their lives.
FM: "Hopefully we will reach the judgement that because of vaccination" lockdown will not be necessary.
FM: Adds she doesn't want to say anything with complete certainty.
FM on rise in cases: This is not about blaming football, this is about people coming together in enclosed circumstances, and that is what we need to take care over.
FM on the Chris Whitty abuse: I can't find the words strong enough to deplore and condemn..the way Chris Whitty was being abused and manhandled.
"For anyone to face that is appalling...but I know how hard our clinical advisers are working right now to get the whole country through this.
"They deserve our gratitude.
Gregor Smith: Has a lot of personal and professional respect for.
: He knows he has my support.
: I think its appalling what happened to Chris and as a society we should condemn it.
FM responds to a press question about her meeting with the Queen by saying that the conversation was private and confidential.
FM on Scotland fans after rise in cases: "We didn't take a softly softly approach."
Asked people not to travel if they didn't have tickets.
FM added that a lot of the criticism of Rangers wasn't just the mass gathering but the damage and anti catholic behaviour.
FM: Vaccinations are a civic duty and "to be blunt about it, it is also our ticket out of this nightmare"
FM: I can't stress enough how important it is that every one get vaccinated with both doses.
Lateral flow tests are available from the NHS website.
Also - please get tested regularly.