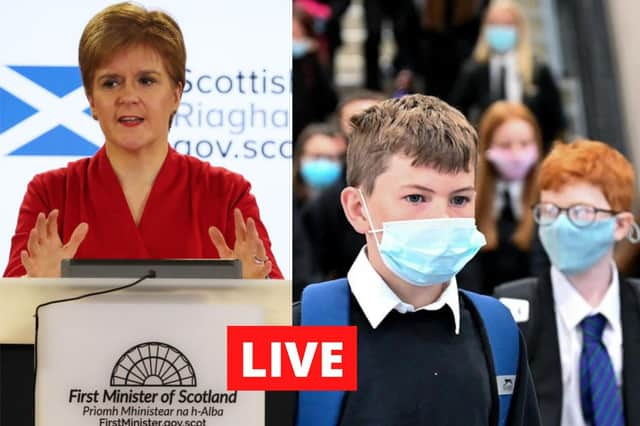 More children are set to return to school today as lockdown eases.
Follow along here to stay up-to-date with the latest developments on Monday, 15 March.
A message from the Editor:
Thank you for reading this article. We're more reliant on your support than ever as the shift in consumer habits brought about by Coronavirus impacts our advertisers.
If you haven't already, please consider supporting our trusted, fact-checked journalism by taking out a digital subscription.
Nicola Sturgeon coronavirus briefing RECAP: More pupils return to school as lockdown eases
Show new updates
FM asked if she would relax rules on hospitality sector earlier to allow systems such as click and collect to go ahead
FM again said that she will cover this in tomorrow's session in Parliament.
'I'm becoming more encouraged and excited about the transmission data that we are receiving', says Dr Gregor Smith.
The data is 'really encouraging' and shows that we are 'taking a big step forward', he added.
'It looks like it's going to have a real effect on transmission rates.'
He said there are 'really optimistic' signs already from the vaccination programme.
'Too early' to know the impact on cases of the football fans gathering in Glasgow last weekend, says Gregor Smith
'What happens in the coming days will be revealing,' he added.
FM says she 'shares the anger' with many other women about male violence when asked about Sarah Everard vigil
She hopes the events over the last week will be 'a watershed' moment in improving women's safety.
She said she is not in a position to comment on the behaviour of the Metropolitan Police.
FM asked if she's considering making changes to Level 3 for the hospitality sector
FM responds saying she will set out the process for potential changes in Parliament tomorrow.
FM asked what government and police will do to prevent crowds at Old Firm match this weekend
FM said there is no confirmation on whether or not the match is going ahead.
She welcomes the statements by both Rangers (whose fans descended on George Square earlier this month) and Celtic football clubs saying that they are urging fans to stay home.
'We will be in further contact with police over the match if it goes ahead this week,' said FM.
She added: 'Big gatherings present a risk of transmission and we are trying to get this transmission as low as possible.
'We have to really be careful about this.
'A lot of people felt really aggrieved about what happened with the fans.'
FM says her decision making in getting children back to school was not political
FM strongly denies claims made by EIS union that the Scottish Government's decision to allow more secondary pupils back to school part-time before Easter holidays was political.
'It's not political, it's about getting children back to school to be with their friends,' she said.
Chief Medical Officer Gregor Smith said he remains "wholly confident" in the use of the AstraZeneca vaccine
He said there are no more cases of blood clot than normal in the UK and the rest of Europe.
He said the UK's 'Yellow Card' system will continue to monitor any concerns over side effects of the vaccine.
The Yellow Card scheme run by the MHRA and is the UK system for collecting and monitoring information on safety concerns such as suspected side effects or adverse incidents involving medicines and medical devices.
FM asked if she's concerned about people's confidence in AstraZeneca after some countries suspend vaccine
FM says based on what she has been told, people should still be coming forward for the AstraZeneca vaccine.
She added that there is no clear cause for the vaccine to be suspended following reports of it potentially increasing risk of blood clots.