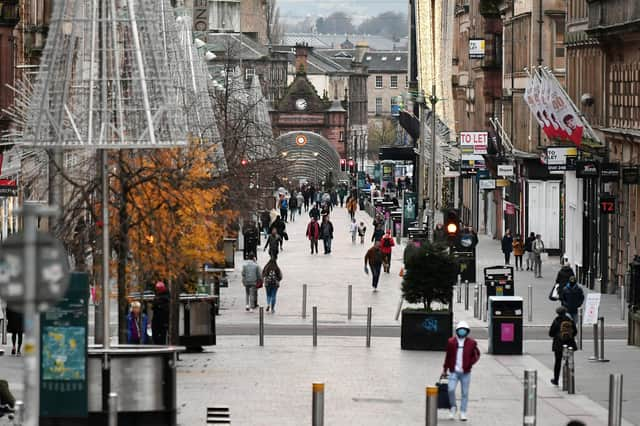 Presented with statistics that showed Scotland with significantly higher death rates when compared to England, the First Minister said she would not defend any death total in Scotland.
Suggesting that her government's handling of the Covid-19 pandemic was viewed as positive despite the facts, presenter Andrew Marr showed figures which suggested the difference in death rate was between three and 10 per cent higher when compared to England between week 43 (October 19) and week 46 (November 9), peaking at 50.5 per million in week 46.
Responding, Ms Sturgeon said: "I'm working as hard as I can everyday.
"You're inviting me to defend a particular level of deaths and I will address your question but I don't think there is any level of deaths that is acceptable.
"Certainly if you look cumulatively since the start of the pandemic per million of population, Scotland's death rate...is quite significantly lower than England and Wales, it's higher than Northern Ireland's.
"Across the whole of the UK across much of Europe, far more people have died of this virus than any of us feel comfortable with.
"I, not just for however long I am First Minister but for the rest of my life I deeply will regret the number of people who have lost their lives in the face of this virus."
She added that she did not feel comfortable in comparing different countries on the statistics in a traditional judgement of success.
Ms Sturgeon added: "Nobody underestimates the pain, the grief, the suffering this global pandemic has brought to us and certainly never will.
"I feel, as you can probably tell, deeply uncomfortable at almost a traditional political who is better than somebody else at this.
"It has been a tragedy and a trauma for Scotland, the UK and the whole of the planet."
The First Minister was also challenged on the fact that Scotland has the "third-worst record in death from coronavirus of any country in Europe in the first wave" by the BBC's former political editor.
Admitting deaths in Scotland are "far too high", Ms Sturgeon said it should not be a competition but said the death rate was lower than in England and Wales.
She said: "We are still in the teeth of this pandemic.
"It's I think premature for any country to be declaring victory or assessing performance against others.
"Every single day right now my focus is on trying to do the best I can with my Scottish Government colleagues to suppress the virus to drive levels of the virus down."
Reacting to the interview on the Andrew Marr Show, Scottish Conservative leader Douglas Ross labelled it a car crash.
He said: "The First Minister was taken to task over the huge gap in how her government claims to have performed and the stark reality of her gross failures on Covid, care homes, schools and the attainment gap.
"She couldn't defend her government with answers of any substance because there is no defence. The SNP's record is all smoke and mirrors."
A message from the Editor:
Thank you for reading this article. We're more reliant on your support than ever as the shift in consumer habits brought about by coronavirus impacts our advertisers.
If you haven't already, please consider supporting our trusted, fact-checked journalism by taking out a digital subscription.