Nicola Sturgeon calls again for emergency COBRA meeting between four nations after surge in cases
The first minister has asked for the meeting to take place in the next 48 hours.
The first minister of Scotland is urging the four nations to launch an emergency COBRA meeting following a recent spike in Covid-19 cases.
Nicola Sturgeon made her announcement on Twitter following reports of three deaths and 350 new cases recorded across Scotland in the last 24 hours.
She urged Boris Johnson to convene a meeting this weekend and has called on it again today, Saturday, 19 September.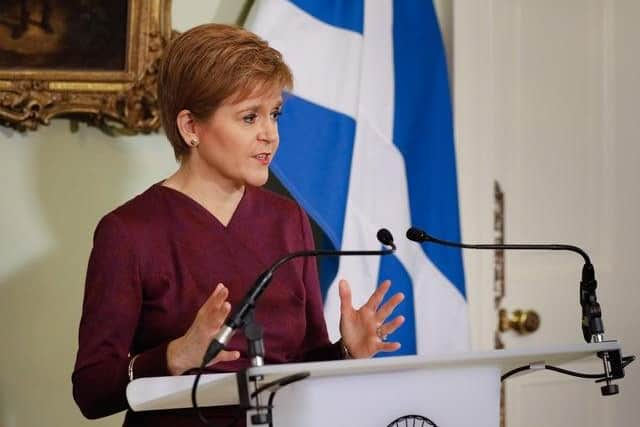 In her statement this afternoon she said: "There will always be fluctuations in daily figures - that's why we look at seven day averages to balance out variations in testing etc. Even with that caveat though, today's report underlines fact that Covid is rising.
"The Scottish Government is considering over w/e what further action is needed.
"Given serious situation across UK, I have also asked again that a four nations COBRA meeting takes place over next 48 hours.
"While each of the 4 UK nations will reach our own decisions - rightly and properly - it makes sense to seek as much co-ordination and alignment as possible.
"We know from experience earlier in the year that speed and decisiveness of action is important in the fight against Covid-19, so the Scottish Government will seek to reach considered decisions as quickly as possible, and I will update as usual through my daily briefings."
She reminded the public to take extra care with social distancing regulations and to keep to a maximum of six people from two households when gathering for social occasions, apart from Glasgow, East and West Dunbartonshire, East Renfrewshire and North and South Lanarkshire where residents have been asked not to visit other households.
Three people have died after catching coronavirus, as the cases in Scotland jumped by 350 in the last 24 hours.
Of those, 100 new cases have been confirmed in Greater Glasgow and Clyde, 80 in the Lothians, 56 in Lanarkshire, 21 in Fife, 13 in Grampian, 13 in the Scottish Borders, 13 in Ayrshire and Arran, eight in Tayside, eight in Forth Valley, three in Dumfries and Galloway, three in Shetland and two in Orkney.
Nine people are in intensive care and 64 people are so far being treated in hospital for the virus.
In the last week, 42,477 people have been tested for Covid-19 with 1,691 results coming back positive.
So far, 718,954 people in Scotland have been tested for the virus and the total amount of confirmed cases stands at 24,126.