Live

Nicola Sturgeon briefing RECAP: Scottish pupils must wear face coverings by Aug 31
Updates on Covid-19 in Scotland.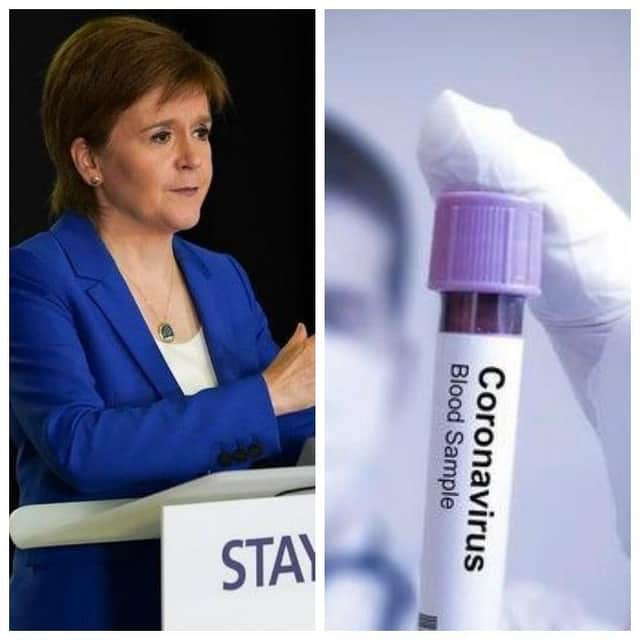 The Covid-19 updates from Scotland.
Keep up-to-date with the latest coronavirus developments in Scotland and across the UK.
Coronavirus in Scotland LIVE: The latest updates on Tuesday
Last updated: Tuesday, 25 August, 2020, 13:01
Rules on face coverings in Scottish high schools will be in lace next week
No.10 urged to review guidance on masks in schools
Oxford vaccine could be put before regulators this year
Nicola Sturgeon news briefing LIVE: 'Technical issues' around booking a test 'being resolved'
Nicola Sturgeon news briefing LIVE: On growing number of cases of Covid-19 confirmed among pupils and staff at Scottish schools, FM says: "We are not unduly concerned about any of these situations right at this moment. That said we're not complacent either."
Nicola Sturgeon news briefing LIVE: Government 'not unduly concerned' about outbreaks, says First Minister
Nicola Sturgeon news briefing LIVE: First Minister says as of yesterday there were 152 positive cases linked to the 2 Sisters food processing plant in Coupar Angus - and she expects these numbers to rise in the days to come.
Nicola Sturgeon news briefing LIVE: The First Minister says in Aberdeen there are 261 cases associated with the pubs cluster - an increase in two since yesterday.
Nicola Sturgeon news briefing LIVE: 44 new cases of Covid-19 in past 24 hours
A total of 44 people in Scotland have tested positive for Covid-19 in the past 24 hours, Nicola Sturgeon announced.
The First Minister told the Scottish Government's regular coronavirus briefing the total number who have tested positive is now 19,921.
There was no increase in the number of people who have died within 28 days of a positive test and this remains at 2,492.
The latest daily figures showed that 0.8% of those tested for the virus were positive.
Ms Sturgeon said of those who tested positive, 243 were in hospital, down five in 24 hours.
Of these, one was in intensive care, no change from the previous day.
No deaths were registered in the last 24 hours of people who tested positive for Covid-19 - meaning the total remains at 2,492.
First Minister Nicola Sturgeon will hold a virtual coronavirus briefing at 12.15pm with interim chief medical officer Dr Gregor Smith.
Rules on face coverings in Scottish high schools will be in place next week
Secondary schools will be given "obligatory guidance" that pupils should wear face coverings when moving around schools from next Monday, Scotland's Education Secretary has confirmed.
John Swinney said that from August 31 pupils should be wearing masks in areas where physical distancing is not possible.
Speaking on the BBC's Good Morning Scotland radio programme, he said the Scottish Government was going further than the World Health Organisation guidance by recommending masks on school buses.
The guidance will apply to all secondary schools, he said, but pupils will not be excluded from school if they do not wear a face covering.
Further detail on the guidance is expected to be published later on Tuesday.
Oxford vaccine could be put before regulators this year – scientist
Clinical trials for the Oxford coronavirus vaccine may have gathered enough safety and efficacy data by the end of the year, a leading scientist has said.
Professor Andrew Pollard, director of the Oxford Vaccine Group, said it is "just possible" that there may be enough clinical trial data on Oxford University's Covid-19 vaccine to put before regulators this year.
His comments came after England's chief medical officer, Professor Chris Whitty, said a vaccine for coronavirus may not be ready until next winter.
Prof Pollard told BBC Radio 4's Today programme: "I think that Chris Whitty is quite rightly being cautious, that it could take as long as that to first of all demonstrate a vaccine works and is safe and then to go through the processes of regulators looking at that very carefully to make sure everything's been done correctly.
"But it is also just possible that, if the cases accrue rapidly in the clinical trials, that we could have that data to put before regulators this year, and then there would be a process that they go through in order to make a full assessment of the data."
Page 2.111111111111111 of 2