Live updates on coronavirus in Scotland, the UK, and around the world.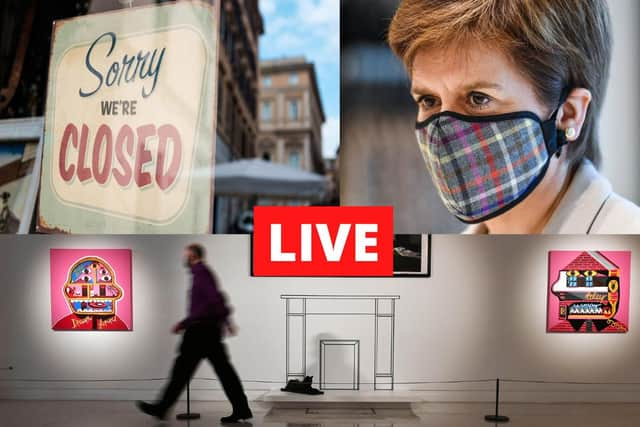 Nicola Sturgeon briefing RECAP: 50 new deaths recorded in Scotland in 24 hours
Show new updates
Nicola Sturgeon warned schools are not 'untouchable' as she was quizzed about the prospect of an extended closure over the Christmas break.
But the First Minister insisted the objective remains to "keep schools open".
The SNP leader was appearing before MSPs on Holyrood's Covid-19 committee today and again said a national lockdown cannot be ruled out in Scotland as the latest figures show a spike in cases and deaths.
The coronavirus briefing ends with Chief Fire Officer Martin Blunden urging Scots to be careful during this year's bonfire night.
He asks people to be safe, smart and to enjoy bonfire night.
Advice on using fireworks and lighting bonfires for this year's celebrations can be found on the Scottish Fire and Rescue Service website.
Here is an update on rules for restaurants and pubs under level 3
Can hospitality venues open?
Pubs and restaurants affected by tier 3 regulations are allowed to open for the sale of food and non alcoholic drinks, until 6pm.
Last entry is 5pm and all customers must have left the premises and the venue must be closed by 6pm.
How many can meet in hospitality venues?
In tier 3, six people can meet in hospitality venues from a maximum of two households.
Children under 12 are not included in the number of people and if one household has more than six people, they will still all be allowed to dine out together.
All children must still only be from two households.
Weddings, funerals, christening celebrations and wakes can be attended by 20 people, including the bride, groom, witnesses and guests.
Guests from different households are expected to keep two metres apart.
Takeaways can continue as normal, with many restaurants who previously did not offer this service now utilising it as a way of continuing to serve customers.
Face covering and physical distancing must still take place, with deliveries also allowed to continue.
All venues will be expected to fully close, including for delivery services, by 10pm - according to the Scottish Government website.
Nicola Sturgeon on potential new travel rules:
The First Minister said because rules are more regional now compared to the first lockdown restrictions on travel are essential to prevent people travelling from high risk areas to low risk areas.
She hinted that the Scottish Government is considering an official rule on travel restrictions rather than just guidance, but said she would not comment further until concrete decisions have been made.
MSP Monica Lennon said during First Minister's Questions this morning there are 'strong hints' that Lanarkshire will be going into level 4.
Professor Jason Leitch said during Scotland's daily Covid-19 briefing 'the numbers are too high' in the country and 'we have to be more cautious.'
He said if cases don't start to lower before heading into winter then measures will need to be taken to lower them.
FM said she will be 'very, very disappointed' if the UK Treasury fails to confirm furlough support scheme for Scotland.
The Scottish Government has been waiting for more clarity about the scheme and whether or not it will continue to support Scots.
Prime Minister Boris Johnson said on Monday that the scheme would "continue to be available wherever it is needed".
But Robert Jenrick, Secretary of State for housing, backtracked and said it was down to the Chancellor to decide come December 2. The Scottish Government is still waiting for confirmation from the Treasury.
Ian Blackford joins in push for more 'clarity' on furlough scheme from UK Government
Professor Jason Leitch talking at Scotland's daily briefing
'The figures are too high,' he said, as he confirmed about 3,000 hospital beds are ready for patients if needed.
'We have seen a higher number of deaths today than we saw in the summer,' FM said.
50 new deaths have been recorded in Scotland in the last 24 hours which Ms Sturgeon confirmed to be the highest daily figure for the country since before the summer.
She confirmed there is a lag in the figure update for deaths and this figure represents deaths that have occurred in the last three to four weeks.
Chief Fire Officer Martin Blunden talking now during briefing:
Mr Blunden is urging Scots to be mindful during bonfire night to prevent further strain on the emergency services.
'Accidents that happen from fireworks can be life changing' he said, as he warned the festive period can put added pressure on the emergency services.
'Please read instructions carefully when using fireworks,' he added.
He went on to give further advice on what can be and should not be used when lighting fireworks and bonfires.
More information can be found on the Scottish Fire and Rescue Service website.