Follow here for the latest updates on coronavirus in Scotland.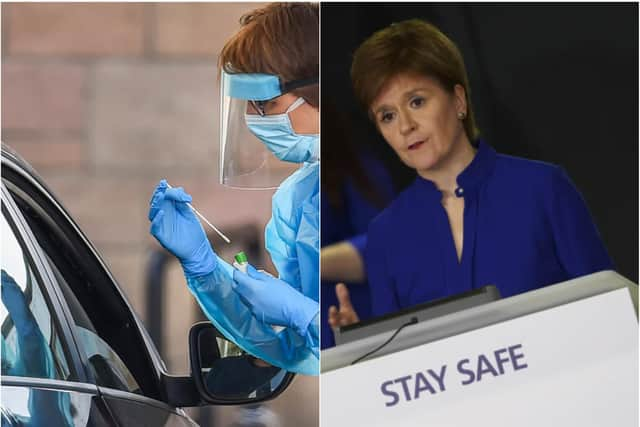 Coronavirus in Scotland LIVE: Follow here for all of Monday's updates
Show new updates
John Swinney: "I'm going to pass no judgement about Gavin Williamson"
Scotland's Education Secretary John Swinney said he would not pass judgment on his UK counterpart, Gavin Williamson, over the exams fiasco in England.
On the BBC's World at One programme, Mr Swinney was asked if Mr Williamson had been "slow to learn the lessons from Scotland" on the issue.
Mr Swinney said: "I'm going to pass no judgment about Gavin Williamson. It's disrespectful of me to get into that territory.
"What I can say is that I know how difficult this all is and it was difficult for me, but when I looked at the examples of young people who had essentially been thwarted in taking the next stages of their educational journey, not because of the fact that they had somehow delivered a bad exam paper but because of judgments that had been made over which they had no control, I realised the position was unsustainable.
"And I apologised to (the Scottish Parliament) and to young people for the decisions that I had taken and we awarded grades on teacher estimates, and I'm glad that I did it."
Face coverings set to be mandatory in school corridors and communal areas
Children in schools may be asked to wear face coverings in corridors and around school buildings as the Scottish Government look set to change their guidance for pupils.
Nicola Sturgeon said the government was consulting with teachers and unions on the potential move to mandatory face coverings but said it was unlikely the decision would extend to classrooms.
It follows a change in global advice from the World Health Organisation who said that children over the age of 12 should wear a face covering in areas where social distancing is not possible.
The First Minister said that the education secretary John Swinney is in the "final stages" of consultation with teachers and local authorities on a move to make face coverings mandatory when pupils are moving around the school estate and are in communal areas.
She added the decision was made due to the higher likelihood of transmission due to mixing between different groups and the likelihood of crowding and close contact in corridors which could cause shouting and "greater potential transmission".
Ms Sturgeon said: "This is a position, if we conclude it as we expect to do, that would reflect and actually go slightly beyond current WHO guidance.
"We're not currently consulting on any proposals for pupils to wear face coverings in classrooms and that is because there is greater scope for physical distancing in the classroom and face coverings are of course more likely to interfere with teaching and learning.
"I would emphasis however that where there are outbreaks, it does remain an option for incident management teams to recommend more extensive use of face coverings if they believe in a particular area that is required for a period to protect public health and reduce the risk of transmission."
Technical issues affecting test booking site in Scotland
Nicola Sturgeon has urged the public to "bear with us" amid reports of the coronavirus test booking system sending Scots to sites in England.
There have been multiple reports of technical issues with the booking system, which is run by the UK government, including people in Edinburgh being told that their nearest testing location is in Newcastle, in the northeast of England.
Speaking at her daily press briefing, Scotland's First Minister said there had been "unprecedented demand" put on the service in Scotland over the weekend, and said her officials were "still trying to understand" what had gone wrong.
"There may have been some technical issue with people in Scotland, instead of being directed to the next available spot in Scotland, were directed erroneously to testing centres in England.
"We're working to ensure that is resolved," she added.
Ms Sturgeon insisted the testing system in Scotland was "working well", but asked Scots to "bear with us" during "periods of high demand."
She said she would receive an update from officials after the briefing, and said she would share any further information as soon as possible.
Sturgeon: Coupar Angus outbreak is "very significant"
Nicola Sturgeon also discussed the coronavirus outbreak in Coupar Angus, which is believed to have started at the 2 Sisters food processing factory.
The First Minister described the outbreak as "very significant", adding that there were 110 cases linked to the cluster as of Sunday – 96 employees and 14 close contacts.
She also said that the number of cases should be expected to rise further.
Almost 900 people have been tested at a mobile unit sent to Coupar Angus, the First Minister said, and there is currently no evidence of community transmission linked to the cluster.
Ms Sturgeon stressed that the guidance for employees and family members was still in place, meaning they will have to self-isolate for the remainder of the initial 14-day period.
Sturgeon on face masks in schools:
Education Secretary John Swinney is consulting with teachers and councils on the possibility of bringing in guidance on face coverings in schools, the First Minister has said.
The advice, which the First Minister said was in its "final stages", comes as a number of schools have been hit by cases of Covid-19.
The First Minister said: "We're consulting on this specific measure because, firstly, mixing between different groups is more likely in corridors and communal areas – increasing the potential for transmission.
"Secondly, crowding and close contact in these areas is more likely and voices could be raised, resulting in greater potential for creating aerosol transmission.
"Finally, there's also less scope for ventilation in these areas."
The First Minister said that decisions were yet to be made on if the guidance would be extended to school transport and that decision will be made in the coming days, but there are currently no plans for mandating coverings in class.
Problems with UK testing booking system
Ms Sturgeon said there had been "exceptional demand" for tests in Scotland over the weekend and asked people to "bear with us" amid reports of technical faults with the booking system across the UK.
Sturgeon on Aberdeen lockdown:
On the decision to ease the restrictions put on Aberdeen in response to a coronavirus cluster in the city, the First Minister said that the changes will be "very welcome".
The five-mile recreational travel limit, along with care home and hospital visiting rule changes were lifted on Monday, while the ban on the opening of hospitality businesses will be lifted on Wednesday, after checks by the local authority.
Nicola Sturgeon thanked local health professionals and the people of Aberdeen for their compliance with the measures.
She said: "These restrictions have been effective in beating back the virus in Aberdeen, for the simple reason that you have all complied very well with them.
"That's also the reason that we're now able to lift these restrictions.
"I know how difficult this last two-and-a-half week period must have been for everyone in the city and you have my grateful thanks."
Sturgeon: Education secretary "in final stages of consultation" on face masks for pupils in Scottish schools
Sturgeon: "No evidence of wider community transmission" at Two Sisters plant.
The 66 new cases represented 1% of all those tested in last 24 hours