Nicola Sturgeon gave the Scottish Government's latest coronavirus update at parliament today before First Minister's Questions got underway.
The FM's update came after she spent eight hours answering questions at the Holyrood inquiry into the Scottish Government's handling of sexual harassment complaints yesterday.
A message from the Editor:Thank you for reading this article. We're more reliant on your support than ever as the shift in consumer habits brought about by coronavirus impacts our advertisers.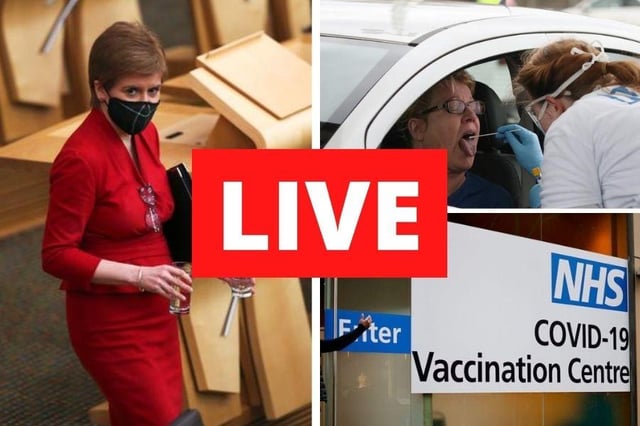 Nicola Sturgeon to give coronavirus update and face FMQs amid calls for her to resign over Salmond Inquiry.
If you haven't already, please consider supporting our trusted, fact-checked journalism by taking out a digital subscription.
Nicola Sturgeon at FMQs RECAP: Follow along here for all of Thursday's updates
Last updated: Thursday, 04 March, 2021, 12:35
This is when the First Minister will address Holyrood today, what she could say and how you can watch
Sturgeon is expected to give the Scottish Government's latest update on the coronavirus pandemic in Scotland before she faces First Minister's Questions from MSPs at Parliament this afternoon at 12.30pm.
We can expect the latest coronavirus and vaccination figures to feature in her briefing.
We can generally expect questions surrounding the Scottish Government's route map out of lockdown to feature in questions with a particular focus on specific dates for re-opening of services and what we can expect the new tier system to look like.
17,000 clinically vulnerable Scots 'mopped up' with Covid-19 vaccination after Scottish Government target
Almost 17,000 clinically vulnerable Scots were "mopped up" with vaccination after the Scottish Government target to deliver a first dose to everyone in that group, Health Secretary Jeane Freeman has said.
The target for vaccination of all Scots over 70 and those in the clinically extremely vulnerable or shielding group was February 15.
First Minister Nicola Sturgeon said on that date that everyone in those groups had been offered a vaccine.
When figures subsequently released showed that just 80 per cent of those in the shielding category had been given a vaccine, Scottish Conservatives accused the First Minister of "misleading" the public.
The Scottish Government called the claim "completely untrue", and said that a first dose had been offered to "all people with a serious clinical vulnerability".
Royal Highland Show cancelled for second year due to pandemic
This year's Royal Highland Show has been cancelled due to the Covid-19 pandemic, organisers have confirmed.
The Royal Highland and Agricultural Society of Scotland (RHASS) pulled the plug on Scotland's biggest agriculture extravaganza following guidance from senior Scottish Government officials.
It is the second year the event, held annually at the Royal Highland Centre in Ingliston, near Edinburgh, will not take place due to the pandemic.
Disappointed organisers said they left "no stone unturned" in their efforts to host the 180th Royal Highland Show – but restrictions likely to still be in place by June made it impossible to plan with confidence.
The UK could become one of the fastest countries in the world to approve new Covid-19 vaccines to tackle variants
Health Secretary Matt Hancock said the Medicines and Healthcare products Regulatory Agency (MHRA) will oversee a fast-track approach to approving new jabs, after studies suggested variants may make vaccines less effective.
During a visit to the Glasgow lighthouse lab, Mr Hancock said: "We will have a fast-track approach to safely approving future vaccines that work against a variant of Covid-19.
"The vaccine programme has clearly been a huge UK success story, and part of the reason that we have been able to develop the vaccines so far, so quickly, is because of the MHRA's rigorous yet flexible approach, which has been based entirely on looking as quickly as possible at the safety and efficacy of vaccines.
"I'm delighted that they're taking that same principled approach to the approval process for vaccines that may work against variants."
Updated vaccines for Covid variants will be fast-tracked through approval system - how it will work
Updated vaccines to fight Covid variants will be able to be fast-tracked through the approval system, the UK's Medicines and Healthcare products Regulatory Agency (MHRA) has said.
Scientists are working on updating current vaccines which may not work against new variants of Covid-19, but MHRA chief executive, Dr June Raine, said there is no evidence that current vaccines lack effectiveness against known coronavirus variants.
Addressing new Covid variants During a briefing with Health Secretary Matt Hancock, Dr Raine said "we're well-prepared to look at, when it's needed, updates to ensure the vaccines being used in citizens are fully effective.
Alex Salmond inquiry: Nicola Sturgeon launches defence of Scotland's institutions in marathon evidence session
Nicola Sturgeon launched a impassioned defence of Scotland's "independent" institutions during her appearance in front of the Alex Salmond inquiry as she said she refused to allow a "powerful man" to use his status to stop a legitimate investigation into his behaviour.
The First Minister said she and others within the Scottish Government felt "let down" by Mr Salmond's conduct and that she would not apologise for his behaviour.
She claimed one of the differences between her and her predecessor was she had never claimed to be "infallible".
Analysis: Nicola Sturgeon sets out a story of good intentions and catastrophic consequences
Any good lawyer knows the importance of telling a story. It may be incomplete, with its ending uncertain, but a coherent narrative with a central theme is the greatest persuasive power in their armoury.
A quarter of a century has passed since First Minister Nicola Sturgeon qualified as a solicitor. Little could she have known how such a grounding would serve her in good stead for her future career.
Ms Sturgeon did not unify the opposing claims and counter-claims that have defined the Holyrood committee's investigation into the Scottish Government's handling of complaints against Alex Salmond.
Such a task would defy Cicero, let alone someone who spent two years at Drumchapel Law Centre. But in setting out a credible and uncomplicated sequence of circumstances which led to the extraordinarily breakdown in her relationship with the man she once revered, Ms Sturgeon has made a compelling case.
Scottish election campaigning gets green light, but Nicola Sturgeon briefings to carry on
Political parties will be able to start campaigning for the Holyrood elections this month despite the pandemic, it has been confirmed, but Nicola Sturgeon looks set to continue her daily televised briefing despite the strict pre-election purdah rules.
Leafleting could start from March 15 if lockdown rules continue to ease. Door-to-door canvassing, with the wearing of masks and social distancing in place, could be carried out from April 5.
However, parliamentary business minister Graeme Dey told MSPs activities such as street stalls, physical hustings and giving voters a lift to polling stations will not be permitted for the duration of the campaign.
Alex Salmond inquiry: Former first minister McLeish says it's 'bizarre' no-one has resigned
A former Labour first minister of Scotland, Henry McLeish, has criticised the Scottish Government for a failure of responsibility over its unlawful handling of sexual harassment complaints against Alex Salmond, and branded it "bizarre" there had been no resignations.
Mr McLeish, who was appointed first minister after the sudden death of Donald Dewar in 2000, but was forced from office after just a year over a personal financial scandal, also raised concerns about the ability of the Holyrood committee investigating the government's actions to complete its work before the Scottish Parliament breaks for the election campaign on March 25.
A former MP before he was elected to Holyrood, Mr McLeish resigned as first minister after he was found to have sub-let part of his tax-subsidised Westminster constituency office without registering it in the Commons register of interests.
Scottish Government update: 500 new cases reported, 726 patients in hospital, 69 in intensive care and 24 deaths recorded in the last 24 hours 
As of 8.30am today 1,688,808 people had received their first dose of the vaccine in Scotland
That is an increase of 26, 729 from the figure reported yesterday.
158,000 people have received their second dose of the vaccine so far in total.
First Minister says that things are 'firmly heading in the right direction'
FM: "The numbers in hospital are falling and the vaccination programme is progressing extremely well".