Keep up-to-date with all the latest Covid-19 news in Scotland, the UK and around the world.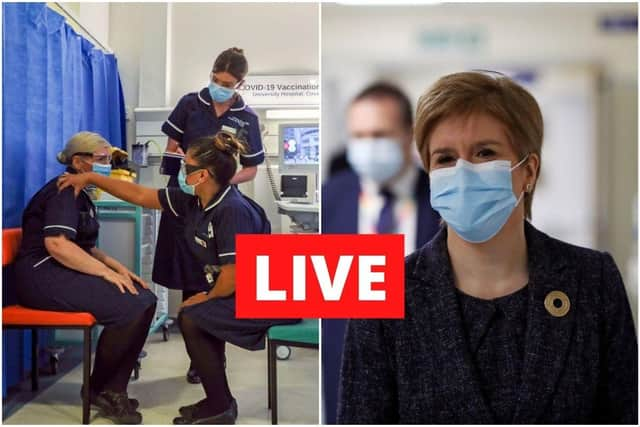 Coronavirus in Scotland LIVE: Wednesday, January 20, 2021
Show new updates
More than 6,300 excess deaths in Scotland last year, data shows
There were 6,324 more deaths in Scotland in 2020 than the average over the previous five years, figures show.
The National Records of Scotland (NRS) said a provisional total of 64,084 people died last year.
This compares to an average of 57,760 over the previous five years, with 6,324 excess deaths.
Of the 6,834 deaths involving Covid-19 between March and December 2020, 93% had at least one pre-existing condition, with dementia and Alzheimer's the most common.
People living in the most deprived areas were 2.2 times as likely to die with Covid-19 than those in the least deprived parts of Scotland.
The most recent NRS statistics show 7,448 people have now died in Scotland with confirmed or suspected coronavirus.
Priti Patel says she wanted UK border shut in March
Home Secretary Priti Patel told Tory supporters that she argued for the UK border to be shut to international visitors in March when the pandemic first emerged.
The comments, said to have been made to the Conservative Friends of India group, are contrary to her public defence of the Government's decision not to enact a full arrivals shutdown.
In comments first reported by political website Guido Fawkes, Ms Patel said: "On 'should we have closed our borders earlier', the answer is yes. I was an advocate of closing them last March."
Coronavirus in Scotland: 1,656 cases recorded in Scotland today as total vaccinated passes 300,000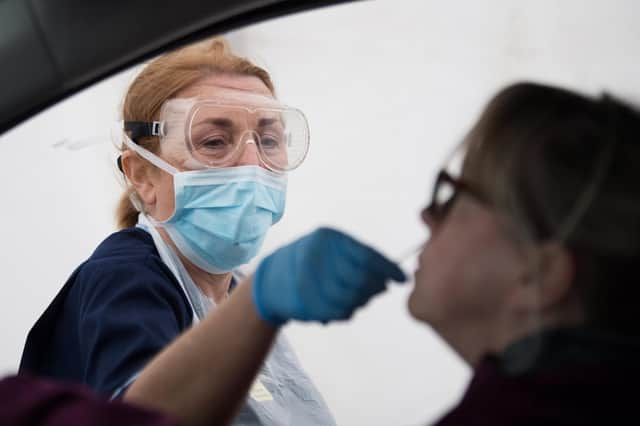 A total of 1,656 new cases of coronavirus have been recorded across Scotland in the past 24 hours.
German residents must now wear medical grade face masks - the decision explained
German residents will have to wear medical grade masks on public transport and in shops, due to tighter Covid restrictions which will be in place until at least 14 February.
Vaccines not doing 'enough heavy lifting' to ease lockdown, Vallance says
Vaccines are not doing enough "heavy lifting" at the moment and case rates need to drop further before the Government can think of easing restrictions, the UK's chief scientific adviser has said.
Sir Patrick Vallance said the country still had a long way to go in battling coronavirus but in a direct message to the public said there was "light at the end of the tunnel".
It comes as calculations by the PA news agency show the Government needs to hit an average of 384,000 first doses per day to reach a target of vaccinating 15 million of the most vulnerable by February 15.
Nicola Sturgeon says 75% of GP surgeries have the vaccine
'No foreign holidays until 2022 possible' warns Professor Jason Leitch in leaked video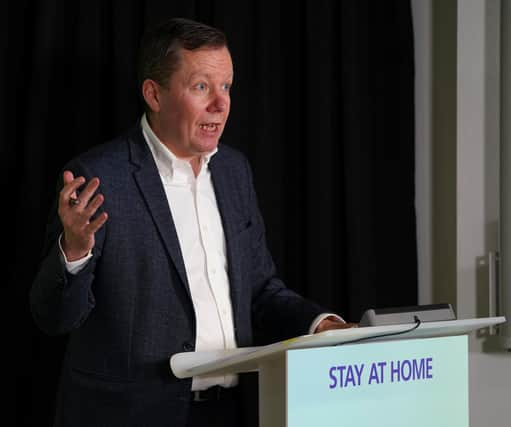 Scottish Government civil servants have been warned not to book a summer holiday abroad this year by the national clinical director in an internal video.
92 further deaths and 1,656 new cases reported on Wednesday
Scotland has recorded 92 deaths from coronavirus and 1,656 positive tests in the past 24 hours, Nicola Sturgeon said.
It brings the death toll under this measure – of people who first tested positive for the virus within the previous 28 days – to 5,468.
The figures are lower than the 7,448 deaths given earlier by the National Records of Scotland as they do not include suspected and probable coronavirus infections.
Speaking in the Scottish Parliament, Ms Sturgeon said 166,583 people have now tested positive in Scotland, up from 164,927 the previous day.
The daily test positivity rate is 7.5%, down from 12% on the previous day.
There are 2,003 people in hospital confirmed to have the virus, up 14 in 24 hours, and 156 patients are in intensive care, an increase of six.
Ms Sturgeon said 309,909 have received their first dose of a coronavirus vaccine.
A further 92 people who tested positive for Covid-19 have died and a further 1,656 people have tested positive.