In its latest Covid-19 spending report, Audit Scotland said the Scottish Government had received £9.7 billion from the UK Government during the 2020/21 financial year.
However, the report highlighted the difficulty for both the Scottish Government and those attempting to track spending created by guaranteed Barnett consequentials.
Stephen Boyle, the Auditor General, said: "Not all the pandemic pound has been allocated so far, but that's not surprising. Some spend, like business grants, is demand-led and other pots, like the £100 million for school attainment, are spread over more than one year.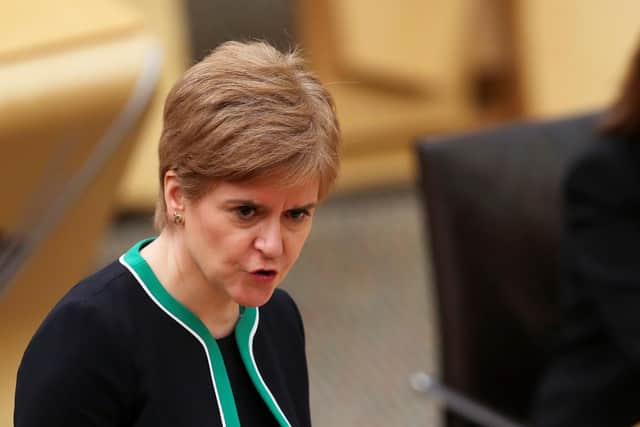 "But it's getting harder to identify what is, and isn't, Covid-19 spending, as our latest analysis found.
"That's because of the volume of announcements – over 170 to date – and, increasingly, how the spending naturally links with wider economic development and government goals. That increases the need for transparency around spending.
"That makes directing public money more complex. And it's why we need leaders working together. All the main players in the coronavirus response – the UK Government, Scottish Government, councils, health boards, enterprise boards – must keep collaborating and sharing knowledge to achieve the best outcomes and value for money."
The report itself added: "The complexity and scale of announcements makes following the public pound difficult.
"Barnett consequentials in 2020/21 are guaranteed, meaning that funding has been confirmed as available to the Scottish Government before any potential UK Government spending decision that would normally generate them.
"This gives the Scottish Government some certainty over funding, but also provides challenges in following how Scottish Government and UK Government spending decisions relate.
"If the Scottish Government commits guaranteed Barnett consequentials to its own spending initiatives, those funds will not be available to match any UK spending announcements made later.
"For example, the Scottish Government could commit guaranteed funding to business support measures, and the UK Government could subsequently announce further health spending.
"The Scottish Government would then need to consider how to manage its overall budget accordingly, given its policy to pass any health-related consequentials on to the National Health Service."
Reacting, Scottish Conservative leader Douglas Ross said he shared the Auditor General's concerns about the need for transparency and scrutiny.
He said: "The SNP finance secretary needs to heed the auditor general's calls for transparency and tell people exactly how public money is being spent to aid Scotland's pandemic recovery.
"The SNP must also listen to his calls for ministers to work with the UK Government, health boards, councils and others. Too often during this pandemic we have seen the SNP seek grievance and sow division rather than deliver for Scottish people."
Scottish Labour MP Ian Murray, who is the shadow Scottish secretary, said billions had not been allocated.
He said: "Support for businesses and individuals in Scotland has been too slow to reach those in need.
"It would be unforgiveable if this money was being held back as part of electioneering – it should be spent now to help our economy and public services recover."
Responding, a spokesperson for the Scottish Government said: "We welcome the Audit Scotland report, while noting that it only includes funding commitments and spending up to the end of December 2020.
"Throughout the pandemic Finance Secretary Kate Forbes has regularly updated Parliament on spending, including through Summer and Autumn budget revisions. The most up-to-date position, detailing expenditure since September, will be laid out in the Spring Budget Revision due for publication tomorrow (Thursday).
"It is simply not true that funding remains unallocated. Every penny of the £8.6 billion in coronavirus (COVID-19) consequential funding guaranteed to the Scottish Government for 2020-21 has now been allocated to mitigating the impact of the pandemic.
"A further £1.1 billion of funding was confirmed last week by the UK Government. However, this was too late in the financial year to be deployed before 31 March 2021, which is why the Treasury agreed it could be carried forward to next year where it will support a range of measures, including the continuation of business rates relief.
"We are committed to accounts which fully report on the stewardship of public funds. Scottish Government Consolidated Accounts, which were given a clean bill of health by Audit Scotland, were published in December 2020 and the accounts of other relevant bodies are also publicly available.
"The pressures of pandemic response has impacted on the capacity to develop Scottish Government reporting further, but we remain committed to doing so."
A message from the Editor:
Thank you for reading this article. We're more reliant on your support than ever as the shift in consumer habits brought about by coronavirus impacts our advertisers.
If you haven't already, please consider supporting our trusted, fact-checked journalism by taking out a digital subscription.