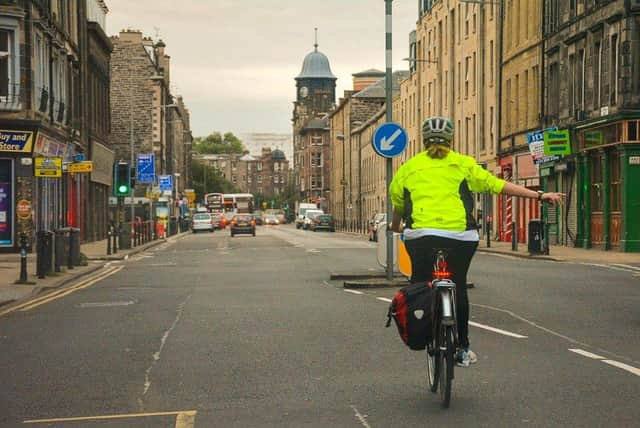 Cycling groups said riding was low risk and reduced demand for public transport.
It followed cycling groups promoting bike use for exercise, food shopping and essential commuting during the lockdown.
They pointed out that it could also cut down public transport use, which is being discouraged.
Association of British Drivers (ABD) director Paul Biggs tweeted: "You can't do much shopping on a bike - I am walking to local shops for essentials, not driving to large supermarkets.
"You're only allowed out once a day for personal exercise - bike, walking or running.
"Best to avoid cycling in case you fall off and require medical assistance."
Mr Biggs added in a further tweet: "I like cycling (e-bike), but in extraordinary times I think any hazardous activity should be avoided unless absolutely essential. So car on drive, bike in garage!"
However, cycle campaigners said the risks were low and had been reduced by the roads being quieter.
Ian Maxwell, of Spokes, the Lothian cycle campaign, said: "The risks of cycling at the moment are greatly reduced because there is less traffic on the roads.
"It is a splendid way to keep fit without risk of catching the virus.
"Shopping is just as easy on a bike and if you don't have a pannier or rack, the bike shops are still open.
"Let's hope many more people get the chance to try cycling on our quiet streets.
"We might as well encourage this healthy activity at a time when so much is not possible."
Campaigners Cycling UK said riding was "safe and enjoyable".
Head of development Scotland Suzanne Forup said: "Cycling is playing a vital role in allowing people to make essential journeys, and to stay fit and healthy both mentally and physically.
"Cycling is a quick and convenient mode of transport for people who need to travel, like NHS staff and key workers cycling to work and people picking up essential supplies.
"Indeed, Cycling UK is encouraging all who can to consider cycling for essential journeys, to reduce the number of people on public transport.
"Cycling is also a safe and enjoyable way to get your daily exercise."
John Donnelly, co-convener of GoBike, the Strathclyde Cycle Campaign, said: "There are many people who used their bikes to get their shopping before the crisis began.
"As long as you are not panic buying toilet rolls, many people would be able to get a shopping home by bike.
"Per million miles travelled, there are more injuries from walking or driving.
"Cycling is a safe and practical means of getting around in these difficult times."
'You can carry a surprising amount of shopping'
The national development agency Cycling Scotland said you could reach the shops and get exercise by using a bike.
Its spokesperson said: "You can carry a surprising amount of shopping in a rucksack, or bike panniers if you have them.
"If you can ride a bike and get to your local shop confidently, travelling by bike can be a great option for essential journeys - with the added benefits of fresh air and exercise.
"Cycling is generally a low-risk activity, but with our emergency services under pressure it's important we reduce all risk.
"Everyone should stay local, not ride in groups, cycle on routes well within their ability level and stay at least two metres from other people."
Scottish Labour transport spokesman Colin Smyth said: "I think Mr Biggs would be surprised how much shopping he could get on a bike, which is great way of exercising in a way that maintains social distancing, especially at a time our roads are quieter.
"However, he'll also know the significant cost to the NHS of car accidents, including those where cyclists are the victims, so it's good he is encouraging less car use."
Scottish Conservatives transport spokesman Dean Lockhart said: 'Cycling is a great way to get exercise and you can easily do it in a way that involves the appropriate level of social distancing.
"If you have a basket on your bike, I would imagine you can pick up a few essential items if you really need to.
"If you are new to cycling however, it will be important to get plenty of practice in a safe area before venturing onto the roads.
"It is also particularly important to always wear a helmet."
The Scottish Government urged essential commuters to consider cycling.
A spokesperson for its Transport Scotland agency said: "Cycling is fine as your one permitted outdoor exercise each day, providing you observe social distancing or are cycling as part of your household group.
"This should be done in your local area, as travelling somewhere to ride back would not be deemed as essential travel.
"Cycling is also encouraged as a method of travelling to work - provided you are an essential worker and are travelling for that purpose."
The IAM RoadSmart motoring group warned drivers not to be tempted to speed up on quieter streets.
Policy and research director Neil Greig said: "It seems some people still find it hard to give up the eternal car versus bicycle debate, even in times of national emergency.
"We are all in this together and motorised transport is saving lives and keeping us fed every day.
"History will almost certainly show accidents will go down during this time of recession as traffic levels fall.
"The main reduction in car use is in commuting, which will almost certainly pick up again when we finally get back to work as nothing will have changed to make public transport more attractive or cyclist feel safer.
"For now, people will use the mode of transport that fits their needs, and for some that may be the bike, on foot, or the car for many in the suburbs who have to do long trips to major supermarkets.
"Some drivers may be tempted to speed up on quiet roads but it will always only be a very small selfish minority who will speed excessively.
"Regrettably, it seems their attitudes cannot even be shifted by a pandemic."