Covid Scotland: Military officers to be involved in driving ambulances as pressure on service reaches 'unprecedented' level
Soldiers are set to be drafted in to drive ambulances to deal with pressure on the national service described as "unprecedented".
Scottish Ambulance Service (SAS) chief executive Pauline Howie has refused to call the current situation a crisis, but said the service was at the "highest level of escalation, the highest we've been throughout the pandemic".
During an interview on BBC radio's Good Morning Scotland today, Ms Howie confirmed there could soon be soldiers driving ambulances to help alleviate the strain put on the emergency services.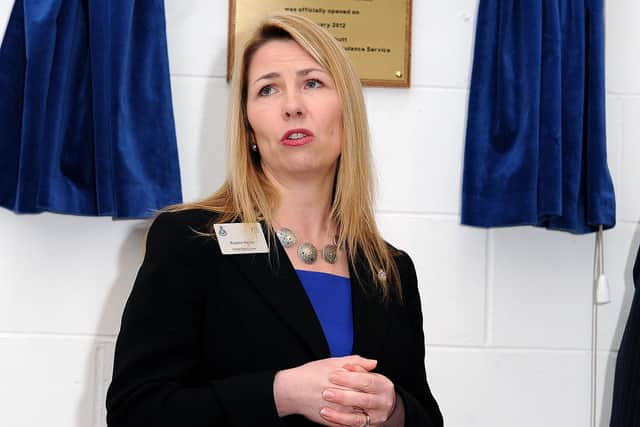 Scotland continues to have the highest level of coronavirus cases in the UK, with the latest Office for National Statistics infection survey estimating about one in 45 had Covid in the week ending September 11.
She said: "Based on what's been happening in English ambulance services, we understand that there are emergency drivers and other logistics services that might be available for us.
"They'll be supporting our ambulance clinicians in terms of the paramedics and technicians continuing to do the fantastic work that they do day in, day out."
Pressed on whether there would be soldiers driving existing ambulances or the army's Green Goddess emergency vehicles, Ms Howie said: "I would expect the former and we'll be working out the details of that in the coming days."
"The issue is across the whole system, there are significant challenges in social care, primary care, in hospitals as well as within the ambulance service.
"That's why we're working with health boards and Scottish Government around the whole system and how we can increase capacity and flow across the whole system."
Ms Howie refused to be drawn on whether the situation cold be called a "crisis", saying: "We're currently at our highest level of escalation, the highest we've been throughout the pandemic, and that reflects how much pressure the whole system, including the Scottish Ambulance Service is currently under."
The SAS chief executive was also asked abut the problem presented to the health service by the coming winter, which she admitted could be an issue.
She said: "It's going to be extremely challenging, there's no doubt about it.
"That's why we're looking at a whole range of measures to see what else we can possibly do ahead of winter to put in place capacity not just in the ambulance service, but across the whole of the health and care system."
Her comments came as it is revealed many ambulance drivers in Glasgow are facing waits of up to three-and-a-half hours outside the A&E department for patients to be offloaded.
One driver told The Scotsman: "Among ambulance staff everybody's demoralised at the moment as we hear that ambulances can't cope with demand.
"But ambulances can cope with demand, it's the hospitals which can't take the patients."
A leading surgeon separately said a majority of the issues in Scotland's hospitals and the knock-on effect to the ambulance service were not due to Covid.
Professor Michael Griffin, president of the Royal College of Surgeons of Edinburgh, warned Scotland had "a real workforce problem in the NHS and in social care" that needs to be addressed and it is causing a "vicious circle" impacting all parts of the health service.
He told BBC Radio Scotland that increasing numbers of Covid cases and infected patients in hospitals are adding to the "very, very complex problem" facing the health service, including under pressure paramedics.
It comes after the Scottish Government officially requested help from the army to support the ambulance service amid deteriorating response times.
"It's not just due to Covid," Prof Griffin said, adding the pandemic is responsible for "probably 30-40 per cent of the issues that we're seeing".
He said: "With the reduction in elective surgery in many of the health boards across Scotland, it's not just Covid.
"It has a significant contribution, but there are other multiple factors involved and it's quite a complex situation.
"We have staff absences from illness, recruitment and isolation, such that we're not able to staff certain areas.
"There's a real problem with getting patients out of hospitals at the moment and into social care, because there is a care home workforce crisis which is causing issues and bed blocking."
Addressing the specific problems facing paramedics and waits for ambulances, Prof Griffin continued: "If the hospital beds are all full, it's extremely difficult for the ambulance drivers to get their patients into hospital, on to trolleys, into A&E and into beds if they need admission.
"It is a bit of a vicious circle."
Warning the "huge backlogs" in the NHS will take years to address, he welcomed the Scottish Government's recovery plan and proposals for diagnostic hubs as "really good steps forward".
But he added: "They're not going to be any good to us in the short term unless we can staff them and at the moment we are very much short of nursing staff to be able to staff them.
"It's all very well having surgeons and having anaesthetists, but if we don't have the extended surgical team and the crucial nursing staff and other healthcare workers, we can't actually do our jobs."
The comments appear to contradict Nicola Sturgeon's insistence the crisis in the ambulance service is "largely caused by the Covid pressure".
A total of 30 new coronavirus-linked deaths were recorded in Scotland as of Friday. The data showed a total of 5,529 people tested positive for the virus in the previous 48 hours.
Thank you for reading this article. We're more reliant on your support than ever as the shift in consumer habits brought about by Coronavirus impacts our advertisers.If you haven't already, please consider supporting our trusted, fact-checked journalism by taking out a digital subscription.
Comments
 0 comments
Want to join the conversation? Please or to comment on this article.