'I tested positive for coronavirus, but none of my contacts were phoned by Test and Protect'
When Jamie Stevenson* woke up on Christmas Day to a text message telling him he had tested positive for coronavirus, his first thought was for his friends.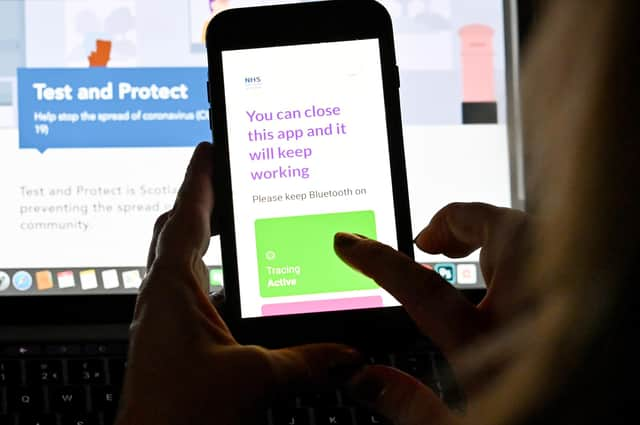 In the days before he began feeling unwell, he had met two separate friends for coffee in indoor cafes in Edinburgh where he lives. He had also visited an art gallery and used his regular gym, where he had seen a number of people he knew while working out.
He recalls: "On the Wednesday evening, I started feeling unwell, then on Christmas Eve morning, I went online and booked a test. I got one really quickly, that part of this was very efficient. Then, I switched my phone on on Christmas Day morning and got a message saying I had tested positive. It was my first Christmas message. Happy Christmas."
Mr Stevenson, who has now largely recovered from his illness, believes that luckily, none of his contacts became infected with coronavirus.
However, despite him passing on their details to Test and Protect, not one of them - nor any of the businesses he had visited - were contacted by the authorities to be told to isolate.
He says: "I reported online all of the people I had been in contact with and everywhere I had been - which was two individuals and four businesses. That was followed up by a phone call from Test and Protect.
"However, neither of the people whose details I gave to Test and Protect were ever contacted. They both isolated anyway, because they are both sensible people, but they were never contacted."
He has since also checked with the businesses affected - which under law, have to keep other customers' details for contact tracing purposes - and found that none of them had received a call from Test and Protect.
Stevenson says: "A friend of mine who was at the gym with me on the Wednesday morning - one of only three people there - was never contacted.
"I've also asked the owner of the coffee shop I was at for over an hour if they had been contacted and he told me that they hadn't had a word. It looks like none of these businesses and people were contacted at all.
"It concerns me as it just made me think 'this isn't working'. It has to work to keep infections down, it's a crucial part of the whole thing and if that's not working, it's really quite alarming."
An investigation carried out by the BBC this week found that half of all people who use NHS Scotland' Covid-19 app who have tested positive have not uploaded their positive test to the app, meaning that it can not inform others if they need to isolate.
Stevenson, who had the app uploaded to his phone, was one of them.
He says: "When you get your positive test, you get a code, but it was eight digits, whereas the one you need to put into the app so people can be pinged needs to be six digits, so it was useless.
"I also got contradictory information on how long to isolate - from the app and one the phone, even though I'd given them the same information."
The investigation found that up to 10 December 27,239 codes were issued, but only 11,549 were uploaded.
The Protect Scotland app was launched in September and has since been downloaded to more than 1.7 million phones. People who test positive are supposed to upload the code, which then generates a response to anyone who has been registered as a close contact through their own phone. These people are then instructed to isolate.
The Scottish Government said that the app's upload success rate is "consistent with other nations who use similar technology and contact tracing apps".
Earlier this week, the Our Scottish Future think tank, set up by former prime minister Gordon Brown, claimed that more than two-thirds of Scotland's coronavirus cases are being missed by the country's testing programme. It said that over the last six weeks of 2020, Office of National Statistics data estimated that a daily average of 43,379 Scots had the virus.
However, in that same time frame, Scotland's test and tracing programme was only picking up a rolling average of 13,650 cases – just 32 per cent of the total.
The ONS estimates are calculated from a combination of positive tests registered in Scotland and random swabs taken from households across the country, whether people have symptoms or not. The percentage of non-symptomatic swabs which test positive are then extrapolated to create an estimate of the true number of people who are infected with the virus.
Our Scottish Future said that the thousands of which are not registered with a positive test through the normal testing regime mean there are thousands more people who should isolate - having been in contact with someone with the virus - who cannot.
Each interview with someone who has tested positive in Scotland yielded an average of 4.1 contacts – compared to England's figure of 2.4 – but Our Scottish Future said the low detection rate meant the impact of Test and Protect on the R number is less than 5 per cent.
In the week to 10 January, Scottish Government data shows that 12,361 people were diagnosed with a positive coronavirus test, with 20,485 contacts followed up by Test and Protect workers.
Scottish Conservatives shadow health secretary, Donald Cameron MSP, said: "Test and Protect is a vital tool in taming the pandemic. Any evidence that it is not working to the required standard is a huge cause for concern. Failures with the system need to be investigated immediately with solutions quickly put in place in order to secure public confidence."
A Scottish Government spokesperson said: "This isolated case is being fully investigated and work is being done to ensure that this does not happen again. We thank everyone who follows the rules and self-isolates to stop the spread of this virus, and apologise for this error.
"The Protect Scotland app is continuing to work as intended for the 1.78 million users who have downloaded the app to date."
She added: "Businesses are not routinely contacted if a risk assessment determines the risk of transmission within the relevant setting is low – which may include robust social distancing measures and the use of PPE.
"It remains essential that employers carry out a Covid-19 risk assessment and have plans in place to manage any impact of workforce absence due to isolation. More broadly, it remains critical to continue with other measures to reduce transmission such as physical distancing, hand and respiratory hygiene, and appropriate use of face coverings."
*His name has been changed.
Comments
 0 comments
Want to join the conversation? Please or to comment on this article.