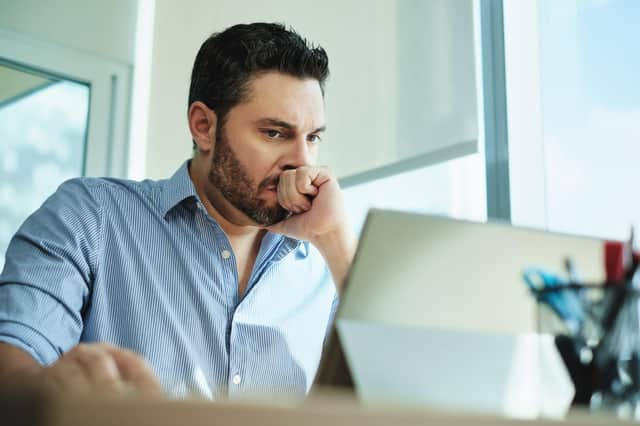 Yet such problems also come amid a growing awareness of the importance of discussing and addressing mental health – and more and more organisations dedicated to dealing with the issue in the workplace.
In the second part of our There For Each Other campaign leading into Christmas, we are asking what is the support available – and how can it help?
One option is mental health first aid training, offered by the likes of St Andrew's First Aid.
The service was launched two years ago on the back of organisers being "very aware" of growing needs in this area.
The UK's Health and Safety Executive said recently the number of working days lost due to work-related stress, depression or anxiety was just under 18 million in 2019/20.
Yet a recent survey from City Pantry, which arranges food deliveries to workers, found less than a fifth of UK workers have reached out to someone at work while experiencing poor mental health or related problems.
St Andrew's First Aid has to date trained nearly 1,200 people from more than 700 organisations as mental health first aiders – and expects this figure to rise "significantly" due to the consequences of coronavirus.
As for the aims of its training, the organisation said: "We want to make sure people are able to recognise the signs of a mental health condition in family, friends or colleagues, and then to feel confident and comfortable when reaching out to them. Attending one of our courses will also enable individuals to knowledgeably direct someone to the services and help that's available to them."
Also offering qualifications in mental health first aid is MHScot Workplace Wellbeing, which says it is Scotland's first social enterprise focusing on stress prevention and early mental health intervention at work.
It has worked with organisations such as Amazon, the Edinburgh International Conference Centre and Balfour Beatty.
The organisation's founding director Catherine Eadie said she believed that intervening as early as possible reduced "the human costs, the emotional costs, the financial costs to businesses that later down the line they will inevitably have to cover".
She sees the need to step in much earlier via the likes of education, awareness-raising, and campaigning for access to services. "We're still picking up a lot of people much, much further down the line when they have developed significant symptoms and signs that are having a greater impact on their wellbeing," she said.
As for MHScot's outlook for 2021, Mrs Eadie said organisations would be keeping a close eye on budgets, but "I think next year could well provide further opportunities [for us] ... we're certainly very, very busy at the moment – and I don't see that ending any time soon".
And more and more players focusing on mental health are entering the fray – such as Come Alive UK, which launched in the summer by sector specialists Scott Newby of NewbyCore Consulting and Catriona Davies of Resolution Mediation Scotland.
The duo said they had created a model of support, which harnesses "effective and high-quality" interventions.
They added: "Whilst colleague wellbeing should always be top of the agenda, this is now more important than ever as we start to understand the impact Covid-19 and remote working is having on mental health.
"As a company since launch, we're seeing an uptake in our services, as businesses and organisations proactively respond to the increasing mental health impact on their staff."
They noted the broader increase in mental health problems in society, adding that with public health services "more stretched than ever, it is critical that businesses act now" to support the wellbeing of their staff.
However, ventures aiming to help include First Psychology Assistance, part of First Psychology Scotland, launching mental health MOT sessions for home workers.
Additionally, Mr Newby said he believed the right support for staff did not just improve their welfare - it would also lead to better motivation and productivity, and lower costs. Come Alive UK says that an employer gets £5 back for every £1 spent on improving its staff's mental health.
Mr Newby's return-on-investment view is shared by Dr Gail Taylor, counselling services co-ordinator at Human Development Scotland (HDS). The organisation has an employee assistance programme whereby employers can pay for counselling and psychotherapy for staff – and demand has grown of late.
Dr Taylor said HDS' support means employees "will be able to function well, they will be a better member of their team ... it's a small amount financially to pay, I think, for what the benefits can be". She said the amount of sessions an employer pays for varies – but tends to be around six to ten.
As for topics that come up, she said that often what the person presents as the issue will not be the real underlying problem. She said: "Sometimes, if there's a stressful situation, whether it's at work or Covid or whatever, it can bring something back to life that has been forgotten about ... or put us in touch with something [uncomfortable]."
But she also stressed that therapy sessions give the employee a space to think, as well as making them feel supported and valued by their employer.
- Our There For Each Other campaign is aimed at supporting local communities as the impact of the Covid-19 pandemic accelerates, with a focus on mental health and resilience to get through what could be a very hard winter.
A message from the Editor:
Thank you for reading this article. We're more reliant on your support than ever as the shift in consumer habits brought about by coronavirus impacts our advertisers.
If you haven't already, please consider supporting our trusted, fact-checked journalism by taking out a digital subscription.