Hospitality groups claim Scotland's lockdown levels will lead to 'chaos and failure' as councils given assurances levels will change quickly
Hospitality groups have said the new lockdown levels system for Scotland could cause thousands of job losses due to restrictions on pubs and restaurants.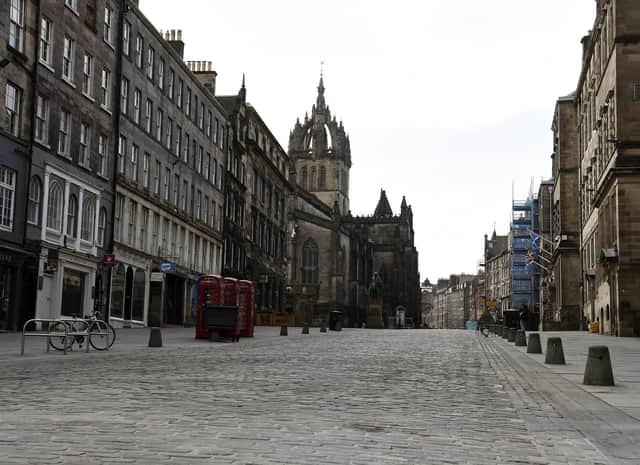 A desered Royal Mile in Edinburgh during the first national lockdown
The Scottish Hospitality Group, which is also bringing legal action against the Scottish Government's decision to restrict hospitality businesses hours or force them close, said the planned system will lead to "chaos and failure" and cause thousands of job losses.
"This approach is neither 'proportionate' or 'sustainable'," said Stephen Montgomery, spokesperson for the group.
"Over the weekend we put together a detailed, workable plan for how hospitality could operate safely and viably in each tier. The Scottish Government did not take on board one single recommendation that we put forward to save jobs.
"This is yet another example of government talking to industry but not listening. Saving jobs is key to protecting people's livelihoods and the economy. It's not rocket science - too few hours and too many staff exclude many businesses from claiming the Job Retention Scheme.
"The government must acknowledge that the new restrictions will end in hundreds, if not thousands of job losses."
Andrew McRae, the Federation of Small Business's Scotland policy chair, said the new restrictions look "broadly proportionate" but of "little comfort" to those facing renewed restrictions.
He said: "The success of this new Scottish Government approach depends upon Ministers wielding their powers like a scalpel not a hammer.
"However the travel ban outlined by the First Minister has significant implications for many businesses, like rural firms dependent on visitors from the city. At the earliest possible opportunity, Ministers must explore alternative policies on this front. And in the meantime, they must provide real help for businesses hit by this change."
David Lonsdale, director of the Scottish Retail Consortium, echoed the concerns and said he was relieved nowhere faced the closure of non-essential shops under current restrictions.
He said: "SRC has consistently advocated greater visibility and certainty over potential next steps for future Covid restrictions, particularly in the run up to the critical Christmas trading period. After months of chopping and changing this new framework offers the prospect of a more consistent approach which is most welcome.
"We recognise the need for government to act quickly to protect public health and help combat coronavirus, however we do have lingering concerns about the incredibly short timescales envisaged for implementing any future moves into the highest tier, and the practical challenges for retailers and suppliers that could pose."
The comments came after Nicola Sturgeon announced which levels would apply to each council area in Scotland in a statement to Holyrood before First Minister's Questions.
She told MSPs some decisions were "borderline" and hoped some areas would be moved down a level "at a very early review point".
It is understood council leaders in areas considered on the edge of dropping down a level have been told by the Scottish Government to expect moves to lower their restrictions within a week or two.
Some areas including the likes of Edinburgh, East Lothian and the Borders were told by the Scottish Government to expect movement to levels one or two following the review of restrictions next week or on November 13.
The assurances were given to leaders by deputy first minister John Swinney during meetings held this week.
Senior council sources in East Lothian, Edinburgh, Argyll and Bute and the Scottish Borders councils said they had had "constructive" talks with the Deputy First Minister John Swinney during the week and felt the case for their areas was being heard.
It is understood East Lothian expects to see a reduction in the level of restrictions to level two following the review next Thursday (November 5), with Edinburgh likely to move down to level two the week after with relaxed measures potentially coming into force on Monday November 16.
Both have been kept in level three primarily due to concerns about rising case numbers in West Lothian and the number of available hospital and ICU beds in the NHS Lothian health board area.
The Scottish Borders also expects to see a rapid lowering of their level, pending the outcome of a small outbreak in Jedburgh and the ongoing prevalence of the virus in neighbouring areas across the border and in Lanarkshire and the Lothians.
Any potential movement of levels is dependent on current trends for Covid-19 continuing downwards or stabilising, but could see some areas move faster than anticipated.
The national clinical director, Professor Jason Leitch, told the Holyrood Covid-19 committee he did not expect movement between levels for three to four weeks to allow for an incubation period for the virus.
Edinburgh council leader Adam McVey said: "There's no getting away from how difficult the current situation is for our local businesses and the First Minister's update will hopefully have brought some encouragement to the hospitality sector in Edinburgh.
"Continuing to follow the rules and limit the spread of the virus is the only way we'll be able to steer our city towards a lower level of restrictions and I'm confident we'll do this by working together."
The capital's depute leader Cammy Day was more critical of the positioning of Edinburgh in tier three.
He said: "While of course we accept professional and public health guidance, I hope that the Scottish Government will release more information as to the justification of these measures and the support available for affected businesses as soon as possible."
Daniel Johnson, Scottish Labour MSP for Edinburgh Southern, echoed the concerns and called for a detailed briefing on the decision to keep Edinburgh in level three.
He said: "We need greater clarity on how decisions were made on the findings, especially as Edinburgh does not appear to warrant a Tier Three classification when three of the areas that are analysed returned scores of zero.
"The evidence provided is not sufficient and we need far greater clarity in order to make sure Edinburgh is not being unfairly treated by the Scottish Government. "
A message from the Editor:
Thank you for reading this article. We're more reliant on your support than ever as the shift in consumer habits brought about by coronavirus impacts our advertisers.
If you haven't already, please consider supporting our trusted, fact-checked journalism by taking out a digital subscription.
Want to join the conversation? Please or to comment on this article.