Greene King closures: why the chain is closing 79 pubs and restaurants - including 11 Loch Fyne venues
The closures are expected to put 800 jobs at risk
Greene King is closing dozens of its locations and cutting 800 jobs after struggling to trade amid the tighter lockdown restrictions.
The pub chain has said 79 of its sites will have to shut for the time being, with around one third of these closures expected to become permanent.
Why are some pubs being closed?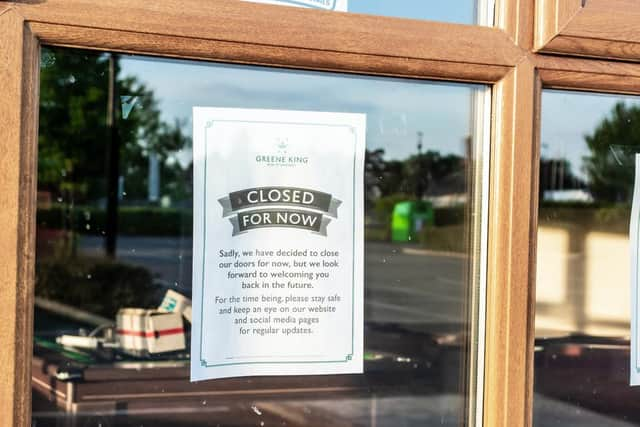 The temporary closures come following the recent tightening of restrictions across the UK, which has seen a 10pm curfew imposed on the hospitality sector, including pubs, bars and restaurants.
The winding down of the furlough scheme, which is due to end on 31 October, has also posed further challenges to trading, the company said.
Greene King has called on the government to provide urgent support for the struggling sector while the tougher lockdown measures remain in place. An industry body warned on 6 October that half a million hospitality jobs could be lost by the end of the year.
A spokesperson for Greene King said, "The continued tightening of the trading restrictions for pubs, which may last another six months, along with the changes to government support was always going to make it a challenge to reopen some of our pubs.
"Therefore, we have made the difficult decision not to reopen 79 sites, including the 11 Loch Fyne restaurants we announced last week.
"Around one-third will be closed permanently and we hope to be able to reopen the others in the future. We are working hard with our teams to try and find them a role in another of our pubs wherever possible.
"We urgently need the Government to step in and provide tailored support to help the sector get through to the spring and prevent further pub closures and job losses."
The pub chain, which was bought by a Hong Kong real estate giant last year, is one of the UK's biggest hospitality firms and operates 3,100 pubs, restaurants and hotels across the country
Will all pubs be forced to close?
Under the new rules, which take effect from 6pm on Friday 9 October, indoor hospitality venues will be required to operate between 6am and 6pm daily, selling food and non-alcoholic drinks only. Meanwhile, outdoor bars will be allowed to serve alcohol until 10pm.
In Scotland's five regions with the highest number of cases (which include Glasgow and capital city, Edinburgh) licensed premises will have to shut for a 16 day period. However, they are still permitted to offer takeaway services.
These tougher restrictions affect the following health board areas:
- Greater Glasgow and Clyde
Ministers are said to be considering similar tough restrictions for parts of England, amid concerns that the virus is spreading out of control. New measures could feasibly include the closure of pubs and restaurants.
Tighter restrictions could come in from Monday 12 October, according to media reports, as infection rates continue to climb in cities such as Manchester, Liverpool and Newcastle.