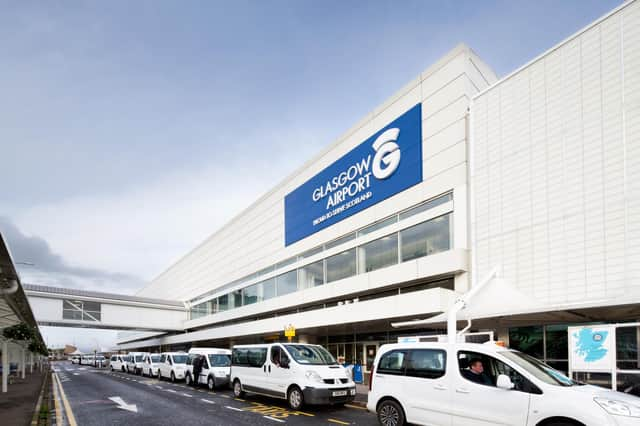 Glasgow is Scotland's second busiest airport.
The reductions from Wednesday will be among more than 430 staff at the group's three airports which also includes Southampton.
However, AGS Airports was unable to say how many.
The move comes days after Edinburgh Airport said it would close part of its terminal and most shops.
AGS said a major reduction in flights would lead to a "temporary restrictions on our operations".
Most remaining flights are using the most easterly of the terminal's three piers, with catering outlets shut.
The airports said the "temporary operating restrictions" would "significantly reduce the number of staff who must travel to work"
AGS said an unspecified number of employees would be furloughed, which was being discussed with unions.
Temporary 20 per cent pay cuts for all staff were also being discussed.
Other possible measures include an end to bonus payments and staff taking unpaid leave and reducing their working hours.
The spokesman said: "Given lots of airlines have significantly reduced their flying schedules, we're reducing accordingly while maintain a 24-hour operation.
"So between 7am and 7pm, we'll have measures in place to support [certain types of] aircraft and [other types] aircraft after this.
"We still have British Airways, KLM, Loganair and Aer Lingus operating."
NHS and air ambulance services, and helicopters for the oil and gas industry, will also still use the airport.
AGS chief executive Derek Provan said: "These have been difficult decisions.
"However, I am absolutely clear they will enable us to protect jobs, protect the health and well being of our employees and ensure AGS Airports is in a strong position to aid our country's recovery when we emerge from this crisis."