From tenement windows in cities to the front doors of suburbia - Scotland pays tribute to hero NHS workers
For those standing together by staying apart, it was a chance to unite in spirit, if not in body, and pay a heartfelt thanks to those working day and night at the frontline of an unprecedented national health crisis.
As the clock struck eight o'clock, thousands of households on lockdown took part in a mass show of applause to show gratitude for health workers. Many shared their tributes on social media so that, even in isolation, their thanks would be seen and heard.
The Clap For Our Carers initiative, a grassroots initiative inspired by similar shows of respect for public health workers across continental Europe, was trending on social media platforms last night.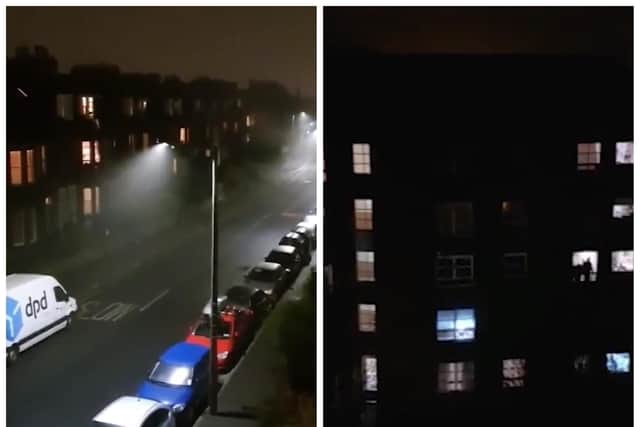 SNP MP Dr Philippa Whiteford, a former consultant surgeon in the NHS, was among those supporting the cause.
She said: "Working for the NHS has always been very challenging. What's always been a very positive thing, working in a hospital, was the sense of team spirit and everyone pulling together."
Miles Briggs MSP, the Scottish Conservatives' shadow health secretary, said: "As Scotland, the UK and the world faces the Covid-19 outbreak, the biggest public health emergency in our lifetimes, I know the NHS will be ready to step up and care and support our families and our communities in the coming days, weeks, and months, so we need to take this opportunity to say thank you."
The woman behind the Clap For Our Carers drive, which has been backed by politicians, local authorities, charities, as well as celebrities such as DJ Chris Moyles, said she hoped it would create a "bit of togetherness" among the house-bound public observing the strict lockdown put in place to try and stem the spread of the contagion.
Annemarie Plas, who witnessed a hand-clapping demonstration in her native Netherlands a few weeks ago, said it was a powerful tonic for those feeling isolated by the exceptional measures.
The Dutch event proved so popular the country's royal family were among those to join in, clapping their hands and striking cymbals on a balcony of the Paleis Huis ten Bosch in The Hague.
Ms Plas, now based in London, told BBC Radio Scotland: "I got so inspired by that and I looked at what was happening in other countries such as Italy and Spain and I thought, well that is what our NHS frontline workers need, but also for the people at home to create some togetherness for when we are alone."
The 36-year-old played her own part by hanging out of her living room window while banging pots and pans.
Such a racket, she said, was a small way of showing those in the NHS "how much we appreciate them, the hard work they are doing, that they're fighting every day for us".
So too, she said, it bolstered the morale of those at home, given they were able to search for social media posts using the hashtag #clapforourcarers and see others taking part.
Ms Plas would like the communal applause – also seen at events in France and Spain – to become a weekly fixture.