From New York to New Zealand - Two Edinburgh friends set up global running challenge to 'beat COVID-19'
Two pals from the Capital have started an initiative to get people moving in a safe way during the widespread COVID-19 lockdown.
Two pals from the Capital have started an initiative to get people moving in a safe way during the widespread COVID-19 lockdown.
Tom Brunstrom, 32, and David Taylor, 31, have set up Keep the World Running, a project to encourage people around the globe to run 19 miles on June 19.
So far, they have applicants from various countries including USA, France, UK, New Zealand and several from Eastern Europe.
"The aim is to keep people motivated and give them something to work towards during lockdown," said Tom, whose wife Hannah is a nurse in Edinburgh.
"By taking part you will be running on your own, but you will be connected to an online community of people from all sorts of places all working towards one goal."
The two friends will be providing a ten-week training programme online for those interested in taking part.
The project keeps well within government guidelines specifying participants can either train solo, or run with a member of their household keeping at the appropriate distance at all times, and come June 19, they can run a route of their choice.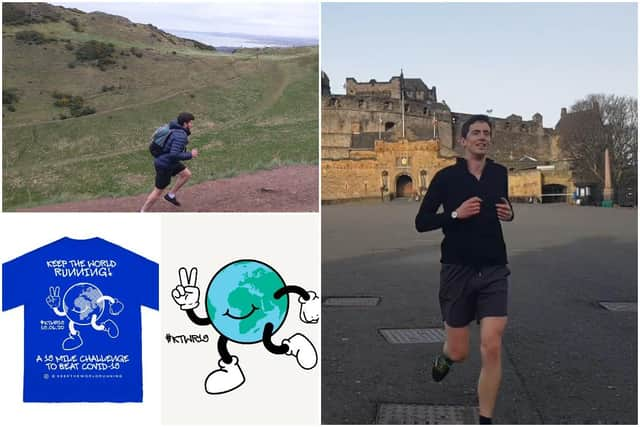 Tom, who works as a captain in the army, said: "The idea came when I went for a run out towards Musselbrough one morning when the weather was amazing. I thought it would be good to set something up for people to keep active and have something to work towards in these uncertain times."
He said while the 19-mile target is a challenge, it's more approachable than a marathon (26 miles) and will hopefully appeal to more people.
"We have had messages from runners who said their 5k, 10k or their marathon has been cancelled because of the coronavirus so it's good to give them something to keep working towards," he added.
Training videos will be released on their social media each week starting from today (Friday).
While experienced runners may not need it, Tom said the videos are there for guiding those taking part on long-distance running.
David, who claims he has never been a runner up until now, said the project aims to benefit people both physically and mentally.
"The psychological benefits are huge when going for a run, especially in this current climate," he said.
"I wouldn't say I am a long-distance runner myself but with the training videos it will be something to work towards and a good way to fill your daily exercise, so I encourage as many people to take part, no matter what your ability is."
Raising money for charity
Participants have the option to purchase a Keep the World Running t-shirt when signing up (pictured).
David said 100 per cent of the profit will go towards Medecins Sans Frontieres (Doctors without Borders), a charity the pair have chosen given its global influence and support to countries worldwide during the coronavirus pandemic.
"If participants want to set up their own fundraiser for charity of their choice that's fine, they can just create a separate justgiving page," he added.
David said the print company making the t-shirts are noting down the locations where orders are made so the two friends can eventually map out where all the participants are from.
"We are also following ultra marathon runners on social media because this project isn't just about us," he added.
"It's about the running community all over the world and we want runners to share their experiences with us, what they are doing during the pandemic to keep fit and share tips and videos on our social media.
"Most of all we want people to feel they are part of something."
David said their long term goal is to build a brand around Keep the World Running to run similar events in the future.
Comments
 0 comments
Want to join the conversation? Please or to comment on this article.