Four fined after Scottish police capture group not social distancing on helicopter camera
Four people have been fined for drinking in public amid social distancing concerns
The group were seen by a police helicopter in Pollock Park, Glasgow, and were confronted by officers.
Each person has been fined for drinking in public.
A day later and the group could have been penalised for breaching social distancing regulations, which were not yet in force.
The Scottish Government announced this week that no more than two people can gather together in public amid the coronavirus outbreak.
Other lockdown measures include only leaving the house for essentials such as food or medicine and for one form of exercise a day.
Following the incident officers posted on their Twitter page: "Four persons were issued with ASB tickets at Pollok Park, Glasgow this afternoon. Our message is clear: Stay at home."
A police spokesman said officers were alerted to the group by the Air Support Unit due to public seen "not abiding Government guidance regarding social distancing or gatherings of more than two people."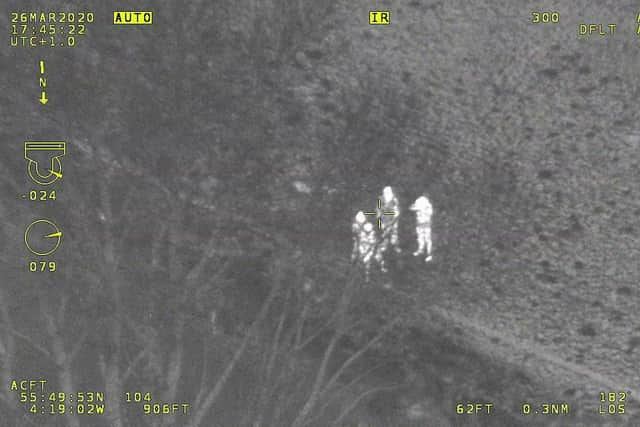 Those seen breaking the rules can be fined £60, although this can reduce to £30 if paid within the first 14 days.
The regulations, published by the Home Office on Thursday, are intended to give muscle to the government's efforts to enforce social distancing between people in efforts to prevent the spread of Covid-19 in the UK.
Police across the UK are using more draconian measures for making sure the public do not break social distancing measures.
Derbyshire Police have recently posted drone footage on their social media pages showing people not following recent regulations put in place to prevent further infection.
A Derbyshire police spokesman said: "Despite posts highlighting issues of people still visiting the Peak District despite government guidance, the message is still not getting through. The Derbyshire Constabulary Drone Unit has been out at beauty spots across the county.
"Some number plates were coming back to keepers in Sheffield, so we know that people are travelling to visit these areas. Daily exercise should be taken locally to your home. Under government guidance all travel is limited to essential travel only."
Since footage has been posted on social media, twitter users have shown divided opinions on police using drones and helicopters as a way of monitoring social distancing across the country.
One commenter said it is "a small step away from George Orwell's 1984" - in reference to the famous dystopian novel, which features round-the-clock government surveillance.
While others showed their support encouraging police to capture "number plates" on camera and to "send those breaking the rules a nice £1000 fine."
Comments
Want to join the conversation? Please or to comment on this article.