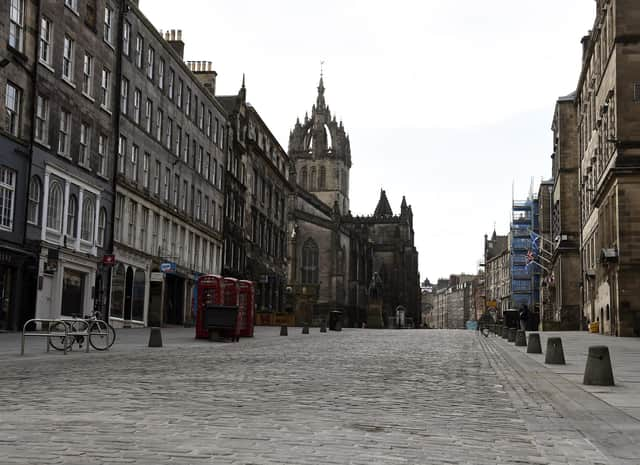 Edinburgh during the first national lockdown, which John Swinney said he could not rule out a return
John Swinney, speaking on the BBC's Politics Scotland programme, said he was not surprised by England's action but could not categorically rule out the Scottish government abandoning their new levels system set to be introduced tomorrow at 6am.
The new measures will see different parts of Scotland subject to a differing severity of restrictions depending on the prevalence of Covid-19.
Much of the central belt will be in Level Three, with other areas in Level Two and parts of the Highlands and islands in Level One.
Asked whether he could categorically rule out Scotland returning to a national lockdown such as the one announced yesterday for England which will come into force on Thursday, the deputy first minister said he couldn't do so.
Mr Swinney said: "I can't categorically rule that out, no, and it would be foolish to do so because we do face a very serious situation.
"We took the scientific advice that was given to us in September and we applied restrictions right away, we have not been able to visit other households in Scotland in any part of the country since September 22 and indeed in some parts of Scotland, in Glasgow and the West of Scotland, people have not been able to visit in each other's houses since the early part of September.
"We have taken early steps to try to stem the increase of coronavirus based on the scientific advice that was given to us and have acted promptly.
"But I cannot rule out the possibility of other measures or indeed a national lockdown being required should the circumstances arise.
The deputy first minister added that the Scottish government "hoped" the restrictions in place already in Scotland and the ones due to be imposed on Monday "will be enough" to avoid a national lockdown but said it must "remain one of the possibilities that exist for us".
Asked whether any future lockdown would be possible or whether it would undermine the levels system, Mr Swinney said the Scottish government has "great confidence" in the levels system.
He said: "There is very significant difference in the prevalence of coronavirus in Scotland in general compared to England and a very significant difference between different parts of Scotland.
"The Highlands and Islands and Moray is in a very different category and level compared to West and Central Scotland because the prevalence is so much lower.
"The time that we've taken to bear down on the virus over the course of the last two months has put us into, in general, a stronger position compared to the situation that prevails in England today.
"Also within Scotland we have significant differentials in the level of the virus which enables us to operate with varying degrees of restrictions within the country.
"The crucial thing is that everybody must comply with the restrictions in place in their own locality so we can continue to bear down on the virus."
A message from the Editor:
Thank you for reading this article. We're more reliant on your support than ever as the shift in consumer habits brought about by coronavirus impacts our advertisers.
If you haven't already, please consider supporting our trusted, fact-checked journalism by taking out a digital subscription.