Flu vs Covid 19: how symptoms of coronavirus compare to flu and common cold - and how to tell the difference
Healt officials are urging eligible people to get a flu vaccine this winter amid fears both flu and Covid-19 could be circulating at the same time
Health experts have warned people should "not be complacent" over the flu, after new research has shown the dire consequences of a co-infection with coronavirus.
Officials have warned that both flu and Covid-19 could be circulating at the same time and urged people who are eligible to get vaccinated, particularly with winter approaching.
The flu vaccination programme has been expanded this year to allow more people than ever to be eligible, including those who are aged 55 and over in Scotland, or 50 and over in the rest of the UK.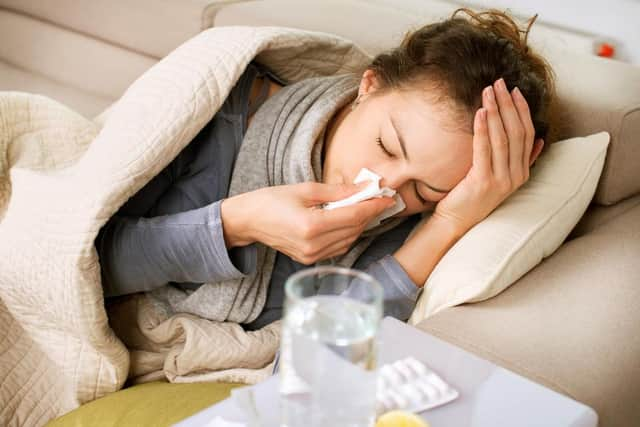 But how do you tell the difference between a flu infection and coronavirus? Here are all the symptoms you need to look for.
What are the symptoms of flu?
According to the NHS, flu symptoms come on very quickly and are very similar to a cold, although they tend to be more severe. Common symptoms can include:
- a sudden fever – a temperature of 38C or above
- feeling tired or exhausted
- diarrhoea or tummy pain
- feeling sick and being sick
The symptoms are similar for children, but they can also get pain in their ear and appear less active.
How do symptoms compare to coronavirus?
Some symptoms of flu are very similar to coronavirus, which can make it difficult to tell them apart.
The NHS advises that you should get tested for coronavirus if you have any one of the three main symptoms, and stay at home until you get the result. Anyone you live with, or anyone in your support bubble, must also stay at home until you get your result.
The main symptoms include:
- a high temperature – this means you feel hot to touch on your chest or back (you do not need to measure your temperature)
- a new, continuous cough – this means coughing a lot for more than an hour, or three or more coughing episodes in 24 hours (if you usually have a cough, it may be worse than usual)
- a loss or change to your sense of smell or taste – this means you've noticed you cannot smell or taste anything, or things smell or taste different to normal
Most people who have coronavirus experience at least one of these three symptoms.
Who is eligible for a flu vaccine?
In Scotland, the following people are eligible for the flu vaccine from October:
- All primary school children
- Children aged 2 to 5 (children must be aged 2 years or above on 1 September 2020 and not yet in school)
- Anyone aged 65 and over (by 31 March 2021)
- Unpaid and young carers
- Those living in the same home as people previously shielding from coronavirus
- Social care workers who provide direct personal care
From December, those aged 55 to 64 (by 31 March 2021) who would not usually be eligible are to be offered the vaccine.
GP surgeries will focus on the highest risk groups first, ahead of those who are aged over 50 and in the fit and healthy range, who will be vaccinated later in the year.
The NHS will get in contact with all those who are eligible, and you can arrange an appointment.
In Scotland, the flu vaccine is being administered differently this year and may not be at your GP surgery as normal.
Depending on where you live, you may be able to get your vaccine at:
- healthcare settings, such as GP practices, hospitals or community pharmacies
- community venues, such as town halls, village halls, sports halls and secondary schools
- drive-through or walk-through clinics