First Minister Nicola Sturgeon announced changes to the rules on wearing face coverings in Scotland, in an address to the Scottish Parliament on Thursday (15 October).
Ms Sturgeon announced new restrictions that will apply in Scottish workplaces, while also updating the guidance on the use of face coverings at weddings and civil partnership ceremonies.
Here's what the latest guidance states.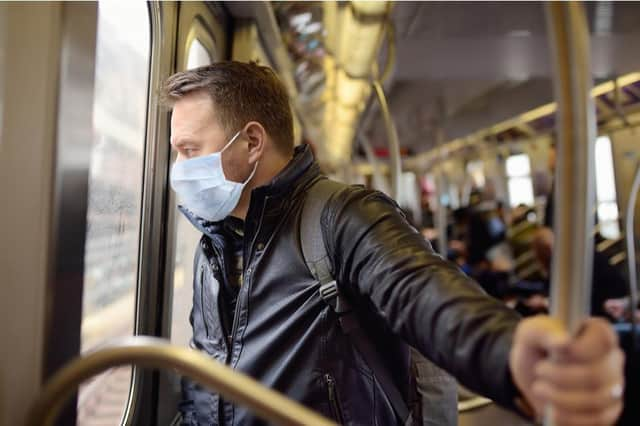 Two new measures in regard to the legal use of face coverings will come into force in Scotland on Friday (16 October), the First Minister has announced.
Regulations state that anyone in a workplace canteen will now be required to wear a face covering when they are not seated at a table, bringing them in line with the rules already in place for other hospitality businesses.
In addition, from Friday (16 October) couples will no longer be required to wear face coverings during wedding or civil partnershop ceremonies.
Further changes to the rules will then come into force for all Scottish workplaces on Monday (19 October), which will require all staff to wear face coverings in all communal areas, such as corridors.
Ms Sturgeon said: "The new rules are a proportionate additional step which will help employees keep themselves and their colleagues that bit safer."
Where else are face coverings mandatory in Scotland?
Face coverings are mandatory on all public transport in Scotland, as well as a number of indoor settings, unless an exemption applie.
Government guidance states face coverings must legally be worn in the following settings:
- any premises which open to members of the public and are used for the retail sale or hire of goods or services, such as shops, takeaway restaurants, pharmacies, estate agents, beauty parlours. This includes hospitality premises such as bars and pubs and cafes and restaurants except when an exemption applies.
- aquariums, indoor zoos or visitor farms, and any other indoor tourist, heritage or cultural site
- banks, building societies and credit unions
- crematoriums and funeral directors' premises
- libraries and public reading rooms
- storage and distribution facilities, including collection and drop off points
- amusement arcades and other leisure facilities (such as snooker and pool halls)
- indoor fitness studios, gyms, swimming pools or other indoor leisure centres
It is also advised that face coverings are worn in public toilets, as they are often crowded and less ventilated spaces.
You must also wear a face covering when using the following public transport services:
- train services including the Glasgow subway
- bus services and the Edinburgh tram
- taxi and private hire vehicles
- bus stations, railway stations (including open air stations) and airports
- ferry services (unless the ferry is open to the elements and physical distancing can be achieved, or the vessel is large enough that physical distancing can be achieved)
What are the rules for schools?
The new rules came into force on 31 August and require all pupils aged 12 and over to wear face coverings in corridors, communal areas and on school buses.
The guidance is obligatory in all secondary schools, special schools and grant-aided schools in Scotland, but pupils should not be excluded from school if they do not wish to wear one.
The change in guidance comes following an update in advice from the World Health Organisation (WHO) on children and face masks. The WHO is now advising "children aged 12 and over should wear a mask under the same conditions as adults, in particular when they cannot guarantee at least a 1-metre distance from others and there is widespread transmission in the area."
Everyone is asked to comply with the face mask rules, with the exception of children under the age of five and those with certain medical conditions.
This includes the following instances:
- visits to a care home for the elderly
- visits to adult hospitals as an outpatient
- entering GP surgeries or pharmacies
Face coverings do not include surgical or other medical grade masks, but rather a covering of the nose and mouth that is made of cloth, or other textiles, through which you can breathe, such as a scarf. Surgical face coverings should be left for medical professionals.
The WHO states that the use of a mask can be helpful to limit the spread of potentially infectious droplets in some public settings where physical distancing is not possible.
As such, it recommends the use of non-medical fabric masks for people in the general public where at least a one metre distance cannot be maintained, such as on public transport, in shops, or other confined or crowded environments.
The WHO advises you should clean your hands with an alcohol-based hand rub, or soap and water, before putting a face covering on, and it should cover your nose and mouth, with no gaps between the mask and your face.
You should avoid touching the mask while you are using it - and if you do, thoroughly wash your hands after.
Replace the mask with a new one as soon as it is damp, and do not reuse single use masks.