Face masks in supermarkets: which stores have banned maskless shoppers, what are the rules - and could you be fined?
Morrisons, Sainsbury's, Asda, Tesco and Waitrose have announced the ban
Supermarkets are strengthening their rules on wearing face masks in-store amid concerns that social distancing measures are not being followed.
It comes as UK vaccines minister Nadhim Zahawi said the government was "concerned" that people were not adhering to coronavirus measures in supermarkets.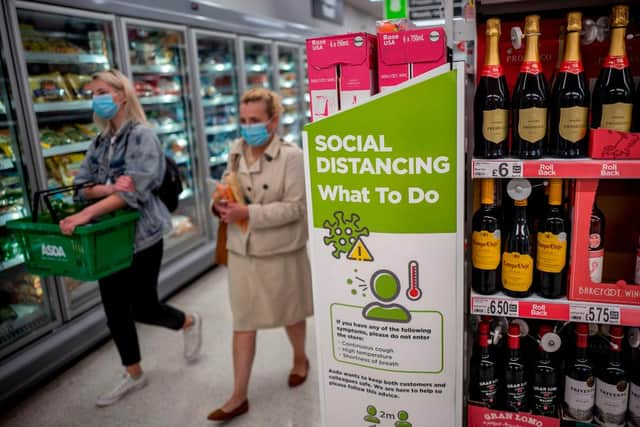 Here's everything you need to know about enforced mask policies in supermarkets - and if you could be fined for not wearing one.
Which supermarkets have banned maskless shoppers?
Morrisons became the first supermarket to strengthen its rules on mask-wearing in its stores.
The retailer said on Monday 11 January that people who refused to put a face covering on would not be able to set foot inside.
Security guards at Morrisons will be on-hand to make sure people comply with the new rules.
Chief executive David Potts said: "Those who are offered a face covering and decline to wear one won't be allowed to shop at Morrisons unless they are medically exempt.
"Our store colleagues are working hard to feed you and your family, please be kind."
Meanwhile, Sainsbury's will enforce the use of masks in its supermarkets by telling security guards at the front of stores to challenge those who do not wear one.
Announcing the enforcement after Morrisons, the retailer also asked its shoppers to visit stores alone, rather than in groups.
Chief executive Simon Roberts said: "I've spent a lot of time in our stores reviewing the latest situation over the last few days and on behalf of all my colleagues, I am asking our customers to help us keep everyone safe.
"The vast majority of customers are shopping safely, but I have also seen some customers trying to shop without a mask and shopping in larger family groups.
"Please help us to keep all our colleagues and customers safe by always wearing a mask and by shopping alone. Everyone's care and consideration matters now more than ever."
Tesco announced on Tuesday 12 January that it will also be enforcing new rules on face masks, with shoppers unable to enter stores without one unless they are medically exempt.
Customers are also being asked to shop alone.
A spokesman for the supermarket told The Mirror: "We won't let anyone into stores not wearing a face covering, unless they are exempt.
"We are also asking customers to shop alone, unless they're a carer or with children... we will have additional security to help manage this."
Asda is the fourth supermarket to ban shoppers who do not wear face masks.
Announcing the new rule on Tuesday 12 January, it said customers who refuse to wear a face covering without a valid medical reason will be refused entry into stores.
An Asda spokesperson said: "If a customer has forgotten their face covering, we will continue to offer them one free of charge - but should a customer refuse to wear a covering without a valid medical reason and be in any way challenging to our colleagues about doing so - our security colleagues will refuse their entry."
Waitrose is the latest supermarket to say people who do not wear masks will be stopped from coming into stores.
Marshals will be positioned at the entrances of all Waitrose supermarkets to enforce the rule.
They will have disposable masks for customers who do not have their own and will deny entry to shoppers refusing to put a mask on.
Andrew Murphy, group operations director at the John Lewis Partnership, said: "By insisting on the wearing of face coverings, over and above the social distancing measures we already have in place, we aim to make our shops even safer for customers."
Could you be fined for not wearing a mask?
Wearing a mask in supermarkets, shops and most indoor places is compulsory in Scotland, and the police have the power to legally enforce this rule if you do not comply.
You could be fined £60 for not wearing a face covering in these places, which is halved to £30 if paid within 28 days, while repeat offenders could face even bigger fines.
Those living in England could be subject to a £200 fine for breaking the face covering rule.
The Scottish Government guidance states: "You must by law wear a face covering in shops, on public transport and public transport premises such as railway and bus stations and airports, and in certain other indoor public places such as shops, restaurants/cafes including canteens (including in workplaces and when not seated), libraries and places of worship."