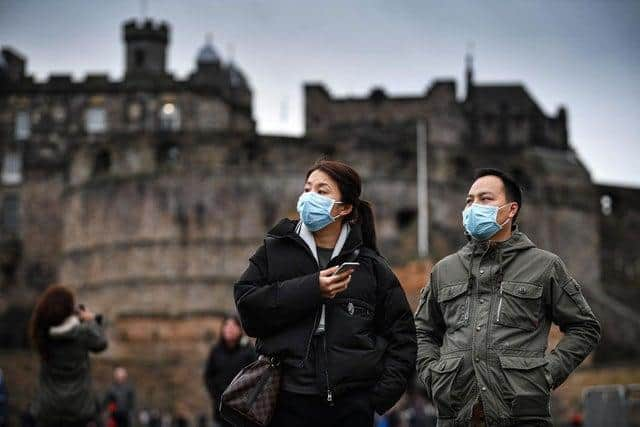 'Early lockdown' could lead to fewer deaths in Scotland
The spread of the virus in Scotland is believed to be lagging around six to seven days behind London according to Professor Mark Woolhouse, chair of infectious disease epidemiology at Edinburgh University's Deanery of Population Health Sciences.
He told the Herald: "The epidemic in Scotland is approximately six or seven days behind the one in London in terms of the fraction of the population testing positive.
"The doubling rate – the length of time it takes for the number of cases to double – is comparable to that of London at the same stage.
"All that says that if we hadn't got any intervention we appear to be following a somewhat similar epidemic curve to London, but we're just six or seven days behind.
"But when the lockdown was implemented it was implemented not just in London, as we were anticipating, but across the whole country on the same day.
"It's not that we think the lockdown measures have a dramatically different effect on transmission rates in Scotland than London, although there are some questions about urban versus rural.
"It's simply those extra six or seven days.
"But if I'm correct, the per capita number of deaths in Scotland until the end of the lockdown ought to be lower."
Prof Woolhouse stressed that he would still expect deaths in Scotland to "rise appreciably for at least another week", due to the time lapse between catching the virus and dying from it.
The UK's first known coronavirus cases were confirmed at the end of January in a pair of Chinese tourists holidaying in York, but Scotland did not report its first case, in a Tayside resident recently returned from Italy, until March 1.
By this stage, parts of England were already experiencing sustained community transmission.
The latest figures show that there have been 60 deaths in Scotland, with a population of around 5.4 million, compared to 1,651 in England with a population of 56 million. In Scotland, 1,993 people have tested positive for the virus to date compared to more than 22,000 in England.
It was London's unexpectedly rapid transmission rates, with new cases appearing faster than they had in other countries, which led epidemiologists to pressure ministers into ramping up restrictions.
All pubs, restaurants and leisure venues were ordered to close on the same weekend across the whole of the UK as part of hardline social distancing measures, with all shops except pharmacies or food outlets suspending trading soon after.
The public, across the UK, have also been told to stay at home as much as possible, limit public transport use and avoid meeting friends or relatives unless they share the same household.