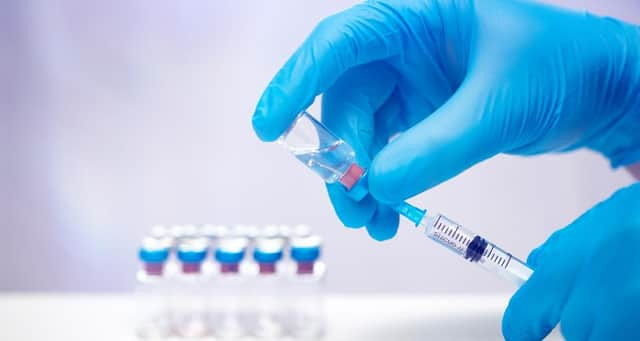 Health experts have made a major breakthrough in the fight against coronavirus, with the discovery of a cheap and widely available new drug that could save lives.
Dexamethasone, a low-dose steroid treatment, can cut the risk of death by up to a third in critically ill coronavirus patients.
It is now available as a treatment for hospital patients on the NHS, and Health Secretary Matt Hancock has announced that 240,000 doses of the drug are "in stock and on order".
Here's what you need to know about Dexamethasone - and whether it's safe.
Dexamethasone is a low-dose steroid treatment currently used to treat inflammation caused by various conditions, including tumors of the spine and brain, and eye inflammations.
It was part of the world's biggest trial to test if existing treatments can fight coronavirus.
The discovery of the drug's effect on sufferers is a huge breakthrough in the fight against the deadly virus.
Currently the largest manufacturer of the drug is the Indian company Cadila Healthcare.
Since the findings came to light, the British pharmaceutical company AstraZeneca, has begun manufacturing the drug.
What are the possible side effects?
Certain side effects are quite common for patients taking dexamethasone. The following occur in over 30 per cent of those who use it:
- Difficulty sleeping (insomnia)
- Swelling in your ankles and feet (fluid retention)
- Increased blood sugar levels
What happened in the trial?
The Recovery Trial has been studying the effect of certain existing drugs on coronavirus patients since March this year.
Led by a team from Oxford University, it featured roughly 2,000 hospital patients who were each administered dexamethasone. They were then compared with more than 4,000 patients who did not receive the drug.
The trial also tested the malaria drug hydroxychloroquine. However, this was found to be possibly dangerous, raising concerns that it increases heart problems and fatalities.
How can Dexamethasone treat coronavirus?
The trial found that this particular drug could cut the risk of death by a third, for patients on ventilators while it could cut deaths by a fifth for those on oxygen.
Researchers have now suggested that if the drug had been used as a form of treatment since the start of the pandemic, up to 5,000 lives could have been saved in the UK alone.
The drug cut the risk of death for patients on ventilators, from 40 per cent to 28 per cent. Meanwhile, for those just requiring extra oxygen, it cut the mortality risk from 25 per cent to 20 per cent.
Coronavirus can force the body into overdrive, which can be deadly. This reaction is known as a 'cytokine storm'.
However, dexamethasone appears to prevent some of the damage caused by the immune system when coronavirus forces it into this overworked state.
How much does the treatment cost?
"There is a clear, clear benefit," said lead researcher, Prof Martin Landray while explaining the cost effectiveness of the treatment.
"The treatment is up to 10 days of dexamethasone and it costs about £5 per patient.
"So essentially it costs £35 to save a life."
From 18 June the drug has been made available on the NHS.
Does it help with milder coronavirus symptoms?
Prof Landray strongly cautioned that people should not go out and buy it to take at home.
Dexamethasone has not been proven to help those with milder symptoms of the virus, but only those who are hospitalised and need help to breathe.
Addressing the findings, Chief investigator Professor Peter Horby said, "This is the only drug so far that has been shown to reduce mortality - and it reduces it significantly. It's a major breakthrough."
Meanwhile Prof Landray said the drug could save one out of eight patients on ventilators and one out of every 20-25 patients treated with oxygen.
Posting on Twitter earlier this week, Chief Medical Officer for England, Professor Chris Whitty, praised the drug. He said: "This is the most important trial result for COVID-19 so far.
"Significant reduction in mortality in those requiring oxygen or ventilation from a widely available, safe and well known drug."
"Many thanks to those who took part and made it happen. It will save lives around the world."