Covid Inquiry: Matt Hancock wanted to decide 'who should live and who should die', says former NHS boss
Matt Hancock wanted to decide "who should live and who should die" if hospitals became overwhelmed by coronavirus patients, the former NHS England boss has claimed.
Lord Simon Stevens, who led NHS England until 2021, largely refused to criticise the former health secretary during his appearance before the Covid-19 inquiry.
That is in contrast to other figures who appeared before Baroness Heather Hallett's probe this week, including former top Number 10 adviser Dominic Cummings and ex-civil servant Helen MacNamara.
In his witness statement to the inquiry, the peer said: "The secretary of state for health and social care took the position that in this situation he – rather than, say, the medical profession or the public – should ultimately decide who should live and who should die.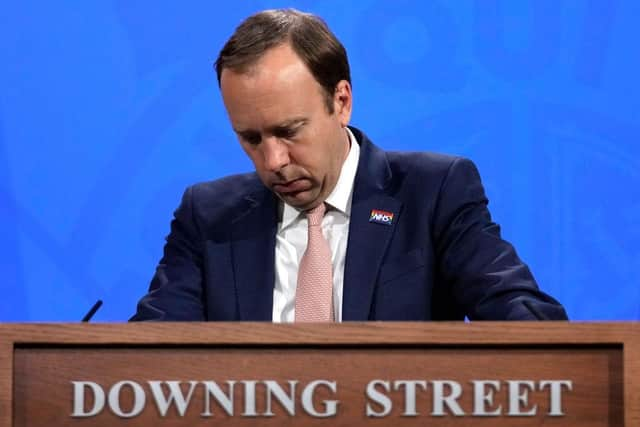 "Fortunately, this horrible dilemma never crystallised."
Giving oral evidence to the inquiry, he added: "I certainly wanted to discourage the idea that an individual secretary of state, other than in the most exceptional circumstances, should be deciding how care would be provided.
"I felt that we are well served by the medical profession, in consultation with patients to the greatest extent possible, in making those kinds of decisions."
A series of WhatsApp messages shared with the inquiry have revealed Mr Cummings repeatedly pushed Boris Johnson to sack Mr Hancock, who now sits as an independent MP following his appearance on ITV's I'm A Celebrity... reality show.
At one stage, Mr Cummings claimed Mr Hancock had "lied his way through this and killed people and dozens and dozens of people have seen it".
Ms MacNamara, who served as deputy Cabinet secretary, also claimed in her evidence that Mr Hancock displayed "nuclear levels" of overconfidence and a pattern of reassuring colleagues the pandemic was being dealt with in ways that were not true.
Lord Stevens mostly declined to join in the criticism of Mr Hancock.
"There were occasional moments of tension and flashpoints, which are probably inevitable during the course of a 15-month pandemic, but I was brought up always to look to the best in people," he said.
Under questioning from inquiry counsel Andrew O'Connor, he said that "for the most part, yes" he could trust Mr Hancock.
Senior civil servants meanwhile actively played down the seriousness of Mr Johnson's Covid illness in April 2020, bombshell evidence to the Covid inquiry revealed.
Officials gave a "more positive impression" of the-then prime minister's health to journalists because they were concerned that terrorists or hostile states could exploit an apparent power vacuum, that it would cause chaos on the financial markets, and that it would trigger panic among the public who were being asked to comply with lockdown regulations.
Mr Johnson had separately blamed "bed blocking" in the NHS for locking down the country as Covid took hold, the inquiry heard, as new details of his witness statement were made public.
Comments
 0 comments
Want to join the conversation? Please or to comment on this article.