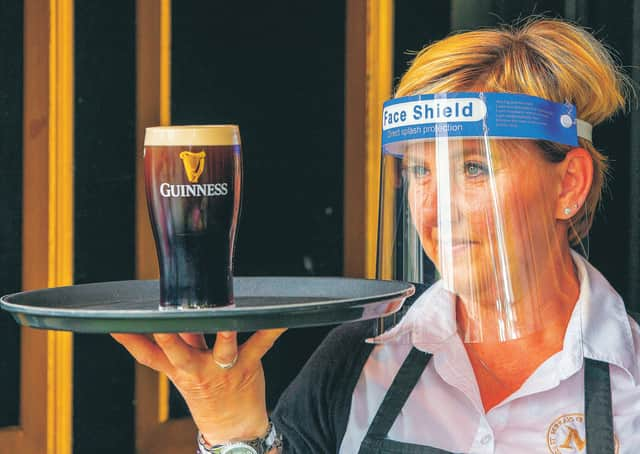 The Prime Minister will address the nation on Tuesday evening to outline new measures to tackle the sharp rise in coronavirus cases.
As well as the curfew, the hospitality sector will be restricted by law to table service only.
Mr Johnson will chair meetings of Cabinet and the Cobra emergency committee, including the leaders of Scotland, Wales and Northern Ireland, ahead of a live, televised address at 8pm.
A No 10 spokesperson said: "No-one underestimates the challenges the new measures will pose to many individuals and businesses. We know this won't be easy, but we must take further action to control the resurgence in cases of the virus and protect the NHS."
The move comes amid warnings the UK could face 50,000 coronavirus cases a day by mid-October and 200 daily deaths during November if the current rate of infection is not halted.
Sir Patrick Vallance, the UK Government's chief scientific adviser, and England's chief medical officer Professor Chris Whitty said the crisis was at a "critical point" and could stay that way for six months.
Speaking at a televised briefing without Prime Minister Boris Johnson, they explained the virus was spreading through all parts of Britain and growing in every different age group.
Sir Patrick had earlier warned: "In every age group we have seen an increase. It is now estimated that roughly 70,000 people in the UK have Covid infection and that about 6,000 people per day are getting the infection.
"If that continues unabated and this grows doubling every seven days then what you see is, by mid October we would end up with something like 50,000 cases per day.
"As it spreads across age groups we expect to see an increase in hospitalisations and unfortunately those increases in hospitalisations will lead to an increase in deaths."
Sir Patrick warned the current trend could see 200 people a day hospitalised by the middle of next month.
Prof Whitty warned the country should be braced for a tough winter, adding that colder months were known to benefit respiratory viruses.
"So we should see this as a six-month problem that we have to deal with collectively, it's not indefinite," he said.
He said the timing of the surge meant the infection rate could soon go from "small numbers to really very large numbers".
"We have in a bad sense, literally turned a corner, although only relatively recently," he said.
"At this point, the seasons are against us, we are now going into the seasons, late autumn and winter, which benefit respiratory viruses and it is very likely they will benefit Covid as they do flu."
Mortality rates from Covid-19 were "significantly greater" than seasonal flu, which killed around 7,000 annually or 20,000 in a bad year, he added. He suggested that science would eventually "ride to our rescue", but "in this period of the next six months, I think we have to realise that we have to take this collectively, very seriously".
The Government said that as of 9am yesterday, there had been a further 4,368 lab-confirmed cases of coronavirus in the UK.
Prof Whitty urged the public to do their bit to battle Covid-19, insisting the Government alone could not end the crisis.
He explained: "This is not someone else's problem, this is all of our problems. We must see this as a six-month problem – we have to take this collectively very seriously."
Sir Patrick suggested any new restrictions could see the public ordered to stay away from family and friends.
He said: "The way that we reduce the spread is by limiting our number of contacts, by reducing contact in environments where spread is more likely – those are crowded environments, indoor environments, poor ventilation – and making sure that we reduce the probability of coming into contact with anyone who is infectious."