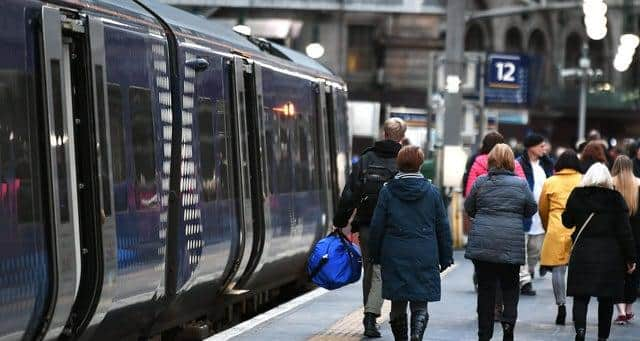 Caledonian Sleeper is to suspended services to Aberdeen and Fort William from Sunday.
It will operate a single nightly train between Edinburgh and London with portions continuing to and from Glasgow and Inverness.
The last ScotRail trains will leave mid-evening on some popular lines.
The operator said some staff were off sick and there was a need for extra cleaning of trains and stations.
Freight trains, such as for supermarkets, will also be given higher priority.
LNER will also reduce trains between Edinburgh and London by a quarter from Monday but those to Aberdeen and Inverness will be maintained.
Avanti West Coast passengers between Edinburgh and London will have to change at Carlisle from Monday but its Glasgow services will be unchanged.
TransPennine Express will also run fewer trains between Edinburgh, Glasgow and Manchester.
ScotRail trains will be halved in frequency on many lines including the main Edinburgh-Glasgow route, which will be cut to half-hourly.
Services will also end early, with the last trains leaving in mid evening on lines such as Edinburgh to North Berwick and the Borders Railway.
Off-peak trains could be reduced further.
Transport secretary Michael Matheson warned passengers: ""We know rail provides an important service in moving passengers and goods around the country.
"However, we will reach a point where travel is reduced to essential journeys only."
ScotRail insisted: "The service level will deliver more than enough seats to meet the current demand levels."
The Scottish Government's Transport Scotland agency, which controls the ScotRail franchise, said: "The reduction in services will be similar to a Sunday service, with some additional first and late last trains for key staff.
"Off peak passenger services may be further reduced in relation to demand."
The announcement comes three days after The Scotsman reported the likely reduction.
ScotRail operations director David Simpson said: "We are facing an unprecedented challenge on Scotland's Railway and the revised timetable will help to provide a critical service for the key workers across the country.
"The railway has an important role to play during this crisis."
Caledonian Sleeper trains will leave later from Edinburgh, with passengers not able to board until 12:40am.
Passengers arriving in Edinburgh will have to disembark at 6am.
But the northbound service will leave London up to two hours earlier at 9:15pm.
Managing Director Ryan Flaherty said: "We are absolutely determined that we continue to provide vital services during this difficult period, while taking into account the welfare of guests, staff and industry partners.
"The reduced timetable will see trains run on both our Highland and Lowland lines, providing crucial links to London for those who need to travel."
Rail Freight Group director general Maggie Simpson said: "In these unprecedented times, the rail freight industry is doing all it can to ensure delivery of vital supplies for supermarkets and retailers, manufacturers and businesses, and to support communities across Scotland.
"We welcome the support of Scottish Government and Scotland's Railway in ensuring freight services are prioritised on the network."