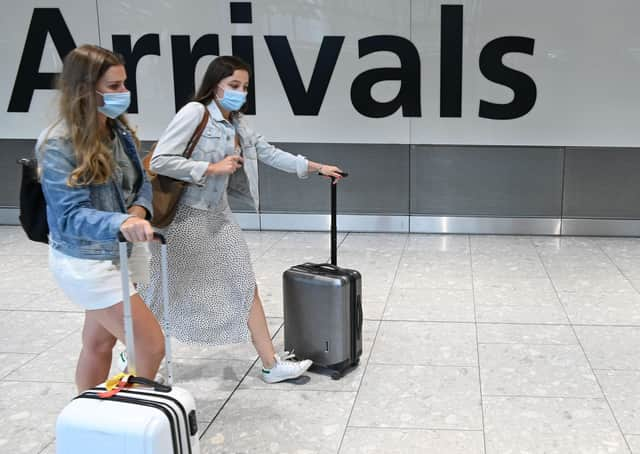 Passengers wearing a face mask or covering due to the COVID-19 pandemic (Photo by Getty Images)
Scotland yesterday recorded its highest number of positive cases of Covid-19 since early May – 208, the first time the figure has been above 200 since May 8.
It is the highest rise for more than 17 weeks when there were 225 new cases of infection and was up more than 60 from Saturday's 141 cases.
The surge came as Nicola Sturgeon said the Scottish Government will launch its Protect Scotland app in the coming days to aid the fight against Covid-19.
But renewed demands for passenger testing in airports from the UK Labour party and the Scottish 
Conservatives were rejected by both the SNP Scottish Government and Conservative UK Government.
While no deaths were registered, the number of positive cases over the week jumped to 1,079, the highest for a seven-day period since 6 May.
The figures also saw a rise in the positivity rate – a statistic the First Minister had been using as an example of how the increased case numbers should not alarm people – to 2.3 per cent.
Ms Sturgeon said on Twitter: "Comparisons with earlier in [the] year need a bit of context – back then we were testing far fewer people and mainly those in hospital, so reported case numbers then were likely to have been a much bigger underestimate of true prevalence."
The First Minister added that Scotland's test and trace phone app would be launched in the coming days.
She said: "Today's numbers show a continued increase, including in per cent positive. While this reflects the substantial opening up of the economy, it reminds us of the need to deploy strong counter measures.
"We have two main tools at our disposal. One of these tools is Test and Protect – it is working well and so far reaching well over 90 per cent of positive cases and close contacts.
"Within [the] next few days we will launch a major enhancement – the Protect Scotland app – which will allow us to reach a wider range of contacts."
Ms Sturgeon repeated her pleas for people to take responsibility for their own hygiene and safety.She added: "So far the rise in cases is not matched by a rise in hospital/ICU admissions/deaths.
"That's good news but we mustn't be complacent about it. It could be a time lag – some countries, e.g. France, that have had cases rising for longer are seeing these indicators rise now too. Even if you think risk of Covid to yourself is low, don't risk infecting others more vulnerable."
As of Saturday night, there were four people with the virus in intensive care – up from two on Friday – although the number of infected people in hospital has fallen by six to 245.
Greater Glasgow and Clyde accounted for the most new cases, with 92 positive tests, while NHS Lanarkshire recorded 30 cases, up from 20 on Saturday and from 16 on Friday when the health board warned the region was close to requiring renewed lockdown restrictions.
NHS Grampian, where the Aberdeen bar cluster was identified last month, has recorded an increase of 14 new cases – a sharp rise from the two announced on Saturday.
Eighteen positive tests were registered by NHS Lothian, 11 cases have been discovered in Ayrshire and Arran, four in the Borders, three in Dumfries and Galloway, eight in Fife, 14 in the Forth Valley, six in the Highlands and eight in Tayside.
No new cases were discovered in Shetland, Orkney or the Western Isles.
The rise in cases came as Labour, in a letter to Home Secretary Priti Patel, argued the "dire warnings" from the travel sector about the use of "chaotic" blanket self-isolation advice meant it was time to review the methods being used to prevent the spread of Covid-19 from those arriving in the UK.
Shadow home secretary Nick Thomas-Symonds said a "robust testing regime in airports" could minimise the need for those returning from countries with high coronavirus prevalence to quarantine.
He suggested a "two test system", citing Iceland as an example where people are tested on arrival and then again after five days have elapsed. If a person produces two negative results then their quarantine can end, the Labour MP said.
His calls were echoed by Scottish Conservative transport spokesman Graham Simpson, who called on the Scottish Government to act on comments from its adviser Professor Devi Sridhar, who is chair of global public health at Edinburgh University.
She told Sky News testing at airports plus a follow-up test similar to Iceland's method could work in the UK.
She said: "I think the UK government has been behind the curve in terms of border control, we were one of the latest to put in border restrictions and where they have been put in place, they have not really been monitored in terms of compliance and that is a harsh measure for the aviation industry, creating uncertainty.
"We certainly need a better approach. The problem with just testing at an airport is that the incubation period of a virus means that people can test negative and then go into pubs and bars and engage fully in their lives and pass on the virus because they had just been incubating it, in the pre-symptomatic phase.
"What we need to have is testing in airports plus testing five to eight days later and then at that point if you have had two negative tests, then you can get on with your life."
Mr Simpson said it was time for the Scottish Government to listen to its adviser and introduce passenger testing.
He said: "It is absolutely clear from the discussions that I've had that airport bosses are desperate for SNP ministers to bring forward a testing regime at Scotland's airports.
"Time is of the essence and this meeting tomorrow must bring positive results for our beleaguered airline industry.
"SNP ministers should heed the words of their own adviser Devi Sridhar, who talks up the benefits of testing twice within eight days, in order to end lengthy quarantines for people keen to get away."